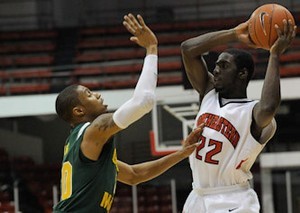 Alwayne Bigby Obtains Degree, Transfers to Rhode Island
TORONTO,ON–Three years of university at Northeastern with experience as a student-athlete, and a degree later, Alwayne Bigby is transferring to Rhode Island.
The former Eastern Commerce star obtained a degree in criminal justice during his time at Northeastern, and will play immediately at Rhode Island with two years of eligibility left. Bigby carried a heavy course load throughout the season while also taking courses in the summer to fast-track and complete his degree.
With the Huskies, Bigby was a starter and averaged 3.6 points, 3.1 rebounds, 1.3 assists and 1.2 steals per contest.
The 6'5 wing sees an opportunity to play a bigger role for Dan Hurley and the Rhode Island Rams, "My role will depend on how hard I work…a lot of new recruits are coming in but  believe I will have an impact on the team defensively and offensively."
With several transfer recruits coming into Rhode Island and sitting out a year, the opportunity looks even greater.
"They believe in my talents, they see things a lot of other coaches don't see," Bigby explained, referring to the relationship he has built with the coaching staff.
Maine, Oklahoma State, Gannon, and Mercyhurst were the other schools wanting Bigby's services.
An important piece to Bigby joining the Rams was former high school teammate Tyler Murray, who Hurley coached at Wagner, prior to getting the job at Rhode Island. Hurley has also coached Canadians Tristan Thompson and Myck Kabongo during his time at St Benedict's Prep.
"I spoke to Tyler [Murray] three days before my visit..he really helped me out," said Bigby.
Not only will Bigby complete his NCAA career at URI, but also earn his Masters in Education.
"Getting my education was important to me, I stressed that on my visit. I need something to fall back on…you can't play basketball forever."
However, he will play for two more years at the NCAA level, one hour way from the campus he was on last year.