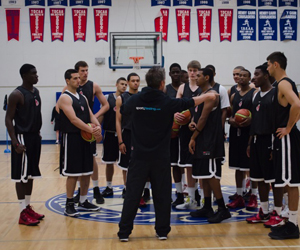 Canada Basketball and Sport Testing Inc To Host Tech-Inspired Skills Combine
TORONTO, ON–Through a partnership between Canada Basketball and Sport Testing Inc., there will be a basketball skills combine at The University of Toronto in late August. For information on this event and how to register, see the press release from Canada Basketball:
On August 25, Canada Basketball will continue its partnership with Sport Testing Inc., the industry leading provider of athlete assessment technologies and services, by launching a national basketball combine testing series in Toronto.
Designed to display the next generation of Canadian basketball talent, the combine will give up to 500 athletes from 10-19 years of age the opportunity to participate in a series of events testing endurance, reaction times, strength, agility and speed.
Members of the Canada Basketball recruitment team and the Canadian Men's Basketball team will be in attendance to watch the athlete's show-off their skills throughout the combine.
For more information on Sport Testing and the combine series or to register as an athlete, visit www.sporttesting.com/events.php. Please note that registration for this event will close Thursday August 23 at 11:59pm.
When: August 25, 2012, 8 a.m. to 7 p.m.
Where: 55 Harbord St., Toronto at University of Toronto's Athletic Centre
Visuals: Athletes competing in a variety of skill tests, guest appearances by Members of the Canadian Men's National Team
Proposed Schedule:
| | |
| --- | --- |
| Time | Age Category |
| 9:00 – 11:00 | U13 Boys |
| 10:00 – 12:00 | U13 Girls |
| 11:00 – 1:00 | U15 Boys |
| 12:00 – 2:00 | U15 Girls |
| 1:00 – 3:00 | U17 Boys |
| 2:00 – 4:00 | U17 Girls |
| 3:00 – 5:00 | U19 Boys |
| 4:00 – 6:00 | U19 Girls |