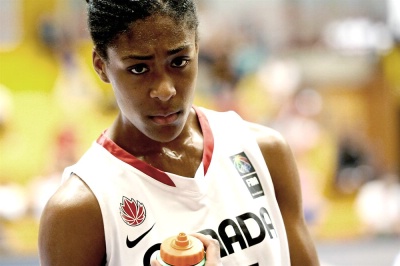 Saicha Grant-Allen, Audrey-Ann Caron-Goudreau Power Canada to Third Straight Victory at U17 FIBA World Championships
Amsterdam, Netherlands – The cadette women's national team continued their hot streak by winning their third game when they defeated Korea (1-4) today, 74-61. With the win, Canada (3-2) finishes third place in Group A and qualifies for the quarter-finals, which will be played on Friday. Canada will face the second place finishers in Group B, which will be confirmed after the games are done today.
"It was a great battle for us today.  We turned the ball over too much, but we adjusted and handled Korea's pressure better as the game went on," said head coach, Carly Clarke. "It was not pretty, but we found a way to get it done.  We are excited to be moving on the quarter-finals and have the opportunity to continually improve."
Canada had two players notch a double-double; Saicha Grant-Allen had a team-high 14 points and a game-high 13 rebounds, while Audrey-Ann Caron-Goudreau scored 13 points and added ten rebounds. Kia Nurse also scored 12 points, grabbed five rebounds, and dished out five assists.
Heejin Kim scored a game-high 18 points for Japan.
"When we stayed calm and broke the pressure, we got easy baskets.  When we rushed, our decisions and execution were not good enough," said Canadian forward, Emma Wolfram. "We are very excited to be through to the quarter-finals and we will be ready for any opponent as long as we stay composed and play as a team."
Canada had a quick start to their game against Korea. Canada stormed out to a 13-2 lead to begin the game. Korea was able to respond in the final 3:24 in the opening quarter by going on a 10-2 run of their own to cut the deficit to 15-12 for Canada at the end of the opening ten minutes.
Korea was able to carry over their late first quarter run into the second. Korea was down 22-17 at the 6:24 mark of the second frame, but were able to tie the game up at 22-22 and continued onto a 16-2 run to gain the lead. At the end of the half, Korea took the 33-27 advantage into the locker room.
During halftime Canada made adjustments and were able to play their best quarter in the game going into the third. Audrey-Ann Caron-Goudreau was able to tie up the game for Canada 28-28, 3:29 into the frame. Canada continued on a 13-4 run to extend their lead to nine points heading into the final quarter.
In the fourth, Canada did not allow Korea to get close to their lead. Korea was able to make it a seven point game with under 2:00 to go in the game, but that was as close as they would get. Canada went on to win 74-61.
For box score, click here.
Canada finished third in group A and qualified for the quarter-finals. Canada will take on the second place finishers in Group B. Please check the tournament website to see who Canada will face on Friday.