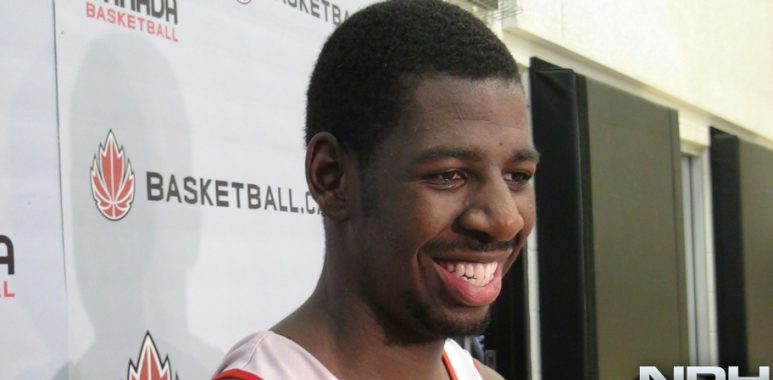 Jay Triano to Lead New Era of Canadian Basketball Talent
TORONTO,ON–With Steve Nash as General Manager, and Jay Triano recently named Head Coach, all the right pieces are coming together for the Canadian national program. The following list includes all the players in attendance this weekend for the Canada Basketball Training camp, and as you will see, there is no shortage of talent.
There is a strong mixture of NBA, Euro Pros, NCAA and CIS talent; although the eventual team will not be competing this year, the coaching staff will have a very good understanding of the type of talent at each position.
[youtube 8th2V4tvtWo]
*Anthony Bennett (UNLV) was also in attendance on day two*
| | | | | |
| --- | --- | --- | --- | --- |
| First Name | Last Name | Height | Hometown | Team 2012-13 |
| Braeden | Anderson | 6-9 | Calgary, AB | Fresno State (NCAA) |
| Jermaine | Anderson | 6-2 | Toronto, ON | Buducnost (Montenegro) |
| Joel | Anthony | 6-9 | Montreal, QC | Miami Heat (NBA) |
| Jordan | Baker | 6-7 | Edmonton, AB | Alberta (CIS) |
| Khem | Birch | 6-9 | Montreal, QC | UNLV (NCAA) |
| Junior | Cadougan | 6-1 | Toronto, ON | Marquette (NCAA) |
| Aaron | Doornekamp | 6-6 | Odessa,ON | Caserta (Italy) |
| Justin | Edwards | 6-3 | Whitby, ON | Maine (NCAA) |
| Brady | Heslip | 6-2 | Burlington, ON | Baylor (NCAA) |
| Cory | Joseph | 6-3 | Pickering, ON | San Antonio Spurs (NBA) |
| Devoe | Joseph | 6-4 | Pickering, ON | Khimik (Ukraine) |
| Kris | Joseph | 6-7 | Montreal, QC | Boston Celtics (NBA) |
| Myck | Kabongo | 6-1 | Toronto, ON | Texas (NCAA) |
| Owen | Klassen | 6-10 | Kingston, ON | Acadia (CIS) |
| Trey | Lyles | 6-9 | Saskatoon, SK | Arsenal Technical (HS) |
| Andrew | Nicholson | 6-9 | Mississauga, ON | Orlando Magic (NBA) |
| Kelly | Olynyk | 7-0 | Kamloops, BC | Gonzaga (NCAA) |
| Kevin | Pangos | 6-1 | Newmarket, ON | Gonzaga (NCAA) |
| Dyshawn | Pierre | 6-6 | Whitby, ON | Dayton (NCAA) |
| Dwight | Powell | 6-9 | Toronto, ON | Stanford (NCAA) |
| Laurent | Rivard | 6-5 | Saint-Bruno, Que | Harvard (NCAA) |
| Robert | Sacré | 7-0 | North Vancouver, BC | L.A. Lakers (NBA) |
| Philip | Scrubb | 6-3 | Richmond, BC | Carleton (CIS) |
| Jevohn | Shepherd | 6-5 | Scarborough, ON | Leiden (Holland) |
| Nick | Stauskas | 6-6 | Mississauga, ON | Michigan (NCAA) |
| Tristan | Thompson | 6-9 | Brampton, ON | Cleveland Cavaliers (NBA) |
| Kyle | Wiltjer | 6-9 | Portland, OR | Kentucky (NCAA) |