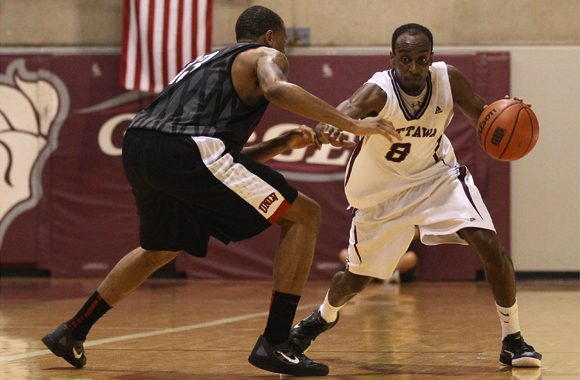 Johnny Berhane's Game-High 22 Not Enough As UNLV Runnin' Rebels Defeat Ottawa
OTTAWA, ON– The UNLV Runnin' Rebels are 2-0 on their Canadian tour after downing the Ottawa Gee Gees 89-76. The victory came less than 24 hours after UNLV escaped with a narrow 74-70 win over CIS powerhouse Carleton.
A surprising first half saw the Gee Gees go into the break with a 45-42 lead, largely thanks to the shooting exploits of Johnny Berhanemeskel, who finished with 22 points, all in a scintillating first half.
"It was a great atmosphere to be a part of," Berhanemeskel said. "Playing against a team like that, in March we're going to see them playing in the (NCAA) Tournament and they're going to be that much better. It's just great that Canadian teams are getting that type of experience."
The second half was a different story, as the Runnin' Rebels size, speed and athleticism took its inevitable toll. UNLV took a 53-50 lead with about 14 minutes left and never looked back, extending the margin to as much as 20.
The Rebels were paced by the 18 points of sophomore Bryce Dejean-Jones and the bruising inside play of freshman Savon Goodman, who scored 17 in only 14 minutes of playing time.
At times it was hard to tell who the home team was, as almost 200 UNLV fans made the trip from Las Vegas to follow the team on their four game exhibition tour. The Rebels' partisans made their presence felt, routinely jeering at perceived bad calls and even starting a "Rebels, Rebels!" chant in the first half.
Unfortunately for fans in the nation's capital, UNLV took the court without its two highly regarded Canadian prospects, Anthony Bennett of Brampton and Khem Birch of Montreal.
Bennett, a 2012 McDonald's All-American, was not cleared to play for UNLV this upcoming season until July 27 and therefore didn't have time to complete the three course credits required to play in the Canadian exhibition tour. He is expected to be eligible once the regular season starts in November.
Birch, himself a 2011 McDonald's All-American, will not be eligible to play until December after transferring from Pittsburgh last year.
He did make the trip to Ottawa, but could do little more than bounce a ball between his legs as his teammates warmed up. "I feel a little embarrassed," the 6-9 Birch said before the game. "A lot of people are here to see me but I can't play."
Birch, who averaged 4 points, 5 rebounds and nearly 2 blocks in limited minutes with Pittsburgh last year, figures to form part of an imposing frontline with fellow Canadian Bennett, a top 10 recruit from the Class of 2012, and Mike Moser, a 6-8 junior who was First Team All-Mountain West last year.
When asked about his personal goals for the upcoming season, Birch talked instead about team success. "I don't even care about myself," Birch explained. "I don't even care if I play; I just want to win a national championship."
For Berhanemeskel and the Gee Gees, playing against one of the top teams in the NCAA is an exciting opportunity.
"You have to embrace it, but it's a little nerve-wracking as well. You're like, 'This guy might go to the NBA,'" Berhanemeskel said. "You have to know that you worked hard in the summer and you're doing something right as well."
The Rebels will travel to Montreal for meetings with Laval and McGill on Monday and Tuesday before heading back to Las Vegas.
The Gee Gees will get another crack at an NCAA opponent when they face the Northeastern Huskies on Monday night at 7 p.m.