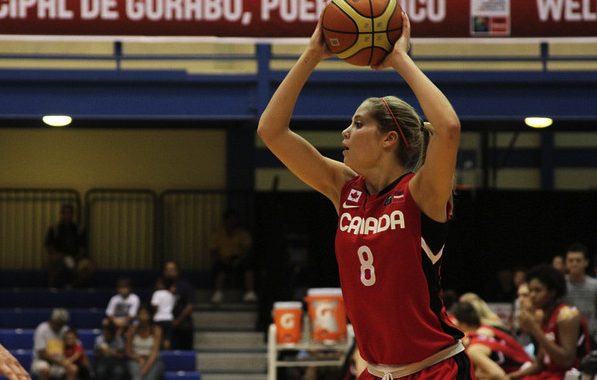 Canada Advances to FIBA America Semi-Finals, Earn spot in U19 World Championship!
Gurabo, Puerto Rico – With not only a berth into the semi-finals of the FIBA Americas U18 Championship, but a spot into next year's FIBA U19 World Championship on the line, Canada did not disappoint as they were able to defeat Mexico,61-40 . With the win Canada will play in Saturday's semi-final against Argentina or U.S.A. The team also qualified to their fifth consecutive berth into the FIBA U19 World Championship.
In the game, Canada had three players score in double digits including; Paige Crozon(13), Kaylee Halvorson (12) and Cheyanne Roger (11). Michelle Hudyn grabbed a team-high nine rebounds.
Mexico was led by Maria Begona Faz Davalos who scored eleven points and added ten rebounds.
The game started off slow, as both teams had a tough time shooting the ball in the opening ten minutes. At the end of the quarter, Canada owned the 10-2 lead. Canada in the quarter shot 4-for-16 from the field, while Mexico shot 0-for-14.
In the second quarter, the teams were able to find their rhythm offensively compared to the opening quarter. Mexico cut the deficit to 17-15 with 1:33 left in the half, but Canada scored a quick six points to take the lead at the half, 23-15.
After halftime, Canada came out strong as they were able to separate themselves from Mexico. Canada was able to put 19 points on the board compared to Mexico's seven points. Paige Crozon led the way Canada in the quarter by scoring nine points.
Canada entered the final frame with a 42-22 lead and never looked back, as Canada was able to cruise to a 61-40 win over Mexico. Canada held Mexico to shoot under 30 percent from the field in the game.
For box score, click here.
Canada will face the U.S.A today in semi-final action.