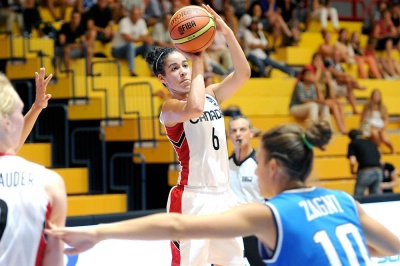 Kia Nurse Game-High 20 points Not Enough as Canadian Cadettes Fall to Italy
Amsterdam, Netherlands – The Canadian Cadette Women's National Team did not get the start they were looking for at the FIBA U17 World Championship, as they lost their opening game 68-55 to Italy. The third quarter was where Italy made their run to separate themselves from the Canadian squad. Italy scored 18 points to Canada's seven in the quarter and made it difficult for the Canadians to come back from.
The Canadian squad was led by point guard, Kia Nurse (Hamilton, ON) who scored a game-high 20 points and added three rebounds. Saicha Grant-Allen (Hamilton, ON) had a game-high 12 rebounds in the loss to Italy.
In the opening half, Canada and Italy were neck and neck with each other. In the first quarter Italy started the game on a 6-0 run, but Canada seemed to calm their nerves and were able to battle back into the game. By the end of the opening ten minutes, Italy had the 18-14 advantage. With less than three minutes played in the second quarter, Hannah Jardine (St. John's, NL) tied the game and continued to hit a free throw to give Canada the 21-20 advantage. The lead was short lived and by the end of the second quarter, Italy was ahead 35-30.
To begin the second half of play, Italy marched on a 16-3 run to release the game wide open. Canada struggled to put points on the board, as they only scored seven in the quarter. Entering the fourth quarter, Canada was down 53-37. This gave Canada a large task to come back from this deficit. Canada could not find a way to make a run on Italy in the final quarter, as Italy went on to win 68-55.
For box score, click here.
Canada will play U.S.A. next on Saturday August 18, at 3:15 p.m. EDT. The game will be available to follow on FIBA Live-Stats.