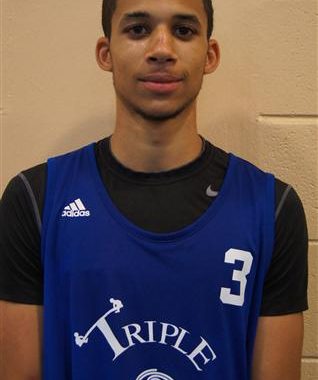 Offers, Interest And Pursuit Of The Dream
ORLANDO, FL–Asides from the teams in pursuit of a championship, Triple Balance was another of the freshest programs on the scene that came out to be recognized. Both their U15 and U17 team carry a bundle of CIS prospects, the 17s having guys that can come in and contribute right away by the time they graduate in 2013. Some of these names include: Keron Brathwaite, Kelan McConnel and Zach Shaban; Shaban being the most ready of the three. He is a 6'4 shooting guard/small forward that has shown an above average level of athleticism and solid mid range game. Improving his ability to create for himself would raise his stock in 2013.
Others on the rosters seem to have their minds set to the NCAA route. Every year, they're hearing about names they played against that are taking their game south to play D1 and this further drives them to continue pursuing their goal.
A 2013 prospect from Vaughan Secondary, Kassius Robertson has recently picked up heavy interest from the Sienna Saints of the Metro Atlantic Athletic Conference (MAAC), the same conference that his head coach Shane James played in while at Loyola. We can expect to hear about more interest for Robertson, a sound combo and unselfish guard that can create in the half court set for himself and teammates. He has a pull up jumper and three point shot as well as the ability to attack the rim and contort his body to adjust to the defense.
Adam Djukic, a former Etobicoke Elite has been at La Lumiere the past year. La Lumiere is the number 18th ranked prep school in the US as ranked by Five Star. Since leaving Canada he has extended his game out to the perimeter and has shed   unnecessary weight which has given him extra speed in his first step. He is a prime example of a big piece to a CIS team's puzzle.
While on the AAU circuit a reaffirmation took place when looking down the rosters and seeing the surplus of talent that Canada has to offer, meanwhile they are all trying to go down south. We at NPH encourage the youth in our country to dream and chase the option of playing at the highest level. Furthermore, we also believe that it is in some prospects' best interest to stay in Canada and play in the CIS and CCAA. Without mentioning names, there are prospects who dominate on the Canadian scene and then play during the summer and are upset with their performance.
Quite frankly, in the US the speed of the game, the physical strength of the players and level of athleticism differs greatly  from what Canada has to offer, therefore it is difficult to make adjustments at that time. Rather, most Canadian athletes are starting to use their AAU experience as a measuring tool for what areas of their game they need to develop and this is  an admirable trait.
One of the main incentives in working towards an NCAA offer is the scholarship that is awarded. The ones who earn it have made a commitment to excellence and to the school that is taking them in.
The importance of this issue is to help athletes recognize the importance of  long term realistic plans and goals that will be beneficial to their basketball resume. This being said, keep believing in your abilities and use your various basketball experiences to aid in your development.