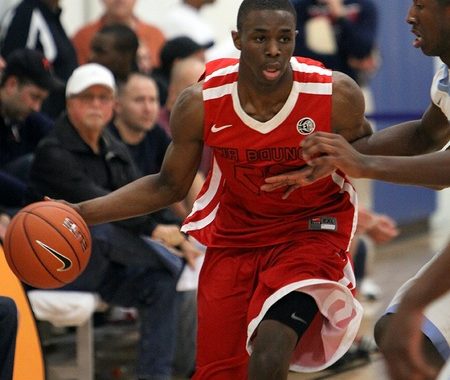 Peach Jam: Wiggins in Video Game Mode, Reid-Knight Locks Up, CIA Bounce 17U 2-0…16U 1-1
AUGUSTA, GA–It's showtime already and we're only the second day in to the Nike Peach Jam in Augusta, Georgia! The CIA Bounce 17U Team has opened the tournament 2-0, while the 16U hold a 1-1 record as they ran into a strong Team Takeover (DC) Team early.
CIA Bounce 17U
Andrew Wiggins goes into Video game mode
Andrew Wiggins went into video game mode on day one of the action, hammering home monster jams, gorgeous spin moves and spiking blocks. He is making sure there is no doubt that he is #1 in the world, in front of over 100 NCAA coaches in attendance.
Troy Reid-Knight Locks Up
High major prospect Tyus Jones was on a tear against CIA Bounce and ended up with a game-high 30 points. However, Canadian guard Troy Reid-Knight was assigned to Jones in the second half where he held him to nine points and played a big role in securing the victory  for the Canadians. Reid-Knight continues to prove himself as the top perimeter defender available in Canada.
Isaiah Watkins back to Old Habits
Isaiah Watkins is getting back to his old ways, but the box score doesnt tell the story. Although he's only averaging 5 PPG and 4.5 RPG in two games, he is back to banging again. I have watched him over the last month during national tryouts, and he seemed to be caught up in between positions (at the 3 and 4). However, over these two games, he is doing his job finishing above the rim with force and providing a nice boost of energy, which is what CIA Bounce needs. We like what we see!
Next up for the 17's: Mac Irvine, Texas Titans, Playground Elite
CIA Bounce 16U
Current Record: 1-1
vs. Cal Supreme- W 82-71
vs. Takeover- L 68-59
Loaded with Cadet National Team players, this CIA Bounce squad is certainly not short of any talent. Kevin Zabo, Marial Shayok, Tyrell Bellot-Green Jordan Robinson Malcolm Duvivier are fresh of competing in the world championships where they were able to place fifth overall.
Now back to Peach Jam… Cassidy Ryan is certainly a player to look for. Ryan had himself a great game one where he was able to showcase the versatility in his skill set which included interior passing, scoring from different angles and solid defense.
Kevin Zabo is the engine for this team, consistently in attack mode, keeping the defense on their toes at all times. When aggressive, Marial Shayok is a terror on both ends of the floor due to his length and scoring prowess.
In game one against Cal Supreme, the defensive intensity from the team was evident…a trait that seems to be the identity of this group. CIA Bounce controlled virtually the entire game against Cal Supreme, and came away with a comfortable victory.
However, day two had the Canadian boys stacked up against rival program Team Takeover (DC) in a dog fight.
Takeover brought the heat. With strong crowd support and a big, strong crop of players, nothing came easy for CIA Bounce. Although the game was neck and neck, Takeover controlled most of this contest. And with emotions running high, five technical were handed out, which included ejections of coaches from both sides.
If CIA Bounce is to be a championship team at Peach Jam, it is essential to display mental toughness through doubtful times. Game three will tip off against All-Ohio Red where bounce will be tested with another strong and athletic team. Stay tuned!