UNLV Foreign Tour to Canada: Win Exclusive 'Like A Rebel' T-Shirt!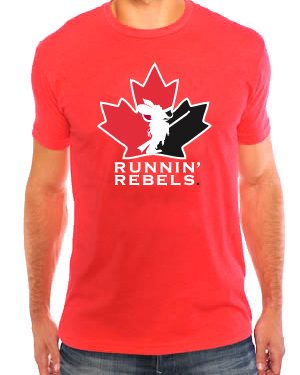 OTTAWA, ON–UNLV is gearing up for it's most anticipated season since the early 1990s, and a big part of the Rebels success will be on the production of Canadian newcomers Anthony Bennett (Brampton, ON) and Khem Birch (Montreal, Quebec).
The Rebels will travel to Canada to play four exhibition games (August 16-22) including a tune up against the #1 team in the CIS, the Carleton Ravens. UNLV will also play Ottawa and two unannounced teams in Quebec.
In light of Birch and Bennett's trip to Canadian soil, NPH has teamed up with 'Like a Rebel Apparel' to provide a chance for our loyal readers to win EXCLUSIVE, limited edition gear!
The instructions are simple. In order to be eligible, you must tweet:
"@NorthPoleHoops Welcome to Canada #UNLV…I want to look @LikeARebel and win an EXCLUSIVE T-shirt!"
Contestants will have two chances at winning with round one July 9-20, and round two running from July 23-August 3.
Whether you're a Canadian or a Rebels fan, don't miss out, capitalize on some fresh gear!
Bennett enters his freshman season this fall after having himself a stellar year with Findlay Prep and CIA Bounce, selected to the McDonald's All-American game and Jordan Brand Classic!
Birch, also a former McDonald's All American, transfers to UNLV after starting his freshman at the University of Pittsburgh. Birch averaged 4.4 PPG and 5 RPG through 10 games, highlighted by a 15-point, 10-rebound, 3-block performance against UPENN, and 8 points, 10 rebounds, 6 blocks against Robert Morris.