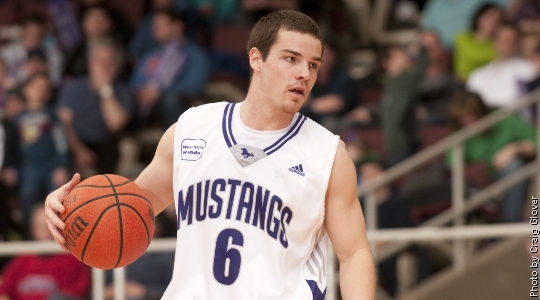 OUA All-Star Ryan Barbeau Inks Pro Contract In Germany
TORONTO, ON– CIS star Ryan Barbeau has signed a one-year contract with Baskets Vilsbiburg in Germany, Slan Sports Management announced today.
Barbeau, a 5'10" PG from Belleville, Ontario, recently graduated from the University of Western Ontario, where he played all five years. In his freshman and sophomore campaigns with the Mustangs, the school reached back-to-back national semi finals.
This past season, Barbeau was the second leading scorer in Canadian Interuniversity Sport (CIS), averaging 24.2 points per game, to go along with 4.1 rebounds and 4.6 assists per game. Barbeau, an Ontario University Association West First Team All-Star, was also tops in the country, with 483 total points in his senior season.
"My five years playing at the University of Western Ontario under Coach Brad Campbell have allowed me to develop as a basketball player, and I am very fortunate to be moving on to play professionally," said Barbeau. "I am dedicated to helping Vilsbiburg add a new dimension, and helping the team win however I can."
Baskets Vilsbiburg finished the 2011-12 season tied for sixth out of 14 teams in the Regionalliga's southeast division.
"Signing Ryan was actually a quick decision, as he represents the kind of role model on and off the court that we were looking for," said Head Coach of Baskets Vilsbiburg, Holger Prote. "He proved in his college career that he is a fighter who can lead the team, not only by scoring, but most importantly, with his attitude."
For more information and individual box scores on Ryan throughout the season, visit, www.slansportsmanagement.com.