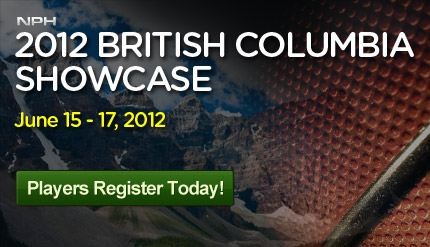 NPH British Columbia Showcase Prospect List Released + Schedule!
RICHMOND, BC– The British Columbia Showcase approaches where countless young ballers will make a name for themselves and enter the NPH National rankings!
The following is a list of current registered players, which features Cadet national team Invitee Jadon Cohee (2014 6'3 G/ DRIVE) a player NPH has become quite familiar with over the past year!
In addition, there are several NEW names on this list that we look forward to catching in action on our second trip to British Columbia.
Not on this list? REGISTER HERE to confirm your spot!
Schedule (June 15-17)
Day 1 – 5-9: Registration / NPH Profile Shots /Player Development
Day 2- 11-5: Showcase
Day 3- 12-5: Top Prospect Games
***List will be updated throughout the week with new players***
NPH British Columbia Showcase Prospect List
Bold = Confirmed Player (Payment Complete)
| | | | | | | |
| --- | --- | --- | --- | --- | --- | --- |
| First Name | Last Name | Class | Height | Weight (LBS) | Position | High School/ Club Team |
| Tomas  | Fovenyi | 2017 | 5'5  | 95 | PG | Fleetwood Park/ AthElite |
| Taylor  | Browne | 2015 | 6'1 | 140 | G | Holy Cross/ BBC |
| Sahil | Dhami | 2016 | 6'2 | 195 | PF | Tamanawis/ AthElite |
| Micky | Banghu | 2015 | 6'2 | 145 | SG | North Surrey/ All Ball |
| Saje | Gosal | 2015 | 6'2 | 165 | W | Golden SS/ Drive |
| Connor | Mitchell | 2015 | 6'2 | 155 | SF | Okanagan/ BBC |
| David  | Majstorovic | 2014 | 6'4 | 215 | SG | Byrne Creek/ All Ball |
| Corky | Smith | 2016 | 5'9 | 135 | G | New Westminster/ BBC |
| Hamraj | Sidhu | 2013 | 6'0 | 155 | SF | Matthew McNair/ Drive |
| Gurpreet | Dhillon | 2013 | 5'10 | 140 | PG | Windermere/ Drive |
| Tristan | Arthurs | 2013 | 6'0 | 150 | PG | King George/ Drive |
| Joban | Pandher | 2015 | 5'8 | 120 | G | Eugen Riemer/ Drive |
| Harry | Liu | 2016 | 6'1 | 190 | PF | Sir Winston Churchill/ Drive |
| Karn | Virk | 2016 | 6'2 | 150 | G | Sir Winston Churchill/ Drive |
| Gurpinder | Kang | 2013 | 6'1 | 160 | G | Thomasville Prep |
|  Andrew | McCaskill | 2013 | 5'10 | 155 | PG | McMath/ Drive |
| Gurkirat | Kular | 2013 | 6'4 | 180 | G | Enver Creek/ Drive |
| Myles | Cooley | 2013 | 6'2 | | PG | Terry Fox |
| Peter | Kokalov | 2015 | 6'2 | 159 | G | Kitsilano |
| Nathal | George | 2013 | 6'0 | 162 | G | Byrne Creek/ All Ball |
| Corey  | Hauck | 2014 | 5'10 | 165 | PG | W.J Mouat/ Drive |
| Jadon | Cohee | 2014 | 6'3 | 179 | PG | Walnut Grove/ Drive |
| Aminder | Basra | 2016 | 6'0 | 180 | G | Tamanawis/ AthElite |
| Eddie | Petryshen | 2012 | 6'3 | 175 | SG | Mount Baker |
| Justin | Rudio | 2016 | 5'9 | 130 | SG | Johnston Heights |
| Gabriel | David | 2012 | 6'1 | 158 | G | |
| Sam | Evanson | 2015 | 6'5 | 210 | SF | Yale |
| Miguel | Tomley | 2018 | 5'7 | 115 | G | Lena Shaw/ AthElite |
| Adryan | Poblete | | 5'3 | 105 | PG | Pinetree Secondary/ BBC |
| Jermaine | Haley | 2015 | 6'3 | | G | Drive |
| Antonio  | Jhuty | 2014 | 6'1 | 145 | SG | R.C Palmer/ AthElite |
| William | Latu | 2014 | 6'6 | 250 | C | Vancouver College |
| Justin | Bhangoo | 2013 | 6'7 | 210 | PF | Enver Creek/ AthElite |
| Roshan | Bhatti | 2015 | 6'5 | 180 | SF | Delta/ Drive |
| PALBIR SINGH | DHALIWAL | 2016 | 5'11 | 138 | W | Enver Creek/ AthElite |
| James  | Hynes | 2014 | 6'0 | 165 | SG | Kitsilano/ All Ball |
| Jonathan | Kongbo | 2014 | 6'6 | 235 | SF | Kitsilano/ BBC |
| Izaiah Ugoalah | Ugoalah | 2016 | 6'2 | 150 | PG | Churchill/ Drive |
| Umed | Chatrath | 2016 | 6'0 | 150 | PF | Clayton Heights/ AthElite |
| Buzz | Truss | 2014 | 6'4 | 195 | SF | Kelowna/ Okanagan Jr Heat |
| | | | | | | |
| --- | --- | --- | --- | --- | --- | --- |
| Nicolas | Trninic | 2015 | 6'5 | 190 | PF | Burnaby South/ Drive |
| Ope | Adenekan | 2015 | 5'7 | 140 | G | Pacific Academy/ Drive |
| Andrew  | Murison | 2016 | 6'2 | 160 | PF | Enver Creek/ Drive |
| | | | | | | |
| --- | --- | --- | --- | --- | --- | --- |
| Austin | Penrose | 2014 | 6'6 | 185 | PF | Sentinel/ BBC |
| Arman | Amini | 2013 | 6'0 | 165 | SG | Handsworth |
| Ryan  | Cowley | 2014 | 6'7 | 195 | C | Delta/ Drive |
| | | | | | | |
| --- | --- | --- | --- | --- | --- | --- |
| Ethan | Scott | 2016 | 6'2 | 170 | PG | St George/ Drive |
| Dominic | Clayton | 2016 | 6'1 | 145 | SF | Southridge/ Drive |
| Caleb | Ritchie | 2014 | 5'11 | 136 | SF | Hugh Boyd/ Drive |
| Walter | Yeung | 2016 | 6'0 | 170 | SF | Vancouver College/ Drive |
| Mohammad | Karimirad | 2014 | 6'0 | 180 | SG | Handsworth/ Drive |
| Arjen | Mann | 2016 | 5'11 | 135 | PG | Abbotsford Middle/ Drive |
| Charles  | Song | 2015 | 6'1 | 160 | SG | Point Grey/ Drive |
| Joe  | Davis | 2014 | 6'5 | 200 | PF | Westsyde/ BBC |
| Mindy | Minhas | 2014 | 6'4 | 200 | W | Churchill/ Drive |
| Brenden | Bailey | 2014 | 5'7 | | PG | Gleneagle/ Drive |
| | | | | | | |
| --- | --- | --- | --- | --- | --- | --- |
| Devin | Johal | 2015 | 5'8 | 126 | SG | John Oliver/ Drive |
| Randy | Johal | 2016 | 5'7 | 110 | PG | Tamanawis/ AthElite |
| Alex | Hung | 2015 | 6'2 | 190 | PF | Killarney/ Drive |
| | | | | | | |
| --- | --- | --- | --- | --- | --- | --- |
| Simon | Marriott | 2015 | 6'0 | 155 | SF | Churchill/ Drive |
| | | | | | | |
| --- | --- | --- | --- | --- | --- | --- |
| Luka  | Petkovic | 2013 | 6'2 | | PG | Handsworth/ BBC |
| Keith | Errington | 2014 | 6'0 | 190 | PG | Rutland |
| | | | | | | |
| --- | --- | --- | --- | --- | --- | --- |
| Elijah | Campbell-Axson | 2014 | 6'2 | 160 | G | Vancouver College/ Drive |
| Nimrit | Plaha | 2014 | 5'11 | 148 | G | Panorama Ridge/ Drive |
| | | | | | | |
| --- | --- | --- | --- | --- | --- | --- |
| Ravi | Rai | 2016 | 5'10 | 135 | SG | Burnaby North/ Drive |
| Sukhraj | Biring | 2014 | 5'9 | 157 | PG | Tamanawis/ All Ball |
| Parm | Bains | 2014 | 5'8 | 140 | PG | Tamanawis/ AthElite |
| | | | | | | |
| --- | --- | --- | --- | --- | --- | --- |
| Alex | Coote | 2014 | 6'3 | 166 | G | West Point Grey/ Drive |
| Luka | Zaharijevic | 2013 | 6'7 | 270 | PF | Kitsilano/ Drive |
| Chase | Ruttenberg | 2013 | 6'5 | 170 | SG | Sentinel/ BBC |
| | | | | | | |
| --- | --- | --- | --- | --- | --- | --- |
| Martin | Bogajev | 2014 | 6'0 | 150 | G | Burnaby South/ BBC |
| | | | | | | |
| --- | --- | --- | --- | --- | --- | --- |
| Amar | Sandher | 2014 | 5'11 | 137 | PG | IMG Academy |
| Prabtaj | Sandher | 2014 | 5'8 | 140 | PG | IMG Academy |
| Haybe | Adenekan | 2015 | 5'10 | 160 | PG | De La Salle |
| | | | | | | |
| --- | --- | --- | --- | --- | --- | --- |
| Sylvester | Appiah | 2013 | 6'1 | 160 | SG | New Westminster/ AthElite |
| Avery  | Walline | 2015 | 6'0 | 145 | SG | Okanagan/ BBC |
| Nick | Smith | 2014 | 6'4 | 170 | SF | Lord Tweedsmuir/ Drive |
| | | | | | | |
| --- | --- | --- | --- | --- | --- | --- |
| Jaryn  | Bailey | 2013 | 6'0 | 170 | SG | Burnaby Mountain/ Drive |
| | | | | | | |
| --- | --- | --- | --- | --- | --- | --- |
| Marc | Doucette | 2013 | 6'0 | 180 | SF | Centennial/ Drive |
| | | | | | | |
| --- | --- | --- | --- | --- | --- | --- |
| Prabh | Dhaliwal | 2013 | 6'5 | 175 | SF | HJ Cambrie/ Drive |