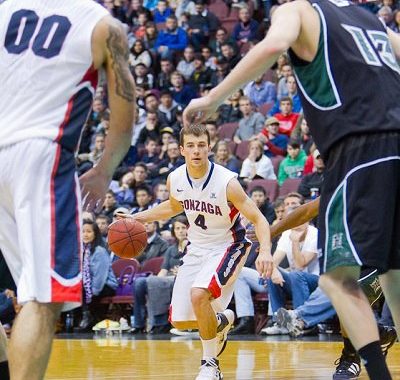 Kevin Pangos & Family Host Camp in August at Former High School!
Make no mistake, basketball runs through the blood of the Pangos family, which is why there is no off season. Coming off a succeessful freshman campaign that saw Gonzaga's Kevin Pangos explode on the NCAA national radar, the star point guard is back to the drawing board, training to further elevate his game, while also teaching the next generation.
The Pangos family will be running a two-week camp (August 13-17 & 20-24) at Dr. Denison Secondary in Newmarket, lead by Camp Director Kayla Pangos of the York Lions.
If you'd like to register for the 2012 YNBA Pangos Camps, please refer to the YNBA website at https://www.ynba.ca/#pangos
YNBA Pangos Camp Coaching Staff
Kayla Pangos – Camp Director
A graduate of Dr. Denison Secondary School and product of the East Gwillimbury Huskies Basketball Club (now YNBA), Kayla is entering her fourth year on the York Lion's Varsity Basketball Team. She is a member of the wall of fame at Dr. Denison and was a member of the 2010 Canadian National Ultimate Frisbee Team who won silver at the 2010 World Ultimate Frisbee Championships in Germany. She has her NCCP multi-sport level 1 certification.
Kevin Pangos
Kevin is a graduate of Dr. Denison Secondary School. He has represented both the Province of Ontario and Canada on Provincial and National team programs. Kevin also played for the YNBA Avengers Rep Program. He has recently completed his freshman year at Gonzaga University in Spokane, Washington and competed in the final 32 teams of NCAA March Madness Tournament. Kevin received "Newcomer of the Year", All-Rookie Team & All-Star recognitions in the West-Coast Conference this past season.
Jackie Koudys
A recent graduate from Blessed-Trinity in Grimbsy, Ontario, Jackie has played on many club teams in the Hamilton area, this past year playing for the Niagara Red Raiders Juel team. She has participated in Ontario Basketball development programs. Jackie will be joining her cousin, Kayla Pangos, on the York Lions for the 2012-2013 season. She is a second-year staff.
Bill Pangos has been the bench boss for the York Lions women's basketball program for 26 seasons
The Lions qualified for two consecutive CIS national championships (2006 and 2007) for the first time in the program's history. He guided the Lions to the team's first OUA championship since 1982 in 2006-07 and earned his third consecutive OUA East coach of the year award that same year, making him a five-time winner of the honour.
Prior to the successful recent run, Pangos experienced his top feat at York when he led the team to a silver medal at the 1996-97 CIS national championship tournament.
In addition to his coaching duties, Pangos is a lecturer and sport administrator in the School of Kinesiology & Health Science. A former Ontario provincial team coach, Pangos is a master course conductor for Canada Basketball and a course conductor for the National Coaching Certification Program (NCCP).