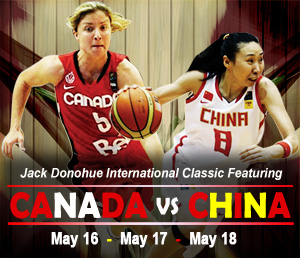 Canada Clinches Jack Donohue Classic Over China 2-1 Lead by Smith and Tatham
Abbotsford, British Columbia–Canada defeated Team China, 45-37, at the Envision Athletic Centre on the campus of the University of the Fraser Valley, to win the 2012 Jack Donohue International Classic series two games to one. The game was played in front of a crowd of 600 plus fans capping off a very successful three day tour through British Columbia.
The third game was a defensive struggle from the opening whistle as Canada jumped out to an early lead and never trailed the entire game. The Canadians played tremendous defense holding Team China to 16 first half points including six in the second quarter.
Canada led by one point after the first quarter and by three points at the break. Alisha Tatham (Brampton, ON) led Canada at the half with 5 points and Kim Smith (Mission, BC) delighted the hometown crowd with 4 points and 3 total rebounds at the intermission.
In the second half, Canada continued to play great defense holding China to 10 third quarter points as they outscored their international visitors by nine points, to open up a 12 point lead after three quarters.
"It was a defensive struggle tonight. We know each other very well playing three games in China last year and then three more this week here in British Columbia," said Head Coach Allison McNeill.
In the fourth quarter Canada held China in check to clinch the victory and the win the series.
"It was a gritty game tonight. After missing several layups in the first quarter we settled down and played well the final three quarters," said McNeill. "Our team was mentally tough tonight."
Smith led Canada in scoring with 12 points and was named Team Canada's "Player of the Game." Alisha Tatham added 10 points and Krista Phillips (Saskatoon, SK) and Tamara Tatham (Brampton, ON) each scored six points in the victory. Smith also led Canada with 8 total rebounds as Canada out rebounded Team China 30 to 25 for the game.
Xiaoli Chen led Team China with 8 points and Nan Chen and Shanshan Li each added six points. Li was named Team China's "Player of the game" in addition to her six points; she recorded two rebounds, two assists.