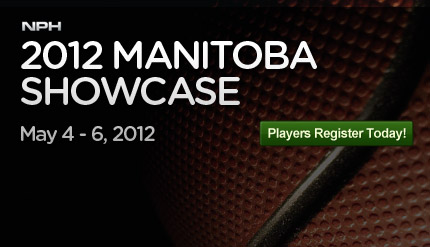 NPH Showcase Hits Winnipeg, Manitoba May 4-6!
WINNIPEG, MB–The first-ever NPH Manitoba Showcase will take place in Winnipeg May 4-6 at Oak Park Secondary. This event is open to all players (boys and girls) grade 8-12 in search of an opportunity for player development and national exposure!
The NPH team has travelled across the nation in search of Canada's top prospects including British Columbia, Alberta, Ontario, Quebec, and Nova Scotia. It is now time for the prairie province ballers to display their talent at the NPH Manitoba Showcase!
The focus of the event will once again be on the combination of exposure and player development. Don't miss out on this opportunity to learn, grow and develop!
In addition to development and national exposure, players will receive an NPH reversible jersey AND  player profile head shots!
[youtube vbU0zahZlyk]
Cost: $130.00
Location: Oak Park Secondary
May 4– Player combine — Skill Development/ Strength & Conditioning (5-9 PM)
May 5–  Open Showcase (12- 8 PM)
May 6– Top Prospect Showcase (12-5 PM)
REGISTER HERE
[contact-form-7 id="10467″ title="Contact form 1″]