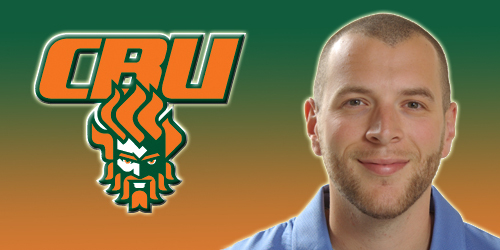 Matt Skinn Name Cape Breton Head Coach
Sydney, NS–Matt Skinn spent five years as a player at  Cape Breton University , and he's returning to the Sydney, NS campus as the new Head Coach of the Capers, as announced by CBU Athletic Director,  John Ryan.
Skinn, who was an Academic All-Canadian at CBU, has been the Head Coach of the Women's program at rival St. FX for the past four seasons, and, before that, was an Assistant Coach with the University of Calgary Dinos, under Coach Dan Vanhooren for four years, while completing a Master's degree in Sport Science.
At St. FX, Skinn brought competitiveness to a program that had previously struggled, and his AUS record over the four years was  51-29 (57%).
The X-Women went to the CIS Nationals in 2010-11 for only the second time in the program's history. At the prospect of returning to Cape Breton, Skinn said, " I'm thrilled to go back to coach at the school where I was so proud to play. I intend to put the same kind of pride and enthusiasm into my coaching."
He replaces Interim Coach Thom Gillespie, who took over just as the 2011-12 season was about to start. Gillespie guided CBU to an 11-9 record in AUS play, and an eventual first round playoff exit at the hands of St. FX.
Speaking of his time in Antigonish, Skinn said, "I really enjoyed my four years with St. FX, and I'm very thankful for the opportunity offered to me by (Athletic Director) Leo MacPherson, who took me on in my first head coaching role. I know it's going to feel different when we go to X for the first time next fall."
"I'm also grateful for the chance I got as an Assistant with the Dinos. Dan Vanhooren gave me lots of responsibility, and I learned a lot in my time with UC."
The first order of business will be to "ensure we complete our recruiting and get an outstanding class for this fall," said Skinn.