Fraser Valley Goes Toe-to-Toe with Carleton, Ravens Too much in Second Half!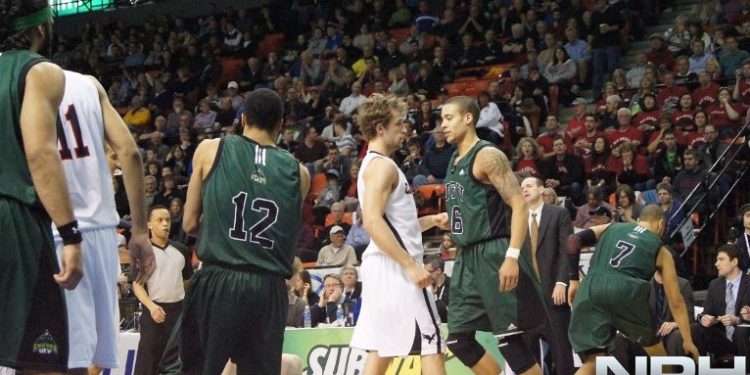 NPH Top Performers
Carleton
Phillip Scrubb – 18 points, 9 assists, 36 minutes
Thomas Scrubb – 16 points, 4 rebounds, 3 assists, 29 minutes
Willy Manigat – 15 points, 25 minutes
Fraser Valley
Joel Friesen – 13 points, 5 rebounds, 5 assists, 29 minutes
Kyle Grewal – 11 points, 3 rebounds, 30 minutes
Halifax, NS–Despite being in an early physical battle, the number one team in the country stuck with it and prevailed with a dominant third quarter led by Thomas and Phillip Scrubb.  The Carleton Ravens prevailed defeating the Fraser Valley Cascades 83-65.
Early on in the game one of the most physical and vocal players for the Cascades, Kyle Grewal, went down yelling in pain.  He yelled "are you kidding me?" as he limped off the court.  However, as expected, Grewal came back into the game minutes later and continued to do what he does best, provide energy!
The Cascades would continue to battle with Joel Friesen and Spencer Evans making some key shots giving Fraser Valley a 12-8 lead before Grewal checked back in.
The Ravens would not be contained and started to adapt their game.  At the end of the first quarter, Thomas Scrubb started picked it up, which would be a sign of things to come.  Thomas went 2/2 at the charity strike and knocked down a three point shot to give Carleton a lead going into the second quarter.
It was physical all game, with Grewal and Hinz testing each other down low.  Grewal was getting the better of Hinz containing him to zero points.  Like all great players, Hinz adapted and started to bring Grewal outside where he wasn't as comfortable.  Tyson would knock down a couple of three's and another long shot to give him eight points at the half.
The Scrubb brothers were starting to heat up.  With key shots made by both Thomas and Phillip the Ravens were able to hold the Cascades from getting any closer.  The Ravens lead 31-27 at halftime.
Following the halftime break, Carleton continued to shoot the three despite their recent shooting woes.  They went 5/11 from behind the arc in the third quarter, mostly thanks to Willy Manigat and Thomas Scrubb.
At one point in the third quarter, Thomas Scrubb scored eight points in a row, giving Carleton a 13 point lead, a lead they would not relinquish.
"Right from the beginning in warm-ups, my shot felt good, the last few big games I haven't shot well and I knew that I couldn't get any worse and just shot it and didn't think about it and just shot it," explained the older Scrubb.
The Ravens would not let their foot off the gas as their dominant third quarter allowed them to pull away from the Fraser Valley Cascades.  Willy Manigat hit another two three pointers and the Ravens coasted in the final quarter to an 83-65 victory.
With the victory the Ravens make it back to the National Championship game and will face Alberta for the right to be crowned Back to Back National Champions.  Fraser Valley will face St. FX for the bronze medal game.