Delon Wright out for 4 months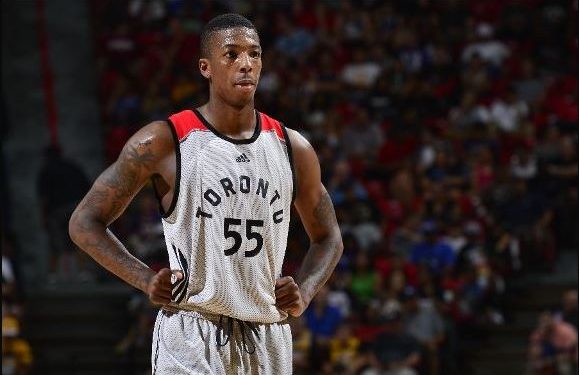 Delon Wright will be out for at least four months after undergoing arthroscopic surgery on his right shoulder. The surgery, which was performed in New York, was announced by the Raptors this morning.
Wright suffered the injury during a Las Vegas Summer League game against Minnesota. X-rays were taken right after the game, but did not show the extent of the injury. Further tests revealed a torn labrum.
Wright was the 20th overall pick by the Raptors in 2015 NBA Draft. He bounced back and forth between the Mississauga Raptors 905 and the Toronto squad, looking for as much court time as possible during his rookie year.
With the Raptors, Wright averaged 3.8 points, 1.4 rebounds, 1.1 assists and 8.5 minutes in 27 appearances. Wright was very much in a learning role last year, sitting behind Kyle Lowry and Corey Joseph, but still had some major contributions when called upon, including a season-best 19 points in 26 minutes in an April 8 victory against the Pacers.
Wright appeared in 15 games with Toronto's D-League affiliate, where he averaged 17.7 points, 5.0 rebounds, 6.5 assists and 35.7 minutes.
The injury comes at a difficult time for the young guard, who was absorbing knowledge like a sponge between his two roles with the Raptors and Raptors 905. His second season might not have seen an increase in minutes while Lowry and Joseph stayed healthy, but his improvement would have come easier while working on the court with them.
Delon Wright's out at least 4 months. A nice opportunity for Fred VanVleet here. – https://t.co/x7tw27Lrv2

— Blake Murphy (@BlakeMurphyODC) August 1, 2016
As Blake Murphy notes, his absence, however, does leave an opportunity for Fred Van Fleet to snag a roster spot, who had a very promising Summer League debut.
https://www.instagram.com/p/BInPUQIggpY/?taken-by=delonwright&hl=en
UPDATE: From the looks of Delon's Instagram post, the surgury was a success and #55 is well on his way to recovery.