CCAA National Rankings – Week 2, Humber Hawks Take #1 Spot!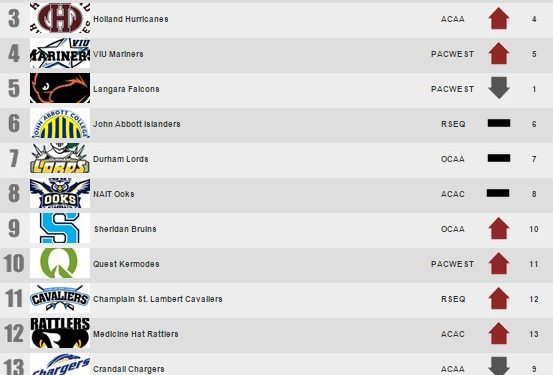 The CCAA has released week two of the Canadian College National Rankings, and there is a new number one in Canada.
The Humber Hawks are rolling, picking up two victories last week over St. Clair (61-58) and a comfortable win against Lambton (91-75) to move the Hawks to 6-0 on the season. The only other undefeated OCAA team is #7-ranked Durham College (5-0).
Former #1 and defending CCAA champions Langara dropped to #5 with a loss against VIU, who has climbed one spot to #4.
The recently featured Holland Hurricanes also climbed up a spot to #3.
New entries into the Top 15 are Fanshawe, Medicine Hat & Mount Allison (2-1).
CCAA National Rankings – Week 2