Canadians in NCAA: Tyler Ennis Part of Syracuse History + Monster Games Across Board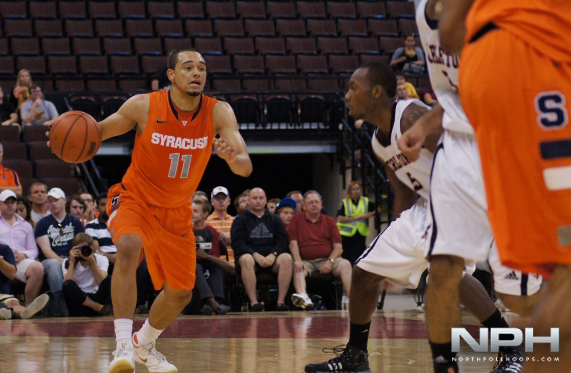 Another loaded day of college hoops is upon us before Super Bowl festivities begin, but first we must shed light on some of the top Canadian performances in the NCAA from yesterdays games. The list below highlights history in the making with the Tyler Ennis' Orange at 21-0, plus some career high's from some freshman. There is also note of the revival of Maurice Walker's college career, a one-time overweight center who has shed a ton of weight and transformed his game to new heights at Minnesota.
Tyler Ennis has been nothing short of tremendous in his first year and is being rewarded with high praise by college basketball analysts all over North America. The talk about Ennis becoming a first round pick, and even being a lottery pick is becoming more serious as he continues to be a centerpiece for Syracuse.
Monster games put up across the board, courtesy of Melvin Ejim, Khem Birch and Dwight Powell.
Tyler Ennis (Brampton, ON) 14 pts, 3 rbs, 9 ast on 3/5 FG for Syracuse as they remain UNDEFEATED (21-0) with a big 91-89 overtime victory over Duke! Cuse are now 21-0 and have a set a new record for the Orange.
Andrew Wiggins (Thornhill, ON) cools off against Texas, in the 81-69 Kansas loss. 7 pts, 5 rbs (2/12 FG).
Brady Heslip (Burlington, ON) goes off for 20 pts on 6/13 from 3 point land, leading Baylor to BIG W over OSU. Fellow Canadian & starting PG Kenny Chery is out with a foot injury.
Melvin Ejim (Brampton, ON) snapped for 22 pts, 16 rbs, 1 ast, 2 stl, 2 blks on 7/15 for the 81-75 victory over #23-ranked Oklahoma.
Laurent Rivard (Longueuil, QC) – big game for Harvard – 22 pts, 5 rbs, 2 stls on 6/9 from behind the arch.
Dejan Kravic (London, ON) picking it up — 18 pts (7/10 FG) 6 rbs, 2 ast, 2 blks as Texas Tech defeats TCU 60-54.
Khem Birch (Montreal, QC)  beasting. 15 pts, 15 rbs, 2 stls, 6 blks on 4/7 FG for UNLV in 73-69 W over Boise St,
Jason Calliste (Scarborough, ON) has been picking it up for Oregon, averaging 19.7 PPG over last 3 games…off the bench. 18 pts, 5 rbs 2night in W over USC. Jason Calliste is shooting a ridiculous 53% from the field and even more impressive, 54% from the 3-point line for Oregon (15-6).
Manny Arop (Edmonton, AB) – 11 pts, 3 rbs, 2 ast, 3 stls for Indiana St in 87-81 W over Northern Iowa. #2 in MVC behind only undefeated WSU
Daniel Mullings (Scarborough, ON) 21pts, 8rbs for New Mexico St in 72-48 W over Utah Valley. Fellow Canadian Renaldo Dixon with 8 pts, 8 rbs.
Marko Pirovic (Bolton, ON) Canadian freshman at Maine with a career night – highs of 13 points & 9 rebounds in the 83-80 win over UMBC.
Troy Reid-Knight (Vaughan, ON) (freshman) had a career-high 6 assists to go along with his 10 points for Maine in 15 minutes of action.
Maurice Walker (Scarborough, ON) – 4th double-digit scoring game for Minnesota in 55-54 loss against Northwestern. 14pts, 4rbs, 2 ast, 2 blk.
Dwight Powell (Toronto, ON) ties season-high of 28 pts + 5 rbs, 5 ast, 3 stls. in 76-60 W over Arizona State.