Canadian Cadet National Team Drop Game to Spain, Currently 2-2 at World Championships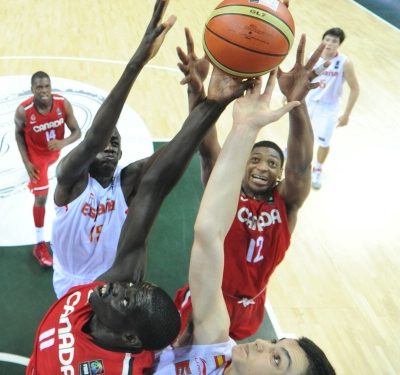 NPH TOP PERFORMERS
Marial Shayok– 17 pts, 6 rbs
Tyrell Green- 10 pts, 6 rbs
Tanveer Bhullar- 7 pts, 8 rbs
KAUNAS, LITHUANIA – In the first game of the day, Canada was unable to keep up with Spain after the first quarter, as Spain beat Canada, 83-62. Canada`s current record is 2-2 at the FIBA U17 World Championship.
Canada was led by Marial Shayok (Ottawa, ON) who scored a team-high 17 points and six rebounds, while Tanveer Bhullar (North York, ON) recorded a team-high eight rebounds and seven points in the lost against Spain.
In the first quarter, Canada was able to build a seven point lead, but with less than two minutes to go in the quarter, Spain was able to go on a 9-1 run to tie the game up, as the quarter ended in a draw, 20-20.
To open the second quarter, Spain was able to continue their run from the opening frame, as they went on a 12-2 run to begin the second. Canada was able to battle back late in the quarter to cut Spain's lead at the half to 39-33.
During the third quarter, Canada was able to keep the game within five points in the first five minutes of the frame. In the final five minutes in the third, Spain was able to go on a 13-2 run to stretch the lead to 62-46, heading into the fourth.
With a 16 point lead in the fourth, Canada was unable to make a comeback as Spain cruised to a 83-62 win.
For box score, click here.
Canada will play Korea (0-3) on Wednesday to conclude preliminary play. The game will tip-off at 2:00 a.m. (EDT) and will be able to follow on FIBA Live-Stats. . The top four finishing teams from each group will advance to the medal round with the quarterfinals staged on July 6, the semifinals on July 7 and the finals on July 8.