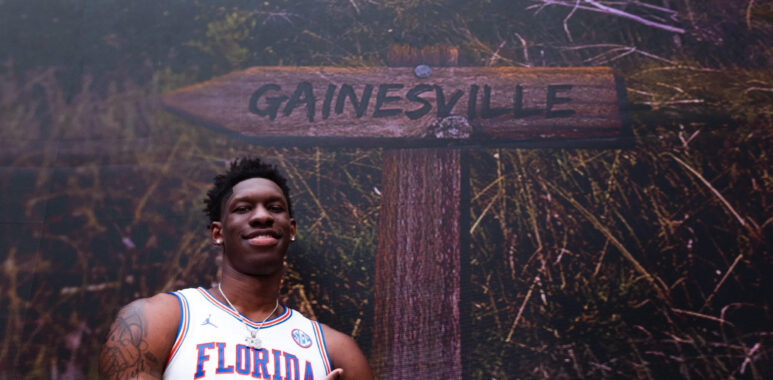 Montreal's Tyrese Samuel Commits to the Florida Gators
Tyrese Samuel, the former Seton Hall forward, has made headlines recently with his decision to enter the transfer portal and ultimately commit to the University of Florida. The 6'10 Canadian from Montreal has been on the radar of collegiate and pro basketball scouts for several years now, and his decision to join the Gators already created a buzz in the Twitterverse and in Gainesville, Florida.
He was courted by more than 25 teams but in the end it came down to Wake Forest and Florida, before ultimately choosing to complete his college career in the sunshine state. I guess second time's the charm since Head Coach of the Gators, Todd Golden and Associate Head Coach, Carlin Hartman had both recruited and been interested in Tyrese out of high school.
Samuel's statistics from his entire career escalated from season to season. In his final season at Seton Hall he continued to improve to a whopping 11.0 points per game, 6 boards and 1.1 steals in 23 minutes per game.
He is expected to expand his role and time on the floor in his final NCAA season and get back to sharpening some of the skills the skills he displayed with the National Team and NBA Basketball Without Borders in his late teens.
The Gators have also added 7'1 Micah Handlogten from Marshall who was in the transfer portal, along with EJ Jarvis from Yale. There will be depth and interchangeability at the power forward and center positions.
Samuel has been recognized as a player with NBA-type potential, thanks to his combination of height, athleticism, and versatility on the court. With his 7-foot wingspan and ability to play multiple positions, Samuel is a player that NBA scouts will be keeping an eye on in the year to come.
Samuel's journey to the University of Florida has been an interesting one. He played for the Red Rush in the Canadian National Invitational Tournament hosted by North Pole Hoops, where he caught the attention of college recruiters. He also played his high school ball for Orangeville Prep and was a 2-time BioSteel All-Canadian selection. His decision to join Seton Hall was based on the team's track record of developing international players, and he made an impact on the court from his very first game.
Now, as he prepares to join the Gators, Samuel is looking forward to continuing his growth and development as a player. He has stated that he is excited to join a program with a winning culture and a strong history of developing players for the NBA.
Samuel's journey is just beginning, and there is no doubt that basketball fans will be keeping a close eye on his progress in the coming years. With his size, athleticism, and potential, he has the ability to make a big impact at the next level. For now, we can only wait and see what the future holds for this promising young talent.
I got the chance to speak with Tyrese after his commitment to Florida and I asked him why he chose the Gators, he replied with "I chose the Gators because it was something that felt right, the staff was really welcoming, great people, Hartman, Green, Talley, Golden just great people." He went on to say, "the school is just such a nice school, the warm weather it's Florida. The basketball, the legacy they have at their school and not only from the basketball standpoint but every team is great at the sport they do. It's just something you want to be around everyday."
As you rise your stock, you win games, your teammates become better players, you become a better player and as a program everyone just becomes better & that's how winning happens.

Tyrese Samuel on his commitment to the Florida Gators
They're ready to put me to work and that's something I need especially this year. All I want to do is make a deep run in the tournament.

Tyrese Samuel on his commitment to the Florida Gators