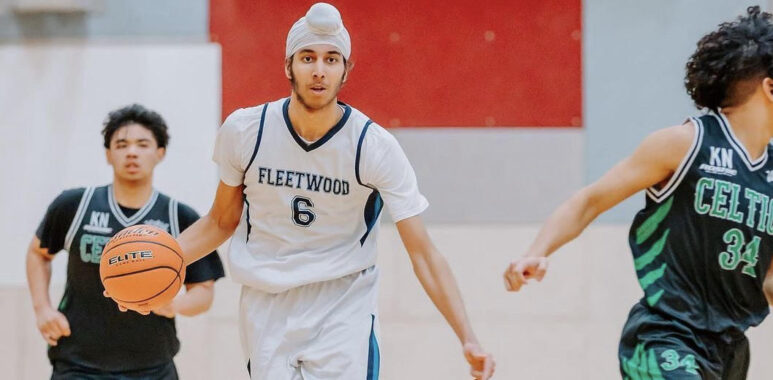 Eesher Sarai; the next one out of British Columbia.
For those of you who may not be familiar with the 6'8 class of 2024 prospect out of British Columbia, this is the article you want to be reading. A unique prospect who fits the current climate of basketball which is the essence of being a position-less player. These days everyone can dribble the ball and shoot from beyond the arc, it's become the new norm to see a stretch 4 man rebound the ball and immediately put the ball on the floor and initiate the transition offence. Eesher Sarai is one of those guys who can handle the rock and navigate through the opposition and manipulate the defenders to get to his spots. The one glaring difference I do notice about Sarai is his rebounding ability, with multiple 20 rebound games in the past year he has a nose for the basketball and is keen to get in the paint and mix it up. Eesher is coming off a monstrous 31 point 15 rebound game in the Rich Goulet Memorial Tournament in Vancouver, BC.
"Eesher has come a long way over the past 6 months, adding a lot to his game. He's 6'8 with a 7'0 wingspan who has now started pushing the ball himself in transition & has begun creating for himself off the dribble. His versatility skyrockets his potential. Eesher will only continue to grow & mature as a player"
Harp from 3SeedTraining on Eesher Sarai
I took some time to pick Eesher Sarai's brain after his big time performance this weekend and here is what he had to say:
Josh Millican: Talk about how you got to where you are today & your upbringing in BC?
Eesher Sarai: I got to where I am today by staying with the grind and with help from people that believe in me. I was lucky enough to attend a high school that has a good reputation for basketball, which taught me how to win games and deal with high pressure situations. My trainer Harp (3SeedtTraining) played a big role by working on me with all the skills that I use in my game today along with teaching me defensive concepts that helped me bring a bigger impact towards my team.
JM: Who has had the biggest impact on your development over the years?
ES: The person that has had the biggest impact on my development is Harp from 3SeedTraining. He knows the game at such a high level and he is able to improve my game in every aspect whether it's my off the dribble finishes, post game, shooting, in-game reads, defence etc. I've been able to work with him for the last year and a half and the change in my game since then has been drastic, and I have him to thank for that.
JM: What is something that you can do in the game that no other Canadian prospect can?
ES: Something that I can do in my game that is special is my ability to go coast to coast after getting a defensive rebound, and getting down the court at a high speed to either get a dunk, or an easy layup or three for my teammates in transition.
JM: How has your recruitment been going and where would you like to play if you had your pick of schools?
ES: My recruitment currently is interest from multiple USports schools. My dream has always been to go Division I, because there is only a handful of Indian hoopers to ever play Division I, and I want to get there and be apart of that so I can inspire the Indian youth.
(2024) 6'6 Eesher Sarai is an extraordinary talent out of BC. Cut from the right cloth, respectful when you talk to him but when he's on the court there's no mercy. He goes full tilt the second he's between those 4 lines. Can go coast to coast & finish above the rim in traffic. pic.twitter.com/rY3ooVqbtG

— Josh Millican (@Josh_NPH) March 22, 2022
JM: What is your go-to pregame meal?
ES: My pregame meal varies but I always have pasta the night before a game just so that my energy is good. I also make sure that I'm properly hydrated before a game and I always have a Gatorade right before a game and some carbs.
JM: What would you say is the area of your game you need to work on the most?
ES: The thing that I need to work on the most is my shooting, now-a-days in College everyone can shoot no matter the height because it's essential for spacing. So I need to build on my shooting from what it is right now so that it opens up more options for both my team and myself offensively.
JM: What is the most difficult aspect about being a Canadian prospect trying to get recruited that you have experienced?
ES: The hardest part about being a student athlete in Canada is the lack of exposure. Since you don't play in front of coaches that often it means that I have to step up in other ways in terms of recruitment by staying active on Twitter and sending emails to schools that I'm interested in attending.