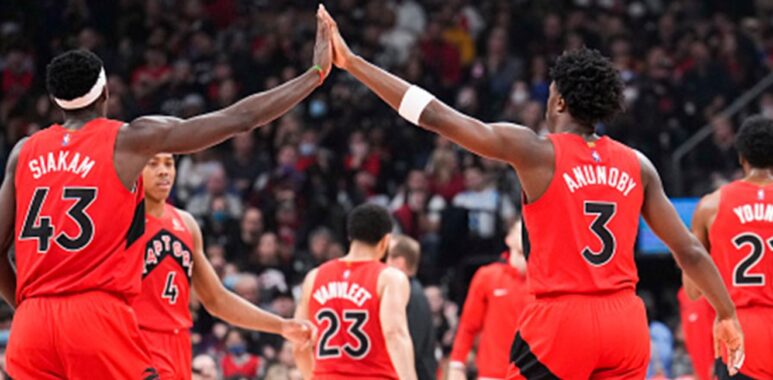 Fire Starters – Toronto plays out of the play-in, set sights on the 5th seed
The High 5 – Week in Review – Week 23
The High 5 is where I review the last week of Toronto Raptors basketball including how the team did, who were the impact players as well as some news and notes from around the league.
The Thumb – How was the week?
The ferocious Raptors stalks its prey in silence, moving slowly amongst the tall grass, hidden under the radar of the average eye. They may be smaller, but they are just as dangerous and deadly as the larger names in the dinosaur world.
This particular pack has been living within the weeds for most of the season but has finally found their time to strike. They pounced on an overrated 6ixers team, a Cavs team that is leaking oil, and a Pacers team already looking to next season. They dropped one to the Bulls, but Chicago has stubbed their toes since and have been vulnerable.
The Raptors seamlessly reintegrated Anunoby into the lineup after a long absence and found pay dirt more often than not with Boucher and Achiuwa. Siakam is still insultingly underappreciated by the NBA media at large and Scottie Barnes has beefed up his Rookie of the Year resume narrowing an already slim gap in a race between him and Evan Mobley.
All this has mitigated the loss felt by the recent Trent Jr. injury and the slight drop off from VanVleet and his busted knees.
Yes, it is exciting to be a Raptors fan. With the 5th seed in their crosshairs, the Raptors are sneaking up on everyone at just the right time and feasting on unsuspecting opposition.
Week Record (3 – 1)                                       Season Record (42 – 32)
Toronto Raptors v Philadelphia 76ers                     W           93 – 88
The 6ixers have hovered around the top of the East all season and bolstered their ranks with their addition of James Harden. The Raptors, still stinging from the Lakers loss, wanted to ease the pain with a win in Philly's unforgiving barn. No VanVleet and a big center meant Toronto played their supersized lineup. Toronto surprised Philly by taking a narrow lead into half. Philly regained control, mainly off Embiid's paint work, but Toronto blitzed the offensive glass to keep it close. It was nervous down the stretch, but Toronto executed to close it out.
Toronto Raptors v Chicago Bulls                               L              113 – 99
The Raptors headed to the Windy city for the second half of their difficult back-to-back. Fred was back in the lineup, but it was Barnes facilitating early. Chicago tried to push the tempo, but the Raptors stayed with them step for step. Siakam was slick with his moves; he pushed the Raps into a 1-point 1st half lead. Chicago cranked up the D in the 3rd which finally gave them separation. Toronto had spacing issues on offense, especially when their heavy legs set in. The Raps lost their pace while the Bulls kept running.
Cleveland Cavaliers v Toronto Raptors                   W           117 – 104
Toronto had another opportunity to make up ground in the East when they took on the Cavs at home in a pivotal conference matchup. It was also a showdown between the leagues top two rookies, Barnes and Mobley. Cleveland studied the scouting report but a quick adjustment by Nurse unlocked Toronto's energy and competitive spirit. Anunoby returned and looked like he never left. Siakam was outstanding, he connected on a career high 6 triples while tying his season high 35 points. Toronto simply overwhelmed the Cavs for the easy win.
Indiana Pacers v Toronto Raptors                             W           131 – 91
Aside from trying to play spoiler, the Pacers had little motivation, but to the hungry Raptors, all they looked like was food. From the opening tip, Toronto methodically and relentlessly hunted and exploited mismatches. They steamrolled the Pacers with the subtlety of a wrecking ball, scoring a mind boggling 50 points within the first 15 minutes. This was shaping up to be one of Toronto's most complete games of the season. They were unrelenting and unforgiving. The only thing that stopped them was an actual fire in the building. When play resumed, Toronto kept the heat on for the casual W.
The Index – The Leader – Player of the Week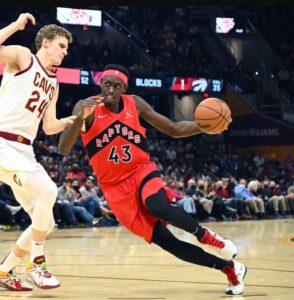 Pascal Siakam
We are at the point of the season where we are running out of adjectives to properly describe Siakam's game. But really, what else is left to be said? He is clearly an All-NBA talent, whether the voters confirm it or not. He is a multi faceted Swiss army knife of basketball options that plays with poise, control, and confidence. Pascal is unguardable in one-on-one situations, his gravity and passing has elevated his teammates. Siakam was especially sensational against the Cavs; he was a problem from the field and extremely confident from deep. He is so good right now that other players are making rap songs with his name in their lyrics.
| | | | | | | | | |
| --- | --- | --- | --- | --- | --- | --- | --- | --- |
| | Points | Rebounds | Assists | Steals | Blocks | FG | 3PT | FT |
| v PHI | 26 | 10 | 5 | 0 | 0 | 10/20 | 1/3 | 5/6 |
| v CHI | 22 | 5 | 4 | 0 | 0 | 8/14 | 0/2 | 6/8 |
| v CLE | 35 | 5 | 6 | 0 | 0 | 12/20 | 6/7 | 5/5 |
| v IND | 23 | 6 | 7 | 3 | 0 | 10/15 | 1/3 | 2/4 |
| | | | | | | | | |
| Weekly Avg | 26.5 | 6.5 | 5.5 | 0.75 | 0 | 40/69 | 8/15 | 18/23 |
| 4 Games |   |   |   |   |   | 58% | 53% | 78% |
| Season Avg | 22.2 | 8.2 | 5.1 | 1.2 | 0.6 | 49% | 37% | 74% |
| | | | | | | | | |
Honourable Mention: P. Achiuwa, C. Boucher
The Middle – The Enemy – Best Opposing Player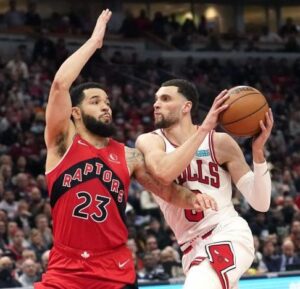 Zach LaVine – Chicago Bulls
The Best Opposing Player award could have been given to any one of Chicago's three headed monsters. Vucevic had a strong double double and DeRozan was accurate from the field, but it was LeVine that did the most damage. He may not have been as efficient as DeMar but his 6 dimes and 3 triples more than made up for it. Toronto had a fighter's chance until LeVine went off for 14 of his 26 points in the 3rd to help Chicago establish a solid lead. His aggression was the difference, Toronto had difficulty keeping up with his dynamic athleticism.
| | | | | | | | | |
| --- | --- | --- | --- | --- | --- | --- | --- | --- |
|   | Points | Rebounds | Assists | Steals | Blocks | FG | 3PT | FT |
| v TOR | 26 | 6 | 6 | 1 | 0 | 9/18 | 3/6 | 5/8 |
Honourable Mention: J. Embiid (PHI), J. Harden (PHI), D. Garland (CLE), N. Vucevic (CHI), DeRozan (CHI)
The Ring – The X Factor – Standout Performance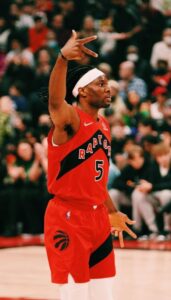 Precious Achiuwa v Indiana Pacers
Precious only needed 24 minutes to prove that his offensive game has gone up another level. A player once known for his hustle and athleticism has suddenly become one of Toronto's most reliable knock down 3-point threats. Yes, that's right, Achiuwa is deadly from distance. He showed just how much he's improved by going 4/5 from deep against Indiana while collecting a handful of rebounds and dimes. Achiuwa has soften the blow of the Lowry trade with each passing game. He is working his way into being a part of the core of the future.
| | | | | | | | | |
| --- | --- | --- | --- | --- | --- | --- | --- | --- |
|   | Points | Rebounds | Assists | Steals | Blocks | FG | 3PT | FT |
| v IND | 18 | 6 | 4 | 1 | 0 | 7/12 | 4/5 | 0/0 |
Honourable Mention: P. Siakam v PHI, P. Siakam v CLE, Boucher v CLE, C. Boucher v CHI, P. Siakam v IND
The Pinky – The Unsung Hero – Key Contributor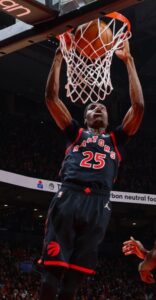 Chris Boucher
Boucher has taken significant steps in his development with his biggest areas of growth being in his maturity, energy and defense. He has excelled as of late, leading a welcomed resurgence of production off the bench. He picked up double doubles in 3 of the 4 games with a respectable number of points to boot. Boucher's highlight this week came in a blink and you missed it moment when he threw down a monster one handed ally oop slam in the Chicago game. His hyperactivity has earned him extended burn in what is shaping up to be the best season of his career.
Honourable Mention: P. Achiuwa, A. Brooks                          
News and Notes
Bubbling Brooks – Armoni Brooks shot himself into a partially guaranteed 2-year contract after taking full advantage of his 10-day opportunities.
Burn the place down – The Raptors are so hot that they literally sparked a fire among the speaker system at Scotia Bank arena. In their game against the Pacers, firefighters had to clear out the fans causing a significant disruption to the game.

Photo Courtesy: @theScore/Twitter
Around the League
Worth the Price – NBA and Celtic legend Ray Allen was fined for missing jury duty to instead attend the jersey retirement of former teammate Kevin Garnett. Allen was ordered to donate $1000 to a charity of his choice. A small price to pay with a positive charitable outcome.

Photo Courtesy: Getty Images

Respect the Family – Portland center, Jusuf Nurkic was fined $40000 after he walked up to a fan, took his phone and threw it away. Before anyone sends blame to Jusuf, it was later revealed that the fan spoke disrespectfully towards Nurkic's family. Specifically, to his grandmother who passed away from COVID complications in 2020. Considering these details, there is no animosity towards Nurkic, instead he has been applauded for his actions. Even Jamal Murray, a player on a conference rival, gave his support to Nurkic over twitter.
New York Minute – The City of New York has lifted its COVID mandates which now allows Kyrie Irving to play home games for the Brooklyn Nets. His consistent presence (aside from playing in Canada) will only make an already dangerous team even stronger. Whether or not this was the right decision can be left for others to debate.
God's Plan – Drake is building a reputation of philanthropy. He hosted an event in Toronto with LeBron James where he announced that he would be donating $1000000 to LeBron's "I Promise" elementary school in Ohio. As icing on the cake, he added that he will personally drop of the money before the end of the school year.
No Holmes – Sacramento's Richaun Holmes is in a world of trouble due to recent domestic violence accusations against him. The allegations center around the safety and well being of his son and is significant enough that the Kings decided to shut him down for the rest of the year and keep him away from the team. Richaun has vehemently denied these allegations in strongly worded statements. Expect more information to come as this situation develops.
Like Siakam – As mentioned in the Siakam write up, Charlotte Hornets forward Miles Bridges recently dropped a hip hop song featuring Siakam in one of his lines. It is at the same time hilarious, ridiculous, and a huge sign of respect.
Razzle Dazzle – Congratulations to LeBron James for winning the Razzie for Worst Actor for his role in Space Jam 2 at the 42nd annual Golden Raspberry awards.
We need to talk about Brittney – Why aren't more people talking about Brittney Griner? As documented in a previous High 5, the WNBA star was detained in Moscow after she was arrested for having vape cartridges in her luggage. Her detainment has grown from 2 to 3 months and now there are discussions of a possible sentence to a labour camp that could last up to 5 years.
Mamba Forever – After a few tense months, the estate of Kobe Bryant and Nike have reached an agreement to continue their partnership. Their agreement includes efforts to establish a youth basketball centre in California. In addition, 100% of the proceeds of the sales of Gianna Bryant's shoes will go directly to the Mamba and Mambacita Sports foundation.

Photo Courtesy: Nike.com
Up Next
Toronto will have a tough Monday night game against the much-improved Boston Celtics. That will be 'must see' television. On Wednesday, they will host the Timberwolves in what will be a game full of highlights. On Friday, they will travel to Orlando to take on the Magic before wrapping up their week on Sunday night in another big game against the Miami Heat.