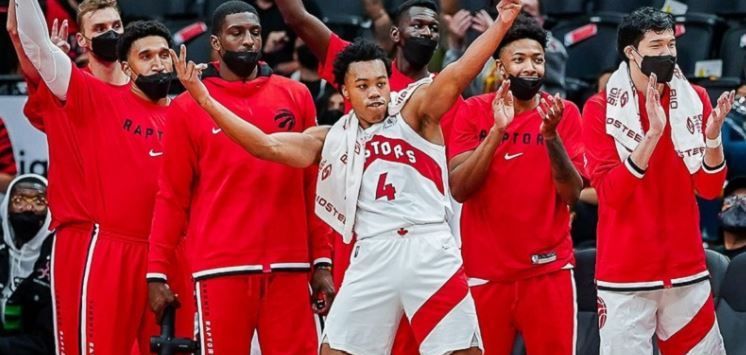 The Eye Test – Prelude to the 2021-22 Season – 4 Players to Watch
The High 5 – Season Preview
The High 5 is where I review the last week of Toronto Raptors basketball including how the team did, who were the impact players as well as some news and notes from around the league.
The Thumb – How was the offseason?
It is the dawn of a new era.
When the High 5 began, the Raptors were in the midst of a Championship run. At that time, there was no shortage of stories to write about as every article featured another incredible performance from an elite player. The team was spoiled with an abundance of riches and was justly rewarded with a championship title.
But since then, how have they fared? The following year was cut short due to COVID which bled into the infamous Bubble Season. Though that experience alone provided a world of content, the abbreviated year ended in disappointment.
The team took significant hits as free agents left for other opportunities culminating in one of the most brutal seasons in recent memory: last years campaign. Games were crammed in a shortened schedule, COVID remained rampant, the Raptors were in Tampa with no support, and Toronto's weaknesses became more and more apparent with every bumbled Aaron Baynes possession.
In the offseason, Toronto made difficult decisions to address the team's future. Kyle Lowry, the GROAT*, took his talents to South Beach leaving a franchise sized void. Toronto hopes that void may one day be replaced by a different type of player in rookie sensation and instant fan favourite, Scottie Barnes. The Raptors also bolstered their front court with an army of mobile, defense oriented, 6'9" energy forwards that will be interchangeable on the back end and a terror in the open floor.
Certainly, there remains a laundry list of questions. Who will win the shooting guard battle? How will these new players fit? How will the team fare without Siakam to start the year? This new look Raptors, led by the core of VanVleet, Siakam and Anunoby will undoubtedly have its highs and lows, but the team looks hungry, athletic and with something to prove.
Toronto is in a familiar position. Underrated and overlooked. In a dangerous Eastern Conference, there will be no easy wins, Coach Nurse will need his team playing hard on every possession. This season it looks like he may have the players to do it.
In lieu of a lengthy piece, here are 4 players that are poised to do damage this year.
(*Greatest Raptor of All Time)
The Index – Most Dangerous Threat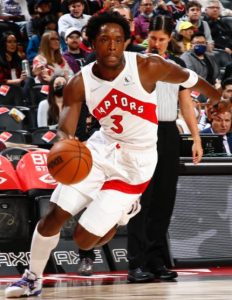 OG Anunoby – Small Forward
The league is finally starting to notice something that we in the High 5 have realized a long time ago; OG is a problem. The unflappable forward is a Swiss army knife of assets and looks to have only added to his bag in the offseason. OG's skill set makes him the most versatile player on the team. His defense has always been elite but what has his coaches salivating the most is his evolution as an offensive option. His shot mechanics look smoother and confident, and his handles have tightened up considerably which should help him create separation for his improved mid-range game. OG's strength is notable as he can now bully himself past smaller defenders with ease. His points per game have been steadily increasing as he becomes more consistent, and his unshakable confidence will keep his shot dangerous in clutch situations. OG will get plenty of touches early with Pascal out. He may not get much All-Star talk but it would be a crime if he was not considered for an All-Defensive team by years end.
| | | | | | | | | |
| --- | --- | --- | --- | --- | --- | --- | --- | --- |
|   | Points | Rebounds | Assists | Steals | Blocks | FG | 3PT | FT |
| 2018-19 | 7 | 2.9 | 0.7 | 0.7 | 0.3 | 45% | 33% | 58% |
| 2019-20 | 10.6 | 5.3 | 1.6 | 1.4 | 0.7 | 51% | 39% | 70% |
| 2020-21 | 15.9 | 5.5 | 2.2 | 1.5 | 0.7 | 48% | 40% | 78% |
The Middle – Bench or Start?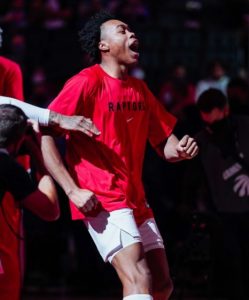 Scottie Barnes – Power Forward
Unless he is starting, Barnes will undoubtedly be the first big off the bench. Similar to OG, Barnes will have an expanded role to start the season. He impressed in preseason with his infectiously energetic unselfish play. He led the team in assists (5.6) which bodes well as a lack of playmaking is a concern without Lowry. Barnes has an NBA ready body, which should help when battling bigs, while his personality adds some much-needed joy not seen since Serge Ibaka. Most importantly, Barnes has earned the favour of his teammates, including the malcontent Goran Dragic, who now sports a huge smile whenever the young big man is around. An understated impact from Barnes may come by way of his positivity in the locker room.
The Ring – X Factor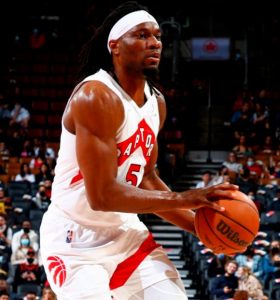 Precious Achiuwa – Center
Achiuwa's addition may be one of the shrewdest moves of the offseason. Masai pulled the right strings and was able to bring the young Nigerian, a product of his Giants of Africa program, North of the border. Coming from the Miami system, you can already tell that Precious was taught to play the right way. He blew away expectations with exceptional preseason play where he was a force on both ends of the floor. What stood out the most was his aggression and propensity to take it to the rim at every opportunity. The Raptors need someone that can attack relentlessly and pick up the scraps off broken plays. On the other end, Precious can extend his defense to the three-point line and has the same switchability as anyone on the team. His personality is a bit edgier than the stoic Anunoby and VanVleet or the boisterous Siakam and Barnes. He brings some needed grit and will push others for minutes all year.
The Pinky – Key Contributor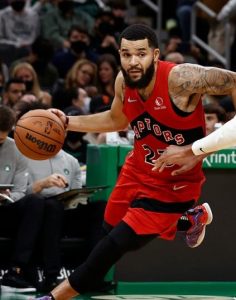 Fred VanVleet – Point Guard
VanVleet is unquestionably the leader and an essential part of the new look Raptors. I project Fred to wear his newfound responsibilities with pride and carry himself as the team's locker room leader. Despite his stature, he is a factor on both ends of the floor and remains as one of the most slept on players in the NBA. His deflection and ball hounding are top tier as well as his shot making and creation. I feel VanVleet may struggle a bit balancing when to score and when to pass, however he has matured over these last few years which has given him the poise and composure to work through difficult times. Steady Freddy will ensure the good ship Raptor stays afloat.
| | | | | | | | | |
| --- | --- | --- | --- | --- | --- | --- | --- | --- |
|   | Points | Rebounds | Assists | Steals | Blocks | FG | 3PT | FT |
| 2018-19 | 11 | 2.6 | 4.8 | 0.9 | 0.3 | 41% | 38% | 84% |
| 2019-20 | 17.6 | 3.8 | 6.6 | 1.9 | 0.3 | 41% | 39% | 85% |
| 2020-21 | 19.6 | 4.2 | 6.3 | 1.7 | 0.7 | 39% | 37% | 89% |
News and Notes
• Rounding out the Roster – Sam Dekker, Isaac Bongo and Yuta Watanabe pick up the last 3 roster spots on the team. The battle for the final spots became a dogfight. Toronto unfortunately had to say goodbye to Ishmail Wainright who, aside from having an incredible life story, played well in camp. Disappointingly, Freddie Gillespie had an opportunity to earn a spot, but he was not at his best and will now look for playing time elsewhere.
• Good to be Back – The Raptors are elated to have Scotiabank Arena at full capacity by the time the season starts. Now the only thing that will keep fans away are the obscene ticket prices.
• Diversity is our Strength – In a show of solidarity, the Raptors adorned their practice facility with flags from all the nations that their players represent.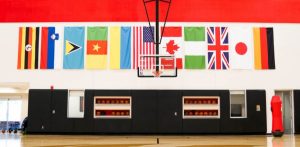 Around the League
• New Threads – Every year the NBA releases a crop of jerseys to maximize their revenue sales. Most times they feel lazy and uninspired. I can't say that about this year. These new alternate jerseys look beautiful.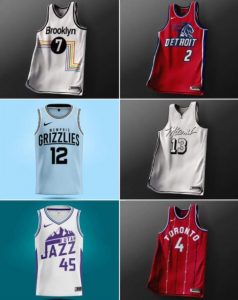 • Kyrie being Kyrie – Keeping it to basketball, it will be a loss for the Nets if they were to be without Irving. However, they still have two all world talents and only got stronger with the addition of Patty Mills, Paul Millsap and LaMarcus Aldridge. Something tells me Brooklyn will be just fine.
• Simmons Saga – Ben Simmons and the 76er franchise are trying desperately to separate from each other but it looks like they will have to start the season on the same side. Despite Simmons All-Star talent, Philly is struggling to find a suitable trade partner. Only a few years ago Philly was knocking at the door of a NBA finals, now they look to be imploding from the inside.
• Lean Back – The League will be cracking down on players jumping into defenders on shots. This should clean up a lot of ticky-tack fouls, but the rule will only be as good as its enforcement. Hopefully the refs stay consistent with it.
• Shine bright like a Diamond – It's the 75th anniversary of the NBA so keep an eye out for a lot of festivities and commemorations throughout games this year. This includes a revamped NBA logo on courts and an acknowledgement of the 75 greatest players of all time.
• Part of our Heritage – With each passing year more and more Canadians are making it to the NBA. Not just making it; having an impact. Shai and Lu will be the only reason to follow OKC while other stories like the homegrown Raptor Delano Banton, the Jamal Murray comeback, West Coast Wiggins, the emergence of Dillon Brooks, and the rise of RJ Barrett will have our attention here at NPH.
Up Next
The season begins for Toronto on Wednesday when the Raptors host the Washington Wizards. The Wiz made a lot of changes in the offseason but nothing that really moved the needle. However, they still have notable Raptor killer Bradley Beal. Friday night Toronto travels to Boston for a divisional game against the Celtics. A day later they will be back home to take on Wonder boy Luka Doncic and the Dallas Mavericks. This is a good test to start the season. Check back for the High 5 – Week 1 review next Sunday!