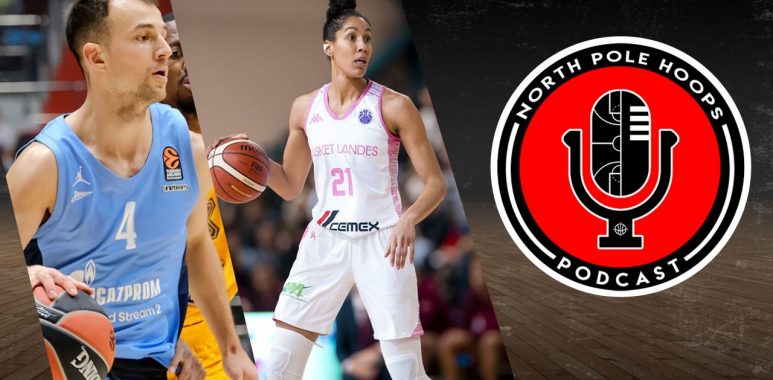 NBA
Podcast
Pro>Canadians
Team Canada
Women>National Team
North Pole Hoops Podcast: Miranda Ayim and Kevin Pangos
The North Pole Hoops podcast is back with episode 8! If you want to hear these episodes on the radio, make sure to listen to Sauga960 Am on Saturdays at 1 PM EST or Sundays at 3 PM EST.
This week on the show, host Jason Thom brought in another trio of exciting and timely guests from the basketball world.
For the individual interviews, check out the YouTube videos below!
For the full show, make sure to check out and subscribe to our podcast feed, all links are at the bottom!
NPH Hour at 1pm: @_jasonthom talks to @AyimWhoAyim who is preparing with @CanBball for her 3rd Olympic Games after capping her pro career with a French league title. Then @KPangos checks in from Russia after a season that has made him one of the most sought after PG's in Europe pic.twitter.com/hGlHbTGhlv

— @Sauga960AM (@sauga960am) May 29, 2021
Miranda Ayim 
Miranda Ayim joins the show to talk about going out a champion in the French league, retiring from her professional career, trials and tribulations in Turkey, taking care of the body and mind, Canada basketball growth, women's basketball growth, mental health, the Canadian SWNT and more!
How's that for a storybook ending? 🌟

French Champions 🇫🇷🏆

So proud of this team, so pleased for this club & so honoured to be part of this incredible adventure. @BasketLandes

More thoughts on my recent Insta post.

Je crois que ce sourie restera longtemps sur mon visage. 😌 pic.twitter.com/gRC4EnXCgO

— Miranda Joy Ayim (@AyimWhoAyim) May 20, 2021
Kevin Pangos 
Kevin Pangos talks playing in the top leagues in Europe and Russia, his daughter and wife, Gran Canaria, Lithuania, fun Gonzaga stories, injuries, handling the pandemic, the Canadian National team, his basketball journey and much more!
.@KPangos with that 20/20 vision 👀#7DAYSMagicMoment pic.twitter.com/7gEkKpvYUM

— Turkish Airlines EuroLeague (@EuroLeague) January 21, 2021
For the full show in podcast form, find us on:
It's another exciting episode of the North Pole Hoops Podcast, make sure to check it all out on our YouTube page, Podcast platforms and also to listen in live next week on Sauga960 for the next episode!