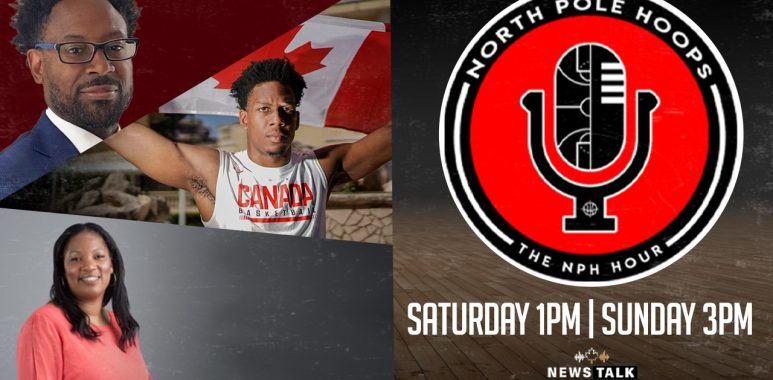 NBA
Podcast
Pro
Raptors
Raptors 905
USPORTS
Video
THE NORTH POLE HOOPS PODCAST: CEBL DRAFT, KADRE GRAY, WENDY SPARKS, COURTNEY CHARLES AND MORE
The North Pole Hoops podcast is back with episode 2! If you want to hear these episodes on the radio, make sure to listen to Sauga960 Am on Saturdays at 1 PM EST or Sundays at 3 PM EST.
This week on the show, host Jason Thom brought in another trio of exciting and timely guests from the basketball world.
Less than an hour away from Ep2 of the NPH Hour on @sauga960am talking @cebleague @usportsbball draft, an intw new @ott_blackjacks signee @KadreGray We also talk with @courtside_moms @wensparks about the path of her son @Khem_Birch to the NBA and @Raptors905 VP Courtney Charles! pic.twitter.com/3lcD2xtZDZ

— Jason Thom🇨🇦🏀 (@_jasonthom) April 17, 2021
CEBL Draft and Kadre Gray 
After an exciting week for Canadian hoops that featured the CEBL Draft, Thom talked to new Ottawa BlackJacks guard Kadre Gray. Gray is coming off one of the most decorated careers in U Sports history at Laurentian and most recently played for Team Canada at the FIBA AmeriCup 2022 Qualifiers, window 3.
Wendy Sparks- Mom of Khem Birch, host of Courtside Moms podcast
Speaking of Team Canada, Thom also caught up with Khem Birch's mom, Wendy Sparks. In the interview, Sparks talks about Khem's excitement to play for his home country Toronto Raptors, his journey to the NBA and his commitment to Team Canada. They also talked about Sparks' new podcast, Courtside Moms, which talks to NBA player's moms about the journey to the league for a parent of an elite basketball player.
Courtney Charles – VP of Raptors 905 
Finally, the Vice President of Raptors 905, Courtney Charles stopped by. Charles talked about the G-League Bubble, the Raptor's entire organization's culture and how he rose to his current position from an unpaid internship out of college.
It's another exciting episode of the North Pole Hoops Podcast, make sure to check it all out on our YouTube page and also to listen in live next week on Sauga960 for the next episode!