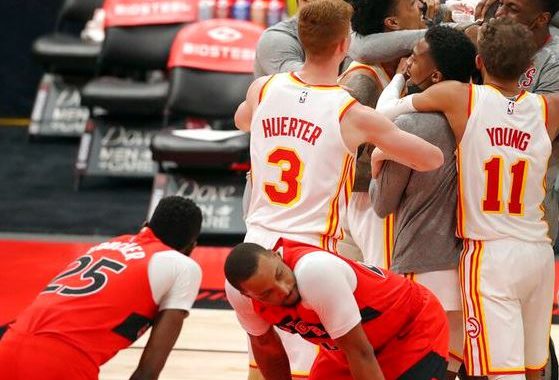 Animal Crossing – The Raptors lose to the Hawks, Hornets and Bulls in a turbulent week
The High 5 – Week in Review Week 12
The High 5 is where I review the last week of Toronto Raptors basketball including how the team did, who were the impact players as well as some news and notes from around the league.
The Thumb – How was the week?
Though the All-star break was only a few days, it felt like it lasted weeks. The Raptors were rested and recharged for the second half of the season but even with the time off, they were still missing half their roster due to health and safety protocols.
With so many important pieces missing, what could really be expected? The losses were, unfortunately, inevitable. If the Raptors could have mustered up enough effort, they may have been able to steal a game or two but for long stretches, Coach Nurse couldn't even get that.
A change in their fortunes may only be a few days away as Siakam, VanVleet, OG and others should be cleared for action soon.
Week Record (0 – 3) Season Record (17 – 22)
Atlanta Hawks v Toronto Raptors – L 121 – 120
The Raptors started the game in a familiar way, with their offense sputtering. They allowed the Hawks to fly out to a lead and were forced to play catch up. Atlanta got their points with little resistance while Toronto had to work for theirs. That is, aside from Powell, he is scoring as easy as he breathes. Toronto wrestled the lead back in the second half off big minutes from Boucher. A win was in sight, but Atlanta clawed back with ferocity. They took advantage of Toronto's inability to close out and stole the win off a buzzer beating triple.
Toronto Raptors v Charlotte Hornets – L 114 – 104
The wounded and heartbroken Raptors visited the Queen city to try and cure their woes. The Hornets had other plans, they sensed Toronto's disorganization and took a 20-point lead within the first 5 minutes. They set a Hornets record by connecting on a hailstorm of triples. The hits kept coming, Charlotte overwhelmed the Raptors and sent them reeling like Little Mac getting hit by a Tyson uppercut. Bless Lowry for putting his body on the line in a meaningless game. The Raptors were in a world of hurt.
Toronto Raptors v Chicago Bulls – L 115 – 95
Toronto barely had any time to recover from two brutal losses before taking on the gravity defying Zach LaVine and the raging Bulls. Still shorthanded, Toronto fielded the best of the rest and rolled the dice on Lowry and Powell again. The duo did their best, but they were out gunned by an organized Bulls attack. Fatigue set in the 3rd quarter and Chicago pushed their lead. Coach Nurse was desperate for someone else to step up, but no one answered the call.
The Index – The Leader – Player of the Week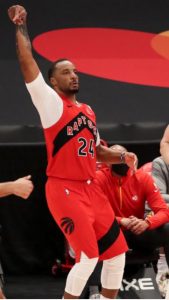 Norm Powell
Where would Toronto be without Powell? When he is slinging, he gives me shades of Ray Allen on the Bucks. Without other threats, teams have locked onto him which forced Norm to reach another level of creativity. What he has brought to the team has not been an anomaly. This is Powell evolved. His ascent remains steep.
 
Points
Rebounds
Assists
Steals
Blocks
FG
3PT
FT
v Hawks
33
3
4
0
0
11/20
6/10
5/7
v Hornets
13
3
2
3
0
4/14
3/8
2/2
v Bulls
32
4
5
1
1
13/22
3/11
3/5
Weekly Avg
 
 
 
 
 
 
 
 
3 Games
 26

 3.3

3.6 

1.3 

0.3 

28/56

50% 

12/29 

41%

10/14

71% 

Season Avg

18.7
3
1.8
1.2
0.1
48.5%
44.3%
89%
Honourable Mention: K. Lowry
The Middle – The Enemy – Best Opposing Player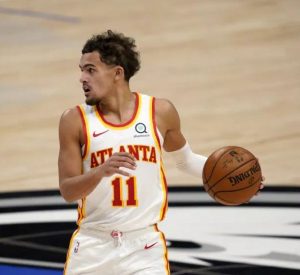 Trae Young – Atlanta Hawks
Young capped off a magnificent night against Toronto with an assist on the game winning shot after attracting two defenders. In fact, he was a magnet for attention all night. His craftiness baited the Raptors into making mistakes which sent him to the line where he scored almost half his points. Trae's talent is undeniable, and he is only scratching the surface of his potential.
| | | | | | | | | |
| --- | --- | --- | --- | --- | --- | --- | --- | --- |
|   | Points | Rebounds | Assists | Steals | Blocks | FG | 3PT | FT |
| v TOR | 37 | 5 | 6 | 0 | 1 | 11/24 | 2/7 | 13/16 |
Honourable Mention: C. Capella (ATL), L. Ball (CHA), P. Williams (CHI)
The Ring – The X Factor – Standout Performance
Chris Boucher v Atlanta Hawks
Boucher lit up the field against the Hawks, coming within a point of his career high in scoring. He shared the floor with Baynes for long stretches which took the rebounding pressure off his narrow shoulders. Instead, he hunted his shot and connected on a high percentage. Boucher played his part, can't ask for much more.
| | | | | | | | | |
| --- | --- | --- | --- | --- | --- | --- | --- | --- |
|   | Points | Rebounds | Assists | Steals | Blocks | FG | 3PT | FT |
| v TOR | 29 | 9 | 2 | 2 | 2 | 10/15 | 2/4 | 7/8 |
Honourable Mention: Powell v ATL, Lowry v ATL, Powell v CHI
The Pinky – The Unsung Hero – Key Contributor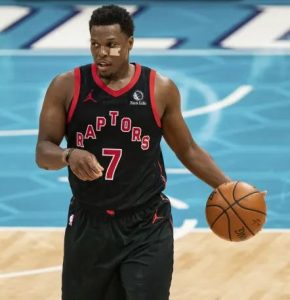 Kyle Lowry
After a series of collisions, Band-Aid Lowry made an appearance this week. He looked liked the visible representation of the season so far; battered, bruised and barely hanging on. Kyle's best attribute is his heart and it pushed him to produce where lesser men would have faltered. He picked up a double-double against the Hawks and had strong games against the Hornets and Bulls.
Honourable Mention: A. Baynes, C. Boucher
News and Notes
Lifetime Recognition – Raptors Senior Advisor, Wayne Embry, won the Mannie Jackson Human Spirit award. This award was given in recognition for a lifetime commitment to social justice.
HOF resume – Lowry keeps building up the accolades. This week he passed Chris Bosh to become the second all time scorer in franchise history. Drake favourite, DeMar DeRozan, sits a top of that list.
Earned – The NBA released their "Earned" jerseys in recognition of all the teams that made last years playoffs. The Raptors went with classic purple on the North pointing chevron.

Photo Courtesy: @Raptors/Twitter
Around the League
The Rich get Richer – The Brooklyn Nets added Blake Griffin to shore up their front line. With all the names on their roster, they are starting to feel like an All-Star team from a few years ago.
Foul Language – Miami forward Myles Leonard has been suspended by the team for a week and fined $50000 for inappropriate/hateful language used on a live video game stream. Considering cultural trends and the nature of the language, this feels like a lenient penalty.
All Love – Indiana guard Caris LeVert made his season debut after he had surgery to remove a small mass discovered on his kidney during a trade physical. Nothing but blessings for Caris, it's good to see him back on the floor.
Up Next
Toronto will welcome a few days off before heading to the Motor City to take on the Pistons on Wednesday. On Friday, they will host the NBA's best, Utah Jazz. Finally, on Sunday night, they take on the young Cavaliers in Cleveland.