Bubble Beasts: Raptors and Lakers clash in a battle of conference giants
The High 5 – Week in Review – Bubble Restart
The High 5 is where I review the last week of Toronto Raptors basketball including how the team did, who were the impact players as well as some news and notes from around the league.
Week Record (1-0) Overall Record (47-18)
The Thumb – How was the week?
We're back!
After an extended pandemic absence, the NBA finally made its return to action on Thursday night. Through extensive planning, innovation and a little bit of common sense, the league has successfully (so far) navigated around the impact of the Corona virus and is ready to crown a champion for the 2019-20 season. The bio-dome experiment is not like anything we have seen before, but the court is still 94 feet long and the rims are still 10 feet high; although it feels a bit different, this is still the game we love. The Raptors have an 8 game sprint to prepare themselves for a grueling playoff run and the chance to defend their title.
Though many people wrote Toronto off after losing Kawhi Leonard and Danny Green, the Raptors have proven to be formidable opponents for any team, and it appears that their pandemic training has only made them stronger. Siakam looks ready to carry the mantle as the number 1 option, Lowry fully embodies championship swagger, Gasol has lost significant weight, Anunoby's handles have clearly improved while the rest of the roster has maintained or increased their strength and conditioning. For all intents and purposes, the Raptors are ready.
Los Angeles Lakers @ Toronto Raptors – W 107 – 92
The Raptors unofficial restart of the season began with a matchup against the Los Angeles Lakers on Saturday. This was not only a good test of their mettle but also a potential finals preview. The Lakers are loaded and carry the hype as media darlings, the Raptors on the other hand, are back to a familiar position; underestimated and underrated. This game was defined by two things: Toronto's defense and Kyle Lowry. Toronto's D was exceptional, they absolutely smothered the Lakers, took Anthony Davis out of the game entirely and left LeBron on an island. OG was physical, Lowry was disruptive, and Toronto's length made LA doubt themselves. The game was close until Lowry exploded in the fourth, completely taking over. He feasted on Kuzma, making the young Laker look silly again and again. Lowry sent a message leading his team to a massive win.
The Index – The Leader – Player of the Game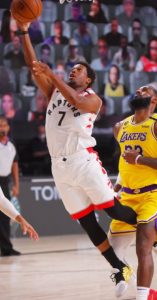 Kyle Lowry
Despite his usual anger, jaw jacking and agitating play, Toronto's basketball savant, Kyle Lowry, was back in his happy place on Saturday night. Lowry looks the most comfortable with the ball in his hands where he can orchestrate the action with his abundance of surrounding talent. His reputation as a defender continues to grow as he dominated his matchup and forced a handful of turnovers. Kyle was balling all night. He outclassed any Laker that tried to match him. KLOE has arrived.
| | | | | | | | | |
| --- | --- | --- | --- | --- | --- | --- | --- | --- |
|   | Points | Rebounds | Assists | Steals | Blocks | FG | 3PT | FT |
| Week Avg | 33 | 14 | 6 | 1 | 0 | 8/16 | 5/9 | 12/15 |
| |   |   |   |   |   | 50% | 56% | 80% |
|   |   |   |   |   |   |   |   |   |
| Season Avg | 19.7 | 4.8 | 7.7 | 1.3 | 0.4 | 41.7% | 35.4% | 86.1% |
| | | | | | | | | |
The Middle – The Enemy – Best Opposing Player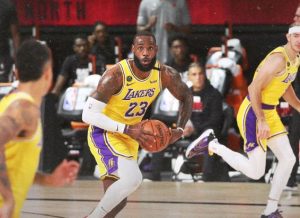 LeBron James
LeBron James no longer hides his age with hair dye and tight facial hair, now, with a growing bald spot and salt and pepper beard, he has fully embraced his position as the league's elder statesman. Though he may be the last guard of the previous generation, he will not give up his mantle of 'best in the game' that easily. LeBron led his team in three offensive categories in a strong performance. He shouldered the scoring and glasswork while keeping his teammates involved with a handful of dimes. LBJ tried to get hot but the Raptors threw cold water on him at every opportunity.
| | | | | | | | | |
| --- | --- | --- | --- | --- | --- | --- | --- | --- |
|   | Points | Rebounds | Assists | Steals | Blocks | FG | 3PT | FT |
| v TOR | 20 | 10 | 5 | 0 | 1 | 7/15 | 2/5 | 4/7 |
The Ring – The X Factor – Standout Performance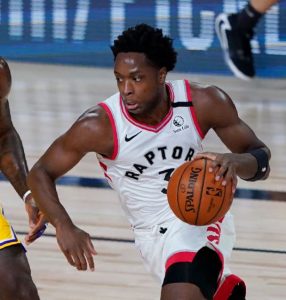 OG Anunoby
OG is easily among the top defenders in the league and he is only scratching the surface of his potential. He played tough physical minutes and complimented them with a nice offensive output (23 points on 8 of 9 shooting). He did not back down one iota against LBJ and matched him shot for shot in a pivotal stretch in the third. OG is ready to break out and is looking to finally become a difference maker.
The Pinky – The Unsung Hero – Key Contributor
Pascal Siakam
The heir to the Raptors throne, Pascal Siakam, played a solid game in a decent bubble debut. Siakam has a diverse toolbox and he showed it off by mixing his points (15) with boards (9), dimes (3), solid defence (2 steals, 2 blocks) and stretch 3's (2/4). Being flanked by such deep talent masks how good he is, Pascal only showed a few glimpses of his lauded skills.
News and Notes
Doing it Right – Among all the bubble teams, the Raptors have been social justice leaders. They made an immediate impact with their 'Black Lives Matter' inspired paint on their team bus. Players have been vocal with their opinions on Breonna Taylor, the BLM movement and social reform while proudly representing the 6 with their BLM/Toronto skyline inspired masks.
Make yourself comfortable – Shout out to team President Masai Ujiri and GM Bobby Webster who have joined the team throughout their duration of the bubble experience. They have set an example for other executives and have made the living arrangements for their players as comfortable as possible. Their floor is littered with 'We the North' paraphernalia and personalized family photos for each players room.
Statement Names – The Raptors will don social justice statements in place of their names on the back of their jerseys in further support of the Black Lives Matter movement. Listed below are each players selected statement.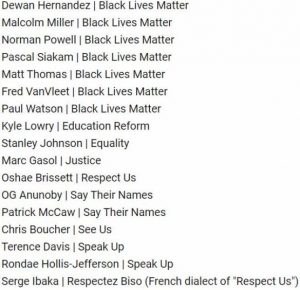 Around the League
Sweet Lou – After criticizing the NBA's "snitch line", Clippers guard Lou Williams doubled down on his position on the bubble rules. Williams was granted permission to leave the bubble for personal reasons however, instead of immediately returning to the team, Lou was caught at a notable gentleman's club. In defense, Lou said that he only wanted their delicious wings, but he was still forced into another stint of quarantine and will miss game action. Twitter mocked the Clippers relentlessly by giving them a new team motto; "Wings over Rings".
So far, so good – The NBA's management of the virus and social justice initiatives has been second to none. They have trailblazed a path for other leagues to follow. One supported by innovation, education and science.
Up Next
The season goes full gear next week with a 4-game slate for the Raptors. On Monday, they will take on the upstart Miami Heat in what will no doubt be an intense matchup. They will then challenge the Orlando Magic on Wednesday night, division rivals Boston Celtics on Friday until rounding out their week with a game against the Memphis Grizzlies on Sunday.