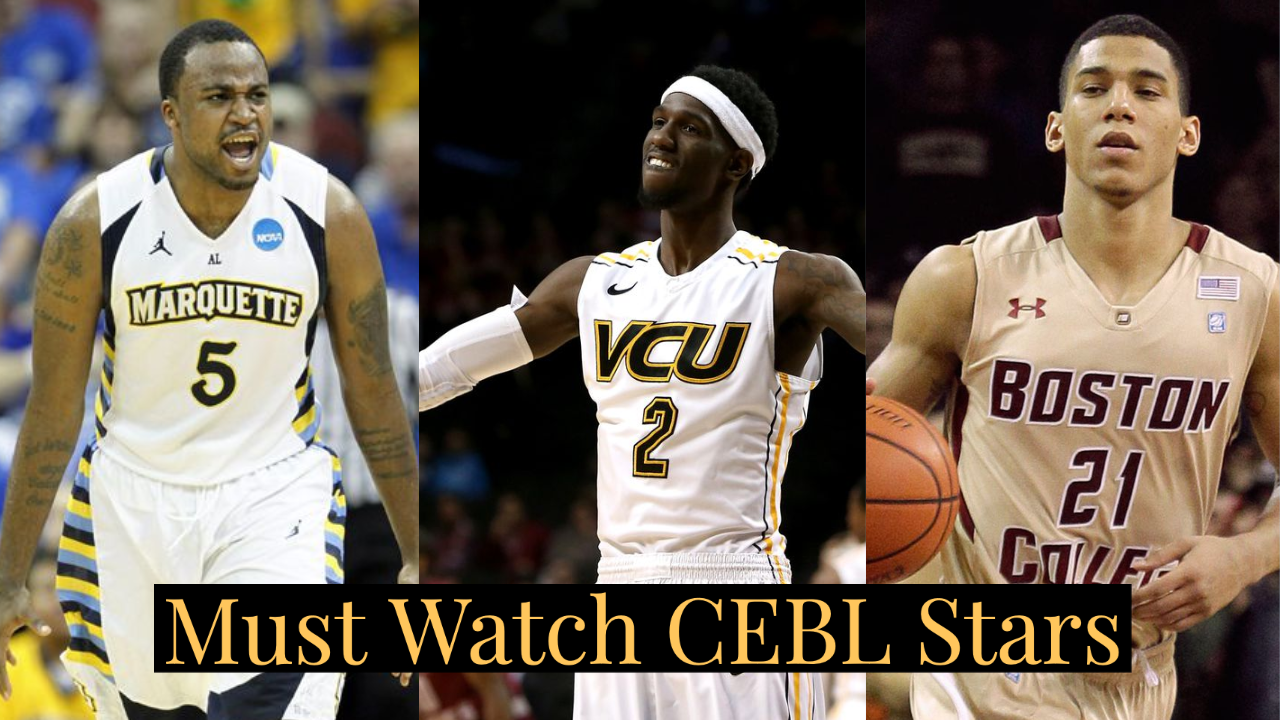 CEBL SUMMER SERIES: One CEBL Star From Each Team You Need to Tune in to Watch
As the Canadian Elite Basketball League's Summer Series rounds into form after the first weekend, the league is full of potential stars Canadian hoops fans need to tune in for. From March Madness studs you'll remember watching, to former prestigious high schoolers making a name for themselves as professionals, this league is the dream of Canadian basketball junkies. With only a couple weeks left until the championship game on August 9th, here's a player from each team you need to watch this summer.
Edmonton Stingers- Xavier Moon
 2019 CEBL Player of the Year and First Team All-Star, Xavier Moon was the obvious choice for Edmonton Stingers. Moon is as fast as they come with a lethal jump shot that extends well beyond NBA range. His game is a perfect fit for the modern FIBA game; it's no surprise it translated so well last season. In such a short season with fatigue seemingly inevitable, a player like Moon who can get his own shot in his sleep will be that much more valuable. Watch for Moon to have another MVP-level season in 2020.
Fraser Valley Bandits- Junior Cadougan
Our 4th pick in the @CEBLeague Entry Draft, Junior Cadougan (@JRwontLOSE) is NBL Canada's Most Improved Player this season! Excited to have you with our team this summer Junior! The best is yet to come! #NextPlay #HoldCourt pic.twitter.com/HKqfURVJt4

— Hamilton Honey Badgers (@HM_HoneyBadgers) April 5, 2019
Let's be honest, you know who Junior Cadougan is. Need a quick refresher? Okay, remember back in 2012 and then again in 2013 when the Marquette Golden Eagles were led by a star Canadian guard on back-to-back long NCAA Tournament runs? That guard was current Fraser Valley Bandit, Junior Cadougan. Cadougan has gone on to be a staple of the Senior Men's National Team and a long-time favourite amongst Canadian basketball fans. Having a Canadian hoops legend in our professional league makes a ton of sense obviously, so make sure you mark your calendar for when Cadougan hits the court. You'd be hard-pressed to find someone more synonymous with Canadian Basketball.  
Guelph Nighthawks- Olu Famutimi
 Canada's first McDonald's All-American is still a problem. Sure, Olu Famutimi made Canadian history back in 2003 but that doesn't mean he isn't still an outstanding player 17 years later. Last season, the 36-year-old was the Nighthawks' MVP and he's back for an encore performance. His game is that of a refined three level scorer who finds great success from deep. He's been Guelph's most consistent scorer in their first two games this season. Famutimi may be more synonymous with previous eras of Canadian hoops, but he's still a problem for the younger players in the CEBL today.
Hamilton Honey Badgers- Briante Weber
Briante Weber is one of the biggest names to sign with a CEBL franchise. Weber made a name for himself in his four years at VCU, dominating in Head Coach, Shaka Smart's famous Havoc defence. Now five plus seasons removed from Smart and Weber is still wreaking havoc on everyone who has the unfortunate predicament of being guarded by him. He's truly one of the few players in basketball that make defence exciting. After spending time in the NBA and the G-League, Weber has played the last two seasons playing in some of Europe's best leagues. Now here in Canada, Weber is set to make an impact every second he's on the court.  
Niagara River Lions- Kassius Robertson
✈️ KASSIUS ROBERTSON TAKES FLIGHT! ✈️#NBASummer pic.twitter.com/xCBcxY6faO

— NBA (@NBA) July 13, 2019
Remember that massive dunk from NBA Summer League last year that blew up Twitter? Well, the man responsible for that crime against the rim is playing for the Niagara River Lions this summer. Kassius Robertson has much more to his game than just that poster, he's a talented scoring guard who sees the floor well. Robertson was able to help lead a Michael Porter Jr.-less Tiger team to the NCAA tournament in his grad transfer year at Missouri and was rewarded with an All-SEC team selection. Since leaving Missouri he's played in the top flight in Italy and Germany as well as last season in the CEBL where his strong play over seven games helped earn him that Summer League invite with the Charlotte Hornets. Box office moments tend to happen any time a player as explosive as Robertson takes the floor, you've been warned. 
Ottawa BlackJacks- Olivier Hanlan
 Although the Carleton alums have gotten a majority of the attention for the BlackJacks in the lead up to this season, the player I'm most excited to watch is Boston College alum Olivier Hanlan. Anytime a player drops 30 against my favourite team, the North Carolina Tarheels, I take notice. But when it's a Canadian? It makes me a fan for life which is what happened during Hanlan's second consecutive All-ACC season. Hanlan has played in some of Europe's top leagues since getting drafted by the Utah Jazz in the 2015 NBA Draft and now comes home to play in the best Canada has to offer. It'll be fun to watch a scorer like Hanlan operate this summer (especially now that my team won't have to guard him).
Saskatchewan Rattlers- Negus Webster-Chan
Negus Webster-Chan has the perfect versatile skill set for the way basketball is played in 2020. Standing at six feet seven inches, Webster-Chan has the ability to handle and shoot like a guard but in a forward's body. Last year he was a matchup problem all season long for the inaugural champions and his veteran presence will be invaluable for the Rattlers as one of only three returnees. Webster-Chan is also a Raptors 905 alum, helping the likes of Fred VanVleet, Pascal Siakam and others win a championship in 2017. It makes sense he's contributed to multiple championships in his pro career. With a game like his, it's a winning combination.