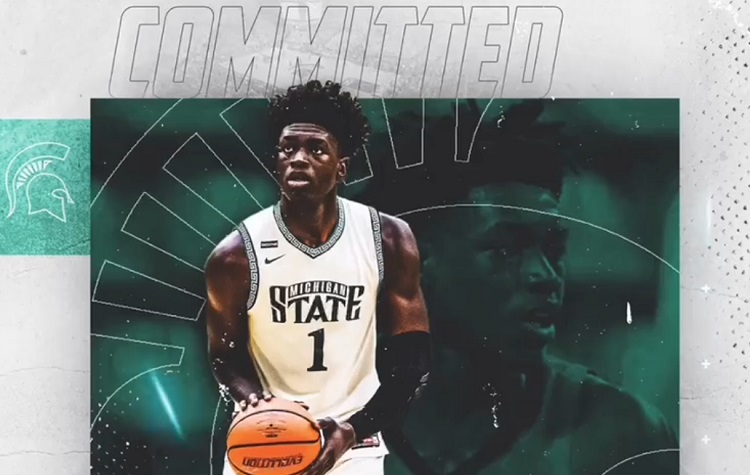 Michigan State Lands Commitment From Enoch Boakye Number 1 2022 Canadian Prospect
Michigan State has secured the top Canadian talent from the 2022 class in Enoch Boakye.  That makes two top ranked prospects for the MSU Spartans, with Emoni Bates also committed to play in East Lansing, Michigan; the number one player from 2022 in North Pole Hoops' National Canadian Rankings and number one from ESPN 60 for the 2022 class. The addition of Max Christie in 2021 gives MSU a star studded line up for years to come.
Tom Izzo and the Spartans staff have been eyeing Boakye for more than a year and Coach Izzo has not needed to frequent Canada as much as he has this year pre-pandemic.
Boakye weighed in on the commitment last night over a phone call.
"The staff spent a lot of time and put a lot of care into recruiting me. Coach Izzo flew down quite a few times and broke down a real plan for me at MSU. It was the head coach that came down. That really hit home."
The versatile big man had cut his list down most recently to Gonzaga, Texas Tech and of course Michigan State.
MSU has been a very familiar brand in Canada for a very long time. The BIG 10 in general, is a brand of basketball that most basketball fanatics in the North are familiar with; especially here in the Greater Toronto Area where Boakye had grown up chasing his basketball dream.
With regards to the brand of basketball that will be expected out of Boakye once he arrives on campus, Boakye's Head Coach at George Harris Prep, George Aramide broke down the expectations from the virtual visits and in person conversations with the staff.
"The conversation about preparing for the NBA, they believe he can be a one and done guy. The staff wants him to be able to do four things really well. Rebound, space the floor by facing up, high motor to block shots and run the floor hard and finally be able to guard the pick and roll."
Aramide continued, "Enoch is on of the best bigs in Canada that can go coast to coast, and be a hybrid. In today's game of positionless basketball you need to be able to do a little of everything."
Many of these attributes have already been on display in various events across Canada, the U. S and across International waters. He has a young yet decorated career thus far.
U16 – Silver Medal
OVO Game (vs Pros)
Biosteel Game
2020 NBA Top 100 (virtual)
UA Association – Canada Elite
"I have been expanding my game during this time and have worked tirelessly at building my jump shot. I want to be very versatile when I come in," explained Boakye.
Emoni Bates shook things up by committing first during the pandemic and the trend has continued since prospects are limited in the timing of their official visits during this period of uncertainty.
During the phone call, Boakye and Coach Aramide made it clear that the end goal was the NBA and they did not want to lead coaches on. Plain and simple, MSU gave Boakye the best plan for his future and there was no need to wait another year to make a decision.
Boakye becomes the first Canadian since Maurice Joseph in 2005 to join Michigan State University.