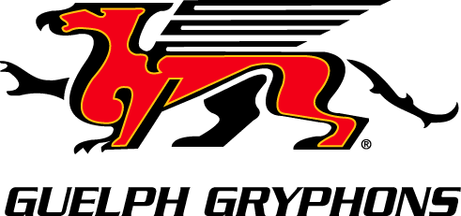 Keeping Up With The U SPORTS Classes: How Guelph is Using the CCAA to Get Back to its Winning Ways
As the second longest tenured coach in U SPORTS men's basketball (behind only StFX's Coach K), Guelph's Chris O'Rourke has been through a lot with his program. 
From 2001 to 2008, the Gryphons were one of the OUA's most consistent programs. They made the playoffs every season over that run, finishing over .500 in each and even making an appearance in the 2003 national title game (a loss to Carleton). 
Guelph has failed to finish above .500 and have been inconsistent playoff participants since that early 2000's surge however. O'Rourke knows that in a conference as competitive as the OUA, you can never get complacent.
"You have to be resilient when you do something for a long time," said O'Rourke. "It's going to have its moments and sometimes you think the good times are just going to continue to roll and it sneaks up on you." 
In 22 seasons, O'Rourke has seen a lot. From a shift to the FIBA rules to multiple teams being added into the conference to even a change in the name of the national governing body of Canadian university sports. One thing that hasn't changed though, is the importance of positivity. 
"In the end you have to remain positive," said O'Rourke. "Sometimes it's a lot of things, sometimes it's just a couple things. I think the lesson is as you do something for a long time is to never get too high or too low and just continue to learn."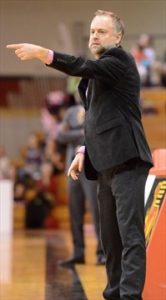 Photo Courtesy: Rob Massey/ Guelph Mercury
In the spirit of that positivity, the Gryphons have made the playoffs in back-to-back seasons after a three year stretch outside the postseason. If we've learned anything in these articles this summer, it's that building a program is a process that often starts with seemingly small steps that turn into something bigger.
"Part of that process is adapt and change," said O'Rourke. "Getting the right mix of talent, skill development and team chemistry so all those things are very important to get back to that consistent performance."
One of the things O'Rourke is using to shift things back into his favour is the Canadian College system. In this year's class, the Gryphons bring in three CCAA alumni and according to their new head coach, that was part of the plan.  
"I think it's a little by design for sure," said O'Rourke. "We, like most schools, look at the quality of basketball the CCAA has and the talent and certainly there's a development and maturity to some of these guys that they bring that kids straight out of high school don't."
With multiple years of post-secondary experience against a higher-level of competition that the traditional high school recruit just doesn't have, collegiate alumni bring in an instant ability to contribute that for Guelph is invaluable. 
"They do bring that instant impact," said O'Rourke. "Let's be honest, to compete in this country you need guys that are experienced men ready to play."
The great thing about U SPORTS is all it takes is one special class to elevate a program to the next level. After getting back to being a consistent playoff team again, O'Rourke feels this year could be the start of something special.
"We're really excited because we feel like we've addressed depth issues which we need," said O'Rourke. "If you're going to do it in this league on a day in and day out basis, you know how hard it is."
The OUA is unforgiving, the Gryphons learned that the hard way in the 2010's. But, it's a new decade with new opportunities and if anyone has the experience to understand what it takes to compete in the conference, it's O'Rourke.
"I feel like with this group, whatever the season ends up being, we're really excited," said O'Rourke. "I think it's just going to help us take that next step that we need to take which is beyond the first round of the playoffs."
The Class
| | | | |
| --- | --- | --- | --- |
| Name | Previous | Position | Hometown |
| Carl Veltmann | George Brown (CCAA) | Guard/Forward | Toronto, ON |
Coach's Scouting Report: What we really like about Carl is his all-around game. He can score a bit, he rebounds well for a guard. I think he can check a lot of statistical boxes for us. He's got a chip on his shoulder to prove himself and is highly motivated.
Coach's Scouting Report: A CCAA All-Canadian. A very skilled scorer. I think he sees an opportunity to play with some other talented guards here and make everyone around him better. I think that's a part of his game he really wants to tap into.
| | | | |
| --- | --- | --- | --- |
| Name | Previous | Position | Hometown |
| Khalid Ismail | Humber College (CCAA) | Guard | Toronto, ON |
Coach's Scouting Report: A kid we really liked out of high school and he came in and worked out with us a bunch. His ability to score, his ability to create for others, very smooth player. His two years playing at Humber at that high-level have been massive for him and his development. I think he's going to be an impact guy from day one.
| | | | |
| --- | --- | --- | --- |
| Name | Previous | Position | Hometown |
| Drew Ackerman | Carpenter High | Forward | Meadow Lake, SK |
Coach's Scouting Report: His size and his ability to shoot the ball at 6'9 is something we felt was a need for us. Having a forward that can stroke it like he can, we see him as having such a huge upside. We certainly see him being able to dip his toe in right away and get meaningful minutes and develop.
Name

Previous

Position

Hometown

Daniel Kauffman

Eastview Secondary

Forward

Barrie, ON

 
Coach's Scouting Report: Daniel has a lot of potential. I think it will be a good year for him to develop with the older forwards we have. Certainly I think it'll be a learning experience and a development opportunity for him to work on not only his body but his skills and what it's going to take at the next level. 
Name

Previous

Position

Hometown

Kalil Langston

Nipissing


(U SPORTS)

Forward

Brampton, ON
Coach's Scouting Report: A mature young man, strong academic student and he's really hungry to prove himself. I think he feels like he's got some unfinished business. Wants to win, his motor, I think he's ready to prove the talent he is and what he can do consistently.