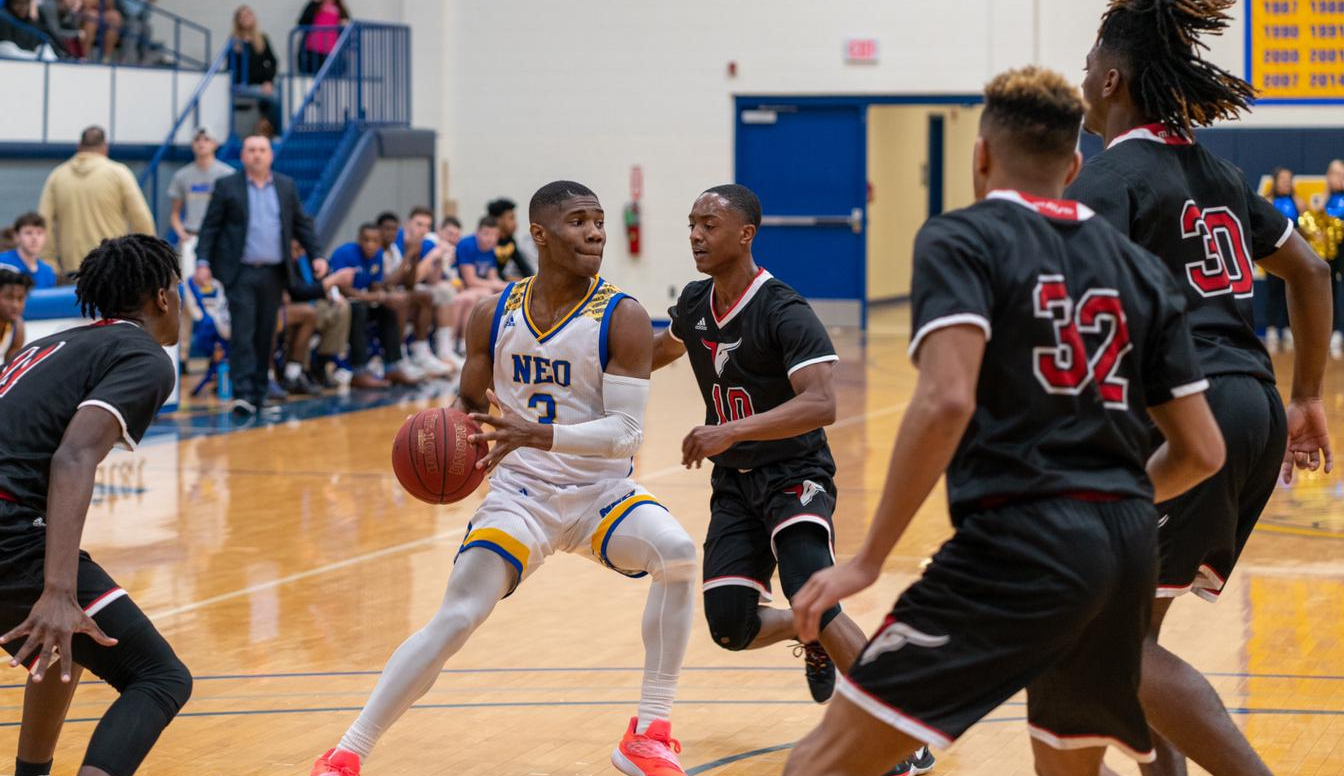 Rudi Williams – All Eyes on He, NEO A&M All-Time Assist Leader
Rueadale Williams is making waves in coaching circles across America. Coaches have been calling in to get a difference maker, a guy that can "push the needle," a guy that can lead a team and help them get to the tournament. Look no further Rudi is that guy.
Wichita St, Middle Tennessee, ETSU,  NKU, Hawaii, Coastal Carolina, Texas Tech, Long Beach, Evansville, Murray St, Florida Gulf Coast, Morgan State, Utah, Utah Valley and Pittsburgh are all eagerly reaching out.
He was recently listed as the top Canadian point guard available among high school seniors and JUCO grads.
With everyone in quarantine at this time, things are on hold in terms of official visits but he does plan to take likely 3 or 4 more official visits. The only official so for has been to Coastal Carolina.
Rudi is coming off a breakthrough season with Northeastern Oklahoma A&M under Coach Jeremy Jackson. The team went 25-7 this season, 27-7 in the 2018-2019 campaign and moreover they have had no losses on home court over these last two seasons.
While these are team accolades, most who have watched NEO A&M this season will tell how instrumental Williams has been in the success of the team and the culture that Coach Jackson has built.
Accolades
NJCAA Region 2 Player of the Year
First Team All-Conference
First Team All-Region Tournament
NEO A&M Single Season Assist Record Holder
NEO A&M All-Time Assist Leader
"Rudi and I have had a great bond since day one. He's made so many sacrifices, more than people know, and all for the betterment of the team. As a freshman, I asked him to be more of a distributor because we had some really good scorers. Now for most guys that's difficult thing to do, but for Rudi he was fine with it and did what the team needed," testified Coach Jackson.
This is not a new trait that has been developed. After evaluating Williams for more than five years, its obvious that it's a part of his DNA. Whatever it takes for the team and the program to be successful, he'll look you in the eye and say yes sir and moves on. He goes above and beyond and not with selfish intent, he's innately completely unselfish. Near double digits assists on the season pretty much sum up that story.
21 PPG (51% FG) | 6.7 RPG | 8.9 APG
Bill Muse, a legendary NJCAA Hall of Fame Coach at Connors State in Oklahoma, told Coach Jackson after a back and forth game that during a timeout when they played against each other, Coach Muse asked his team, "how are we supposed to guard Rudi? He's the best player in the country."
All sorts of defenses have been thrown at Williams to test him and find a way to slow down his production. He's faced gimmick and gap defenses and has always adjusted and found ways to stay productive.
"System is not a worry for me, I get along with everyone, both players and coaches. Wherever I choose to go to for these last two years has to be somewhere where the staff believes in my abilities and has a major role for me," explained Williams.
After watching tons of film breakdown on Synergy one begins to see how calculated every move is for Williams. From turning corners, to using screens and breaking down his man, using floaters, and more; all of Williams' moves are to get a bucket, get someone else a bucket or to get into his counter moves.
There's some real NBA potential. If we're to compare to a current NBA player, stylistically, Williams' game is close to a Mike Conely Jr.
The high skill level and IQ is what sets him apart from other point guards on the board right now. The intangibles boxes are all checked off as well. That being said, this PG has all that it takes to make it and thrive at the highest levels, potentially the NBA.
"I'm going to continue to learn and build and do what it takes to make it to the NBA so I can take care of my family and be the best version of myself," exclaimed Williams with conviction.