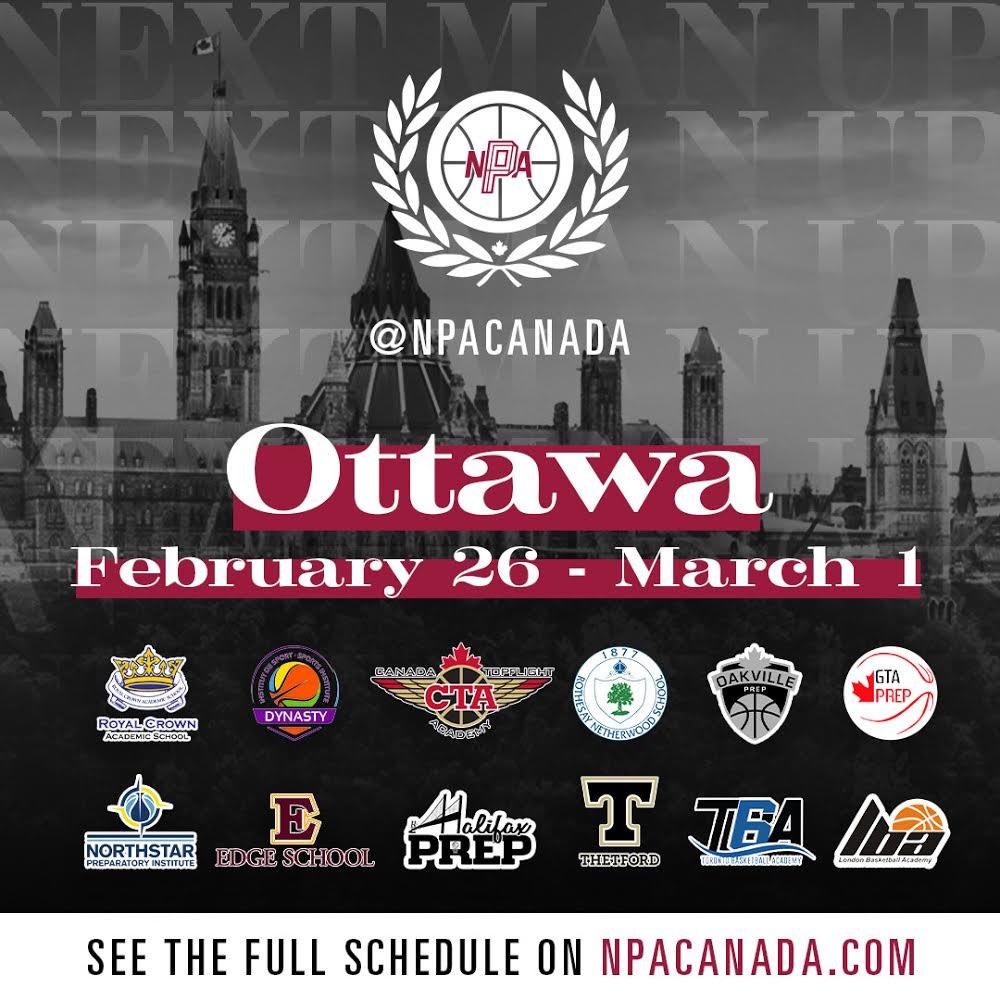 What to Expect in Ottawa: Final NPA Session before Nationals
The Ottawa NPA Session is set to be truly special. Running from Feb 26 – Mar 1, it is the only session with all 12 teams competing and is their last chance to send a message before the single-elimination tournament at the NPA National Championship in late March.
As the National Preparatory Association's Commissioner Jason Thom put it, "our teams plan their seasons to be peaking at this time so I expect the highest level of competition that our league has ever seen."
The Ottawa Session will once again be hosted by Canada Topflight Academy (CTA) who play out of Notre Dame High School in the nation's capital. 
"CTA and Ottawa are thrilled to host another NPA league-wide session, the local hoops fans are definitely going to be treated to the best prep basketball in Canada." said Tony House, Director of the CTA Program. "It feels good to know that we have earned the confidence from the league to host all 12 teams and 23 games in what will be an action-packed week." 
All 23 games will be broadcasted by North Pole Hoops and can be watched here.
With the session set to kick off on Wednesday, here's a look at the league standing and key questions that will be answered in Ottawa.
Eastern Division


Rothesay Netherwood (RNS) remain undefeated after going 4-0 in the Montreal session. The fourth-year program plays with a level of focus and professionalism that stands out in every game.  CTA are right on their heels and were a missed tip-in at the buzzer away from ending RNS' undefeated streak in a 95-94 loss in Montreal.  
Dynasty's upside is as high as any team's in the NPA and they flashed some of that in their host session earlier this month. They went 1-3 in Montreal but lost to CTA and RNS by 5 points each with mental mistakes and communication issues costing them down the stretch.
Thetford Prep and Halifax Prep are tied for the last two spots in the East. Thetford were short handed in Montreal and struggled, losing both of their games by double digits. Halifax opened the session with a blowout win against the Dynasty and followed that up with close losses to Royal Crown and CTA.
Central Division


Toronto Basketball Academy (TBA) are the class of the division with a three game lead over the rest of the pack. First-year coach Yusuf Ali has a group of guys that are bought-in and seem to get stronger with every game. Mid-season transfer Markus Harding will make his NPA regular season debut in Ottawa and should give them an interior force that was previously lacking.
Royal Crown come into Ottawa 4-4 and have a big mid-season transfer of their own in Josh Primo. The Basketball Without Borders All Star recently reclassified to 2020 and is set to commit to a D1 in the near future. This weekend he will be tasked with leading a young Royal Crown squad coming off a tough Montreal session.
Oakville Prep are 3-4 on the season but have played very few of those games at full strength. Now that they are healthy they look to make up ground in the standing over their five-game slate this session.
GTA Prep is in the midst of a tough season after their entire starting lineup from last season either graduated or transferred. They'll aim to get into the win column in these last three games.
Western Divisioin


Northstar Prep lead the West thanks to a 79-76 victory over Edge in the Calgary Session. They are undeniably the most improved NPA team after finishing last season with just one win. They came back down to earth a bit in Calgary after a 4-0 record in Winnipeg but look like a championship contender at this stage.
Last year's finalists Edge Prep have had a solid season to date. They will again be without Kwo Agwa who is out for the season with a leg injury. He was Edge's leading scorer before the injury and will be tough to replace but it is next man up who will be banking on young guns like Xavier Spencer and Caelum Swanton-Rodgers to fill that void.
London Basketball Academy (LBA) have a history of getting better as the year goes on and look to be doing so again this season. They handed TBA their first loss last month after falling to them by just one point in their previous matchup. It seems to take new players some time to grasp Coach Provenzano's system but once they do LBA becomes dangerous. They could insert themselves into the NPA's top tier with a strong session.
Key Questions Going Into Ottawa
Which Four Teams Will Walk Out Of Ottawa With A Bye?
Six teams enter the Ottawa session with a realistic shot of leaving with one of the four bye slots at Nationals. If things ended today, those spots would go to RNS, TBA, Northstar and Edge School. However, CTA is only half a game behind Northstar and Edge while LBA is just one away. 
Depending on how things shake out, any of those teams could end up with a bye in the first round of Nationals. In a league with no easy wins, having safe passage into the final eight will be worth battling for.
When The Dust Settles, Who Are CTA?
On paper, CTA might be the best team in the NPA. They are a deep squad loaded with talent. But sometimes it feels like they are aware of that and don't bring their 'A' game as a result. 
Coach Tony House had this to say when speaking about the session: "Our team will definitely be tested with five tough games in five days, we still have a lot of questions to answer about this team and if we are actually going to contend this year. There's a lot of pressure that comes with playing at home and we have a lot to prove to ourselves this session."
This will be a big test for the hosts and they seem to know it. They came out flat to start their two sessions so far, losing their first game in both. Expect them to play with a new fire under them in the opener against Dynasty.
How Does RNS Handle Their Toughest Test Yet?
RNS are a wonderful story of development and continuity. They went winless in their inaugural season before improving to four and eight wins in their next two respective seasons. Now they are already at eight wins with four more games to go. Coach Damian Gay built a program around effort, trust and accountability and their leader Kellen Tynes is those traits personified. 
With all of that said, only one of their wins have come against the other teams in the NPA top five. Three of their games this session come against that group, giving RNS a good test heading into Nationals.
Are Dynasty For Real?
Dynasty has looked better after each session as they continue to fill out their roster. The team not only consists of players from Quebec, but also French-speaking nations like Ivory Coast and France. 
While this international appeal gets them access to a new talent pool, it also leads to complications. Players like Aboubacar Traore – the talk of the Montreal session – have taken longer to join the team than anticipated due to delays processing paperwork. 
Traore landed in Canada just a week before that session and made an immediate impact. With a few weeks for players to get acclimated to their new team and new country, Dynasty should come out stronger this time around.
Even though they are just in their first NPA season, Dynasty won't be satisfied with anything short of a championship.
How Good Is A Healthy Oakville Squad?
Oakville Prep's record doesn't paint an accurate picture of who this squad really is. They've only played three games with their starting backcourt of Jayrell Diggs and Jordan Person both active and they went 3-0 in those games. They lost all four games with one of them absent.
A lone bright side of injuries are that they give other players an opportunity to grow and extend themselves in game-action that might not have come up otherwise. With guys like Marcotis Hall and Tayvaughn Sheard getting the chance to step up in the case of Oakville Prep, this team could emerge from these injuries stronger than they were before.
All games in the Ottawa NPA Session will be played at Notre Dame High School in Ottawa, 710 Broadview Avenue, and broadcasted by North Pole Hoops.