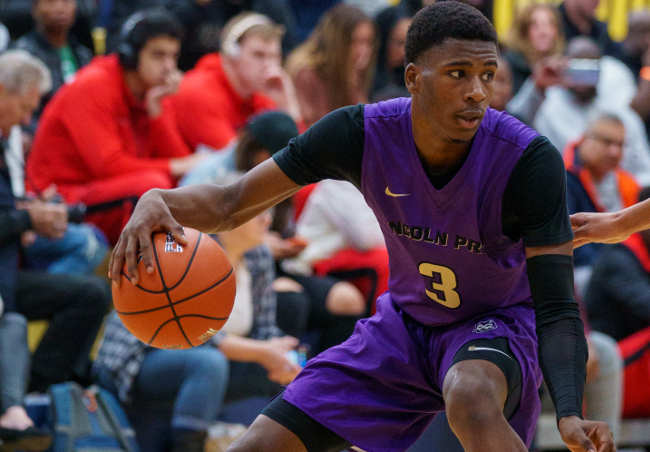 Top 5 Canadian Jefferson Koulibaly – Recruitment and Upcoming Visits
Actions, its all about actions – TALK IS CHEAP. Look at a person's actions and you will see their worth.
Since the days he was discovered as a 9th grader in Montreal, Jefferson Koulibaly has been a menace for the opposition on both ends of the floor.
Koulibaly has let his game do the talking all season and is the most consistent player on the scene coming out of Canada. The Montreal, Quebec native is averaging 31.3 PPG (45% FG), 10.6 rpg and 6 apg. He's good for taking the top spot in the country as scoring leader for the season thus far and does not look to be slowing down. Kellen Tynes comes in after him, averaging 26.2 at Rothesay Netherwood School.
Nonetheless, two guards lead the way.
While currently a member of the 2021 Canadian class, he's considering reclassifying to 2020 and feels ready to contribute in college next season.
In a conversation with JK today he said, "Only I know the work I've put in and I know what I can do. This year is like a statement year. I want people I've known for years and previous coaches to look at me and think damn I messed up. The ultimate plan is to make it to the League."
Having left Orangeville Prep after last season, Koulibaly has seized the opportunity at Lincoln Prep who was in need of a leader for the 2019-2020 campaign. His best games have come against the toughest stiffest competition in Orangeville Prep, FHC, and Central Tech.
https://www.instagram.com/p/B7cfVEKDD5m/
Most recently, Maryland has reached out to learn more about the tear he's been on, and where he is in terms of recruitment.
So far Koulibaly has bagged a trip to South Dakota, who has long been in the race and feels like he can make a direct impact. Washington State will be the next official visit which will take place February 8.
Georgetown has also considered adding him to the depth chart and has opened up dialogue to build a relationship.
Maryland plans to come to Canada for a meet and greet to learn more about this elite competitor of a prospect.
"Every year I've heard stuff like 'he can only play defense', or 'he's not a PG' , or even 'he's at mid-major at best' and I don't hear or see people saying that anymore."
While he has been playing with a chip on his shoulder he's done proving everyone else wrong, Koulibaly wants to prove to himself that he can play at the highest level in college and be considered an NBA prospect.