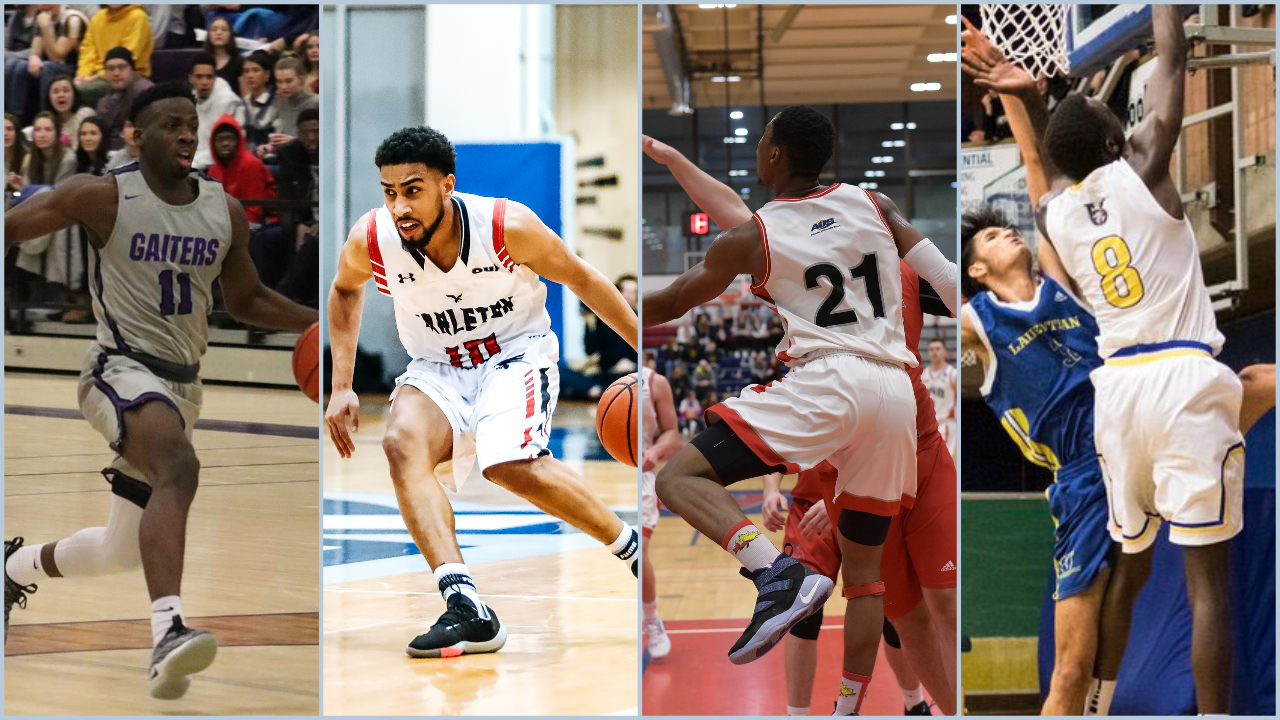 Lakehead ready for prime time, Clarke returns and Joseph, Doumbouya and Jahan make it look easy
It was a week that saw four of the nation's ten best go down while a superstar returned to action and other major stars continued to make their case for end of year awards as the playoffs loom near.
Canada West- Dinos flex their muscles, Clarke returns to action and Bains and Zziwa continue hot new year
HE'S BACK!! @BVClarke drops in 14 points and hauls in 8 rebounds in his first game of the season!

Season-high 113 points, and the Bears have now won 9-straight, and sit second in CW with a 14-1 record. Six different Bears score in double figures.

STATS: https://t.co/0g77x1m9yX pic.twitter.com/yuXUDqIHPe

— Golden Bears Basketball (@UofABearsBball) January 25, 2020
In a matchup of two top-10 teams, it quickly became evident who had the upper hand as Calgary blew out Saskatchewan in back-to-back games. The star was Brett Layton, of course, as the conference player of the year front runner averaged an absurd 28 points, 14 rebounds and three blocks against an overmatched Husky front court. Despite the strong weekend, the real litmus test for the Dinos isn't too far away, especially after the return of a certain star player. Brody Clarke finally made his return from a broken foot that has sidelined him since the preseason and conveniently came the week before a rivalry matchup with Calgary. Clarke's first live action came against Trinity Western in a pair of games that should be a warning for the conference that he is not only back, but also healthy. The other key matchup next week is Victoria hosting Manitoba and after the Vikes performance this weekend against Thompson Rivers, the whole country should be watching. Victoria used great showings from Hayden Lejeune and Matthew Ellis and will need both players at their best against a Manitoba team that has won 11 of 12. Two of those 11 wins came this weekend at home against Regina as James Wagner and Keiran Zziwa continued their All-Canada West type seasons. That can also be said about Parm Bains as the conference's fourth leading scorer continued his dominant second half on the road at Mount Royal. Bains' Cascades will head to Kamloops in a battle with major playoff seeding implications against a WolfPack team coming off two tough losses to Victoria next week. 
OUA- Lakehead ready for prime time while Joseph, Kokko and Gray make scoring 30 look easy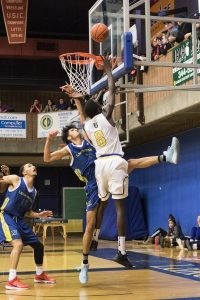 Photo Courtesy: Lakehead Thunderwolves
If we've learned anything this season, it's that the Lakehead Thunderwolves are ready for primetime. In another marquee matchup, Lakehead was once again the better team as they beat the also nationally ranked Laurentian Voyageurs. Defence was the story as led by catalyst Lock Lam's 15 rebound and seven block performance, the Thunderwolves stymied conference leading scorer Kadre Gray and the Voyageurs offence. The last team to beat Lakehead was Carleton and Saturday night saw the Ravens with a similar result against a Central Division team as the nation's number one went into Ryerson and came away with the victory. The game was close from start to finish and saw star level performances from the Ram's Tanor Ngom and Tevaun Kokko but it was Carleton's Yasiin Joseph whose star shone brightest with a 34-point effort in the victory. The weekend wasn't a lost cause for the resurgent Rams as the night before, they blew out the Ottawa Gee-Gees in a game that saw another elite performance from Kokko. Similar to how the Gee-Gees and Ravens share a city, the Rams next two opponents also have something in common: they both lost to Queen's this past weekend. Yes, the Gaels had a weekend to remember as they rolled through McMaster and Brock with Quinton Gray's 36-point barrage against the Marauders one of the main keys to the successful back-to-back. Meanwhile, it appears as though the Western Mustangs have found their stride after two straight losses to Ryerson and Brock. The Mustangs have won two in a row including Wednesday against Guelph, but their true test will come this weekend as Carleton and McMaster come to London. It will be a massive weekend for the Mustangs who have been flirting with the national rankings all season and need some big wins to get back in the conversation.
AUS- Doumbouya and Veinot put in superstar performances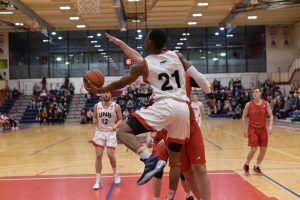 Photo Courtesy: Acadia University Axemen
Keevan Veinot stole the show this week in a capital hoops battle, Nova Scotia style. The third-year guard was great all week for Dalhousie as the Tigers swept their inner-city rivals from Saint Mary's. Veinot didn't have the most noteworthy performance this week in the Atlantic though. Ibrahima Doumbouya averaged a preposterous 20.5 points and 19 rebounds for the UNB Varsity Reds on the road in Wolfville against Acadia. Doumbouya was at his best when it mattered most, putting up 24 points and 18 rebounds in an overtime win. If Doumbouya had the best performance this week, then UPEI's Jamesley Jerome had the most surprising. Jerome exploded for a season high 27 points off the bench in the Panthers first league win of 2020. Game two for the Panthers went differently though thanks to a strong Avan Nava game, StFX was able to bounce back. Finally, in a battle of teams on islands, Cape Breton and Memorial played two tight games. The first was a defensive battle in which the Capers came out on top while the second saw the home team rebound behind their star. Cole Long and his 26 points and 13 rebounds were more than enough for the Seahawks in an important weekend salvaging win. 
RSEQ- Stingers and Jahan own Montreal while Gaiters prove there's always next week
🐝🏀MBB – Concordia 89, McGill 83 OT. Rookie Sami Jahan scores 28 points, a career high, to lead the Stingers to their second straight victory over their crosstown rivals.#CUstingers #CUbasketball #RSEQ pic.twitter.com/DkUgMi81p8

— Concordia Stingers (@The_Stingers) January 25, 2020
Another conference, another inner-city rivalry matchup. This time, the matchup was Montreal's Concordia against McGill. Coming in, McGill had to be the favourites but, someone forgot to tell the Stingers. Freshman Sami Jahan had himself a weekend as after a 17-point effort in the first game, the Toronto Basketball Academy product dropped a career-high 28-points along with seven rebounds and three steals. Cedrick Coriolan and Olivier Simon were also huge for the second-place team in the RSEQ. Concordia's next opponent is Bishop's a team thought to be reeling after two straight losses last week to Laval. However, the Gaiters came out and played their best basketball of the season this weekend against UQAM. Stars of the weekend for them were Abdul Kamane and Nervens Demosthene as both were integral. It will be fascinating to see if the Gaiters can continue this play next against a Concordia team who just four points back of McGill for first in the conference. 
Upset Special- Ryerson Blows out Ottawa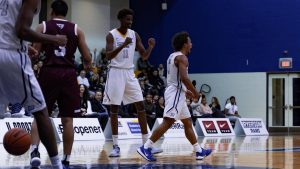 Photo Courtesy: Joseph Shenouda 
Ryerson came into the season with high expectations but after a disappointing first semester, many thought the season was lost. Fast forward to Friday night, and the Rams had won six in a row after blowing out the number five team in the country, the Ottawa Gee-Gees. The Rams were led by Tevaun Kokko's 33 points as they found a way to neutralize Ottawa star Calvin Epistola. It was a huge win for the Rams, not only simply because they handled a top five team in the country but because it proved to them and the rest of the country how good they can become in 2020.
Player of the Week- Yasiin Joseph (Carleton) 30.5 points, 3.5 rebounds and 4 assists on 66.67 3pt% (in wins over Toronto and Ryerson)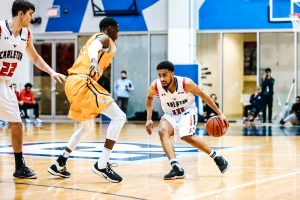 Photo credit: Hung Le (Ryerson)
Well, it finally happened, a Carleton Raven has won player of the week. Despite being the number one team in the country, the Ravens had yet to have one single player dominate an entire weekend. That is until Yasiin Joseph went to Toronto this weekend and almost single-handedly beat the Blues and Rams at once. His most dangerous weapon was the three-point shot as Joseph shot a blistering 66.67% on 21 attempts. It was the type of shooting display that bordered on unfair and unequivocally was worthy of this week's honour of player of the week.
Runners up: Canada West- Brett Layton (Calgary) / AUS- Ibrahima Doumbouya (UNB) / RSEQ- Sami Jahan (Concordia)
Why we love USPORTS- The Randomness of the RSEQ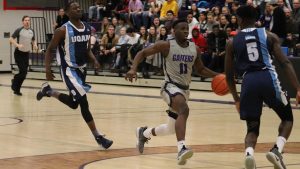 Photo Courtesy: Clare Webb
It seems every week, someone unforeseen wins multiple games in the RSEQ. From Laval last week to Bishop's this week, anyone can really beat anyone in this conference. No matter what their records or who is favoured going in, once the ball goes up in Quebec this season, anything can happen.
Game of the week- Calgary versus Alberta
Let's try this again. Last week I had a Calgary game against a top ten team and the Dinos blew the doors off the Huskies in both games. This week though, I have a feeling the Dinos and rival Golden Bears won't disappoint. In storybook fashion, Brody Clarke came back just in time for a matchup with Brett Layton, what more could USPORTS fans ask for? It's the matchup we've all been waiting for, and it's finally here!
USPORTS National Top 10 
🏀 U SPORTS Top 10: @CURavens 1⃣@AUS_SUA | @CanadaWest | @OUAsport | @RSEQ1 #ChaseTheGlory | #ViserHaut

🔗EN: https://t.co/KoqdPDqdCz / 🔗FR: https://t.co/MWotOqp05r pic.twitter.com/0NHI4FBldu

— U SPORTS (@USPORTSca) January 28, 2020
The biggest change in this week's top ten has to be the addition of the Ryerson Rams. After a slow start to the season, the Rams have won multiple major games in the second semester and even almost took down Carleton on Saturday night. Also of note is the fact Lakehead is now the second highest ranked OUA team thanks to a big win over Laurentian and Ottawa's loss to Ryerson. Otherwise, the thing to keep your eye on most has to be that #2 Calgary and #4 Alberta play a home and home this week in the biggest matchup so far this season across the entire country.