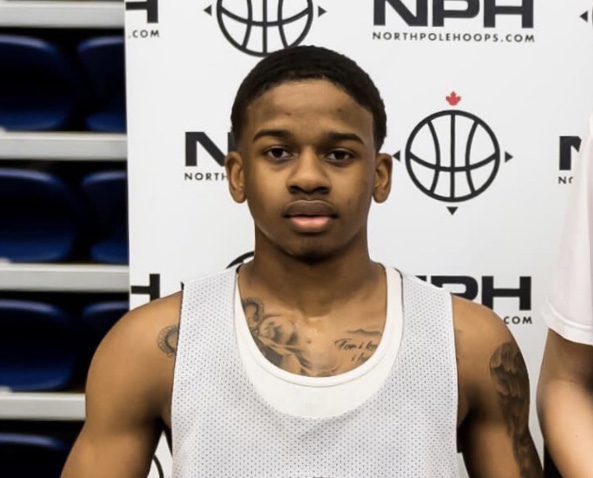 From Nothing To Something – 5'8 Kevin Lee Toronto Showcase MVP
Kevin Lee has always been told he's too small to be an elite basketball player, listed at 5'8 and 150 pounds, Lee definitely does not have the measurements you would expect from an elite level point guard.
But Lee is in fact elite.
https://www.instagram.com/p/Bzt0ogPD2sy/?utm_source=ig_web_copy_link
In fact, to do what he does at his size, Kevin Lee may in fact be one of the most elite level athletes in his age group in the game of basketball here in Canada.
Bred For Success
From Mississauga, Ontario, the 2019 graduate saw the Toronto NPH Showcase as his "last real shot" at getting some much-needed attention from college coaches.
After taking home the MVP Upperclassmen award for the entire weekend, he has accomplished just that.
"I knew that if coaches were to get past what my measurements are, and just see how I play, how I can set up my teammates for success, my decision making with the ball, that they would show interest in having me," recalls Lee when he first decided to come to the Toronto NPH Showcase.
Lee himself is no stranger to playing and training among elite company, having been teammates with numerous NCAA and U-Sports players while still at Father Michael Goetz, in his hometown of Mississauga. Lee then managed to turn that production into an opportunity to play with the SBA Lions post grad program out in Atlanta, Georgia for his final high school year.
"I had always wanted to prove myself down there, and once I realized that I could in fact play day in and day out, despite my lack of size, I no longer considered that as a weakness to my game and embraced what I could do with my vision and speed."
Stamp of Approval
"Lee is a very cerebral point guard, his change of pace has changed a lot. He used to play as if he was in a hurry, but with maturity, you can see that he's starting to understand," says David Tyndale, the head trainer of the NPH Showcase in Toronto earlier this month.
"The way he has set up his mid-range, and how he has been able to read the seams in the defence and finding guys with pinpoint passes, it shows a lot of growth and maturity as well," concluded Tyndale.
Tyndale also went on to speak about the leadership qualities Lee had shown throughout the weekend. "He would be able to pick things up on the fly, coaches would be giving him tips and advice on what to do, and he would go and do it right away. Things like the use of ball-fakes and patience, he was showing all of tools he needs. Overall, he's a stud in his position in my opinion. Size yes, will be his biggest challenge moving forward, but game speaks and he's going to continue to grow as a player with his desire to be successful." said Tyndale.
And what does Lee have left to say to the critics? "I just want to prove regardless of size, I'm going to be the best all around player on the floor, I don't care who's coming after me, I'll be ready to take on whoever."
Lee at this moment is still an undeclared point guard looking for a college program, and any school looking for a an elite playmaker should consider his resume for the fall!