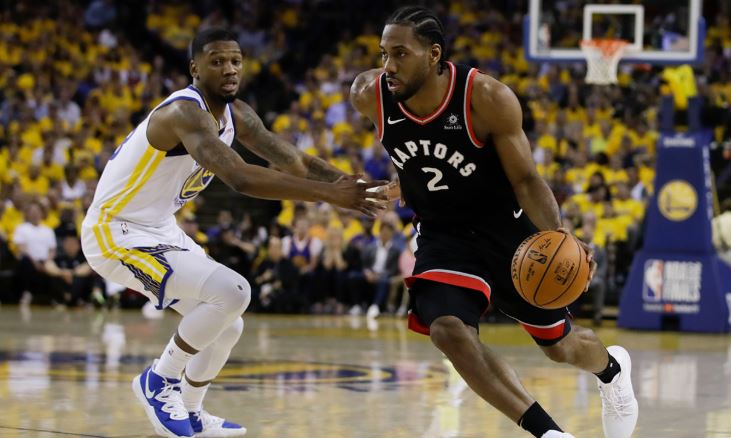 Raptors Recap – The Finals – Game 3 – TOR 123 @ GS 109
The High 5 is where I give my reaction to the night's games. This includes a look at the players who made a difference in the outcome and some unique details that caught my attention.
The Thumb (Story of the Game)
"Abandon all hope, ye who enter here"; these are the words that are inscribed on the gates of hell in the literary classic, The Divine Comedy, but they could just as well be the welcome sign for opponents at Oracle arena. This legendary facility holds 3 of the last 4 NBA championships and carries a reputation as being one of the most hostile places to play for visiting teams. With the series tied 1-1, the NBA finals shifted West where the Raptors were looking to steal one (or two) games from the Golden State Warriors in their own barn. The Warriors are suffering from significant injuries and without key pieces in their lineup, they have never looked more vulnerable. But Golden State was not going to roll over easy, they turned to their remaining superstars Steph Curry, Draymond Green and Demarcus Cousins to stop the hungry Raptors in Game 3. The Raptors could smell blood in the water and took advantage of their wounded opponents. They enjoyed a double-digit lead for the majority of the first half. They limited their mistakes, communicated on defense and took high percentage shots. In the second half, Toronto did an excellent job matching the Warriors punch for punch. They received a huge boost from Danny Green who finally made an appearance in this year's post season and, late in the game, Serge Ibaka slammed the door shut by swatting away anything that came within 6 feet of the basket. The game kept hearts racing until Fred VanVleet knocked down a clutch rainbow 3 over a lunging Draymond Green to seal the victory. This was a fantastic team effort from Toronto, they snatched back home court advantage and reclaimed control of the series.
Toronto 123 Golden State 109.
The Index (The Leader)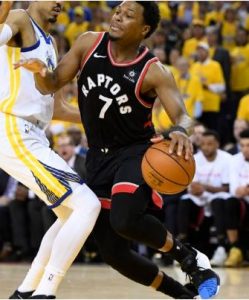 Kyle Lowry was masterful as Toronto's floor general. He played with his usual pesky effectiveness and shot the ball well. Strange to say but, his shot has become so much more effective since he suffered a hand injury. Lowry hit timely three pointers, many of which were in response to a big Warriors basket. He was locked in and did a good job playing disciplined defense (he did not pick up a single foul in the entire second half). KLOE's confidence seemed to grow as the game went along. He finished with 23 points (5/9 from deep), 4 rebounds, 9 assists, a steal and a block. He was battling everyone that didn't have a black jersey on, including some of the fans in the front row. The Raptors are at their best when Lowry is aggressive, he left it all out on the court with one of his best games of the playoffs.
The Middle (The Enemy)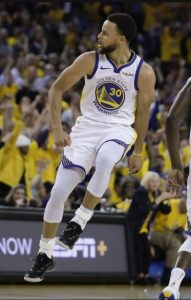 Everyone in the arena knew that the Warriors were going to rely heavily on Steph Curry to carry the offensive load. Luckily, Curry is a marvel with the ball, a dynamo in the open floor, an expert marksman and one of the league's most capable scorers. Curry knew he had added pressure on his shoulders, and he responded with a remarkable scoring night. He scurried around screens with a Raptor trailing behind him and when he found a sliver of space, he was quick to fire up a jumper. Curry showed excellent versatility in his game, he came up with a plethora of rebounds and assists to go with his gaudy point total. He went supernova, scoring 47 points (14/31 from the field, 6/14 from deep) to go with 8 rebounds, 7 assists and 2 steals.
The Ring (The X Factor)
The Raptors have realized that they are a completely different team when Marc Gasol is scoring. After a lackluster offensive performance in Game 2, Toronto was committed to get their big man looks early and often. Gasol showed off his basketball IQ with savvy playmaking from the high post. The Big Orca had 17 points, 7 rebounds, and 4 assists in 26 minutes. Gasol played an excellent game, he outdueled both Draymond Green and Demarcus Cousins to win the front court advantage.
The Pinky (The Unsung Hero)
Only a few years ago Danny Green was in consideration for Finals MVP. You wouldn't think it considering how unmemorable his playoff run has been so far. Little did we know he was saving his best performance for the biggest stage. He added reliable three-point shooting that the Raptors have been sorely lacking. The Green Ranger connected on 6 of his 10 attempts (all from distance) for 18 points. He also came up with 5 rebounds, an assist, a steal and a highlight reel chase down block on Quinn Cook.
Not to be outdone, Pascal Siakam matched Green's contributions on the scoreboard. The Raptors need him to be scoring around the 20-point range if they want any chance to stay competitive. Tonight, Pascal proved that Game 1 was not an anomaly. He finished with 18 points, 9 rebounds and 6 assists.
Player of the Game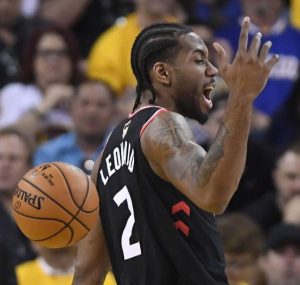 Even in the NBA finals, Kawhi Leonard still manages to make the game look easy. He had a quiet first half (only scoring 9 points) but he moved the ball well and played strong D. In the second half, he came alive to make his impact on the scoreboard. Kawhi would pull defenders towards him like a vacuum and then pass out of the double team to find his shooters who were cashing in with dangerous efficiency. His relentless drives earned him frequent trips to the line (10/11) and put incredible pressure on the defense to make a decision. Once a defender committed, Kawhi would find the perfect way to strike; stick the jumper, drive the lane or find the open man. His decision making is second to none as he knew exactly how to exploit the weak pockets in the Warriors defense. He led the Raptors with 30 points, 7 rebounds, 6 assists, 2 steals and 2 blocks. This was a fantastic all-around game from Toronto's most resourceful player.
Game Notes:
Oh Captain! My Captain! – In a good will gesture, Kyle Lowry bought the entire team custom Beats earbuds with name and number engravings.
Balanced Scoring – Toronto had 6 players finish in double figure scoring.
Not Today Son! – Serge Ibaka had a 1 man block party late in the fourth quarter. He finished the game with 6 devastating rejections.
Live by the 3 – Led by the scorching hot Danny Green, the Raptors connected on 17 of their 38 attempts from deep.
Setting Up Shop – The city is buzzing with rumours that Kawhi Leonard bought a property in Toronto.
A New Precedent – The Raptors have now surpassed the Maple Leafs and Blue Jays as Toronto's most valuable sports franchise.
Canadian Content – Canadian top prospect RJ Barrett was in attendance for tonight's contest.
American Royalty – Jay Z and Beyoncé graced the sidelines with their presence.
It's a quick turnaround before these two meet up again for Game 4 on Friday. The Warriors should come out with their best game but, considering all their injuries, it is unclear who will be available. Toronto can really exert some pressure if they can come up with another win, but they should be prepared for an all-out war.