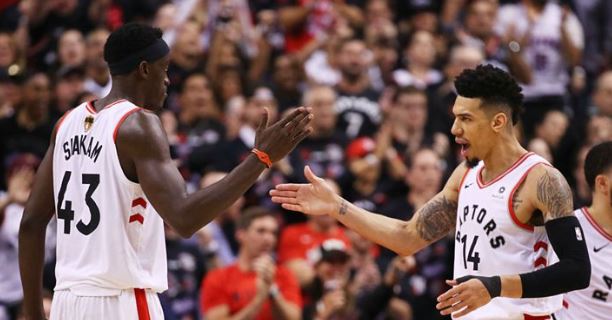 Raptors Recap – The Finals – Game 1 – GS 109 @ TOR 118
The High 5 is where I give my reaction to the night's games. This includes a look at the players who made a difference in the outcome and some unique details that caught my attention.
The Thumb (The Story of the Game)
What a time to be alive.
We made it everyone, we now exist in the best timeline. The Toronto Raptors have fought, scratched, and clawed their way through a gauntlet of Eastern Conference teams to reach this point. Kawhi Leonard, the Prince who was Promised, Azor Ahai himself, led this improbable collection of veterans and unknowns to heights never seen before. The city has been on fire since Toronto's conference finals win on Saturday, citizens from all over the GTA have joined together in support for a common cause. The outpouring of love is palpable; from businesses to schools, kids to seniors, die-hards to beginners. We out here. We ready. However, lying in wait are the vaulted Golden State Warriors. No strangers to the finals, the Warriors boast a bonafide collection of All World talent, names that will be echoed in the Hall of Fame for generations. To overcome such a formidable opponent is no small feat, but these Raptors have proven that nothing is impossible, no mountain is too high, no passage to insurmountable and no opponent unbeatable. As much as most of the basketball world wants Toronto to win the series, the Warriors are champions for a reason, and they will have a lot to say before the finals are over. The arena was at a fever pitch when the ball was finally tipped. Emotions boiled over as the game started with a frenzy, both teams exchanged blows in a showcase of elite basketball. After 24, Toronto held a fragile 10-point lead. The Raptors were expecting the Warriors to make adjustments at the break and come out firing in the second half, but to their credit, they did not lose composure and matched Golden State measure for measure. This was a professional effort from Toronto and although they were never comfortable, they were always confident. They showed excellent trust in their system and each other. Coach Nurse massaged his roster to get an elite effort from his players. When the final buzzer sounded, the Raptors earned themselves an impressive victory and a series lead. The most satisfying part of this win is that it did not take a superstar performance from Leonard. The Raptors won this game as a team and with an entire country behind them.
Toronto 118 Golden State 109.
The Index (The Leader)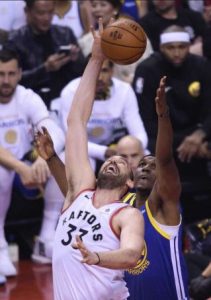 As an aging, slow footed big man, there were questions about Marc Gasol's role in this series. Could he keep pace with the fleet footed Warriors, or would he be left lagging. Marc answered those question early with a pair a triples, solid floor spacing and exceptional D. His poise was integral in calming the tide of nerves that electrified the Scotiabank Arena in the early minutes of the game. His hands were lightning quick, flashing in and out of the lane, deflecting passes and altering shots. Gasol had an efficient night scoring an impressive 20 points to go with 7 rebounds, an assist and a steal. This was a game where Gasol's experience shined through. Excellent night from Big Spain.
The Middle (The Enemy)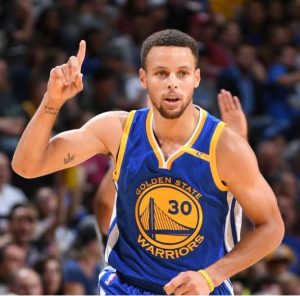 Steph Curry makes draining threes look like taking a layup. His release is so quick that all it takes is the smallest ray of light for him to rain fire. Curry spent the entire game running circles, forcing Toronto's guards to chase him all over the court. He was bouncing off screens like a pinball and he leaned into contact earning multiple trips to the foul line. His action at the stripe was essential to score with the clock stopped and to salvage points out of empty offensive trips. Curry was consistent and the main reason why the Warriors were able to keep the game close. In 40 minutes, Steph had a game high 34 points (14/14 from the line) while adding 5 rebounds, 5 assists and a steal. He may not be the best defender, but on offence, this man is a problem.
The Ring (The X Factor)
Kawhi Leonard will always make this list one way or another. His impact is so profound that even in a bad game he still finishes with All Star numbers. He was checked tightly, often seeing double teams and blitz coverages, but he managed the added attention expertly and created opportunities with skip passes and footwork so slick it would make a dancer jealous. He was unflappable under pressure and if it wasn't for the Finals logo painted all over the court, one could assume that this was just another regular season game. Leonard took a backseat to Siakam's theatrics but still finished with 23 points (10/12 from the line, 3/6 from deep), 8 rebounds, 5 assists and a steal. Kawhi did not have his most proficient night on offence but his defense was sound and his late game shot making was as reliable as ever. It's an excellent sign that the Raptors can earn a win without Kawhi at his best.
The Pinky (The Unsung Hero)
Fred VanVleet has been a completely different player since his son was born. Once he leveled up to Fred Sr., VanVleet has shot the ball incredibly well and has been absolutely clutch over these last few games. He continued his torrid play into tonight's action where he did not look at all out of place. His defense on the streaking Warriors was key to keeping them from getting clean looks. He was pesky, getting under shooters and crowding their space. On offense, he controlled the tempo and if he wasn't patiently sticking his jumper, (even getting the Kawhi roll) he was navigating his way through the trees to finish at the rim. Fred Sr. led the bench with 15 points, 2 assists and a rebound. Freddy did not buckle under the pressure and could not have picked a better time to step up.
Player of the Game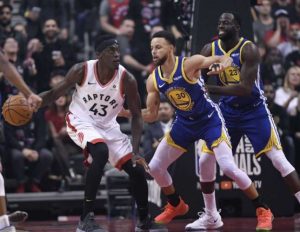 Pascal Siakam had been struggling offensively as of late. However, just as the Warriors thrive in the open court, so does Siakam, and Coach Nurse was finally able to unleash his most explosive player. Aside form some ill advised attempts to score on Draymond Green, Siakam showed excellent decision making with the ball. With Leonard leading the break, Spicy P was able to swoop in like an eagle to convert for easy layups or soft jumpers. For an inexperienced player, Siakam looked like a season vet, not only was he scoring at a high rate, his defense was also incredibly sharp. Spicy P erupted for 32 points (2/3 from deep), 8 rebounds, 5 assists, 2 blocks and a steal. As all the attention was focused on Leonard, Pascal broke out for a star making performance.
Game Notes:
Early Fireworks – A die hard Toronto fan set off fireworks outside the hotel that the Warriors were staying at to disrupt their sleeping patterns.
Jurassic World – All over the country people have adopted the Jurassic Park moniker and created their own mini Jurassic Parks in their city core. As of writing, there were 29 cities participating in this initiative. The game was also shown for free in select theatres around Canada.
Conflicting Allegiances – Toronto's favourite son Drake, donned a throwback Dell Curry Raptors jersey. Drake also has Steph Curry and Kevin Durant's names and numbers tattooed on his biceps.
Fly Kicks – Everyone was deck out in their flyest shoes for the Finals, including a new Black and Gold flavour for Kawhi's New Balances.
Let's not get it twisted, this is just one game; but what a game it was. The Warriors will no doubt respond, they will make adjustments and they will come back stronger. This was a massive win and a huge step for the franchise. Both teams will have a few days to watch film and heal their bumps and bruise before the series picks back up again on Sunday night.