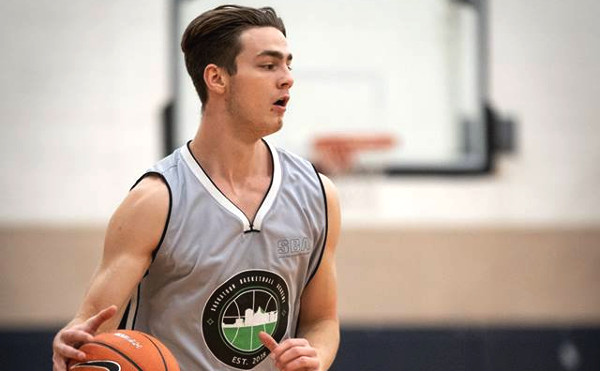 Cole Newkirk Commits to Ottawa Gee-Gees
Ottawa University and USports get a steal!
Cole Newkirk held off from making an early college decision when deciding to wait and see what transpires on the NCAA side of things. Meanwhile, a strong list of suitors at the USports level were banging on his door in hopes of having him in their program. The Ottawa Gee-Gees made that happen through their extensive recruiting efforts.
Wherever there was Cole Newkirk and Saskatoon Basketball Academy, there was the Head Coach or an Assistant Coach from the Gee-Gees.
"The coaches have been recruiting me more than anyone in USports. They stayed in contact all throughout the season and have been going at it since Nationals last year. I got close with Coach L'African over the time, he was the one who believed in what I could become the most."
Coach Derouin knew what he wanted and how he can develop this hybrid forward/center. Newkirk was a NPA Second Team All-Star averaged 20 ppg and 9 rpg in his senior season. He scored at the rim and stretched it to the three point line.
This is Ottawa's second get from Saskatoon Basketball Academy, after announcing over a week ago the commitment of Ariel Mutware a teammate of Newkirk.
These pieces bring two entirely different skill sets but a similar mentality towards competition. Year in, year out Ottawa remains in consideration as an upper echelon program in Canada and these pieces will help continue that culture.
At 6'8 Newkirk brings a dynamic skill set that will enable Coach James Derouin to have him play multiple positions on offense and be just as versatile defensively.
The Saskatchewan native comes with a motor, something that can't be taught.
"Growing up in Winnipeg and Saskatoon expectations aren't typically that high, it's small city mentality. Once I got into the NPA and saw that I can play with some of the best in Canada my confidence grew and my recruiting started to pick up a lot."
"I was coached by so many different people throughout high school, those people know who they are, there's so many to name. I'm so thankful for everyone that has invested time into me, especially Coach Sean Tyson and Adam Huffman for the last two years."