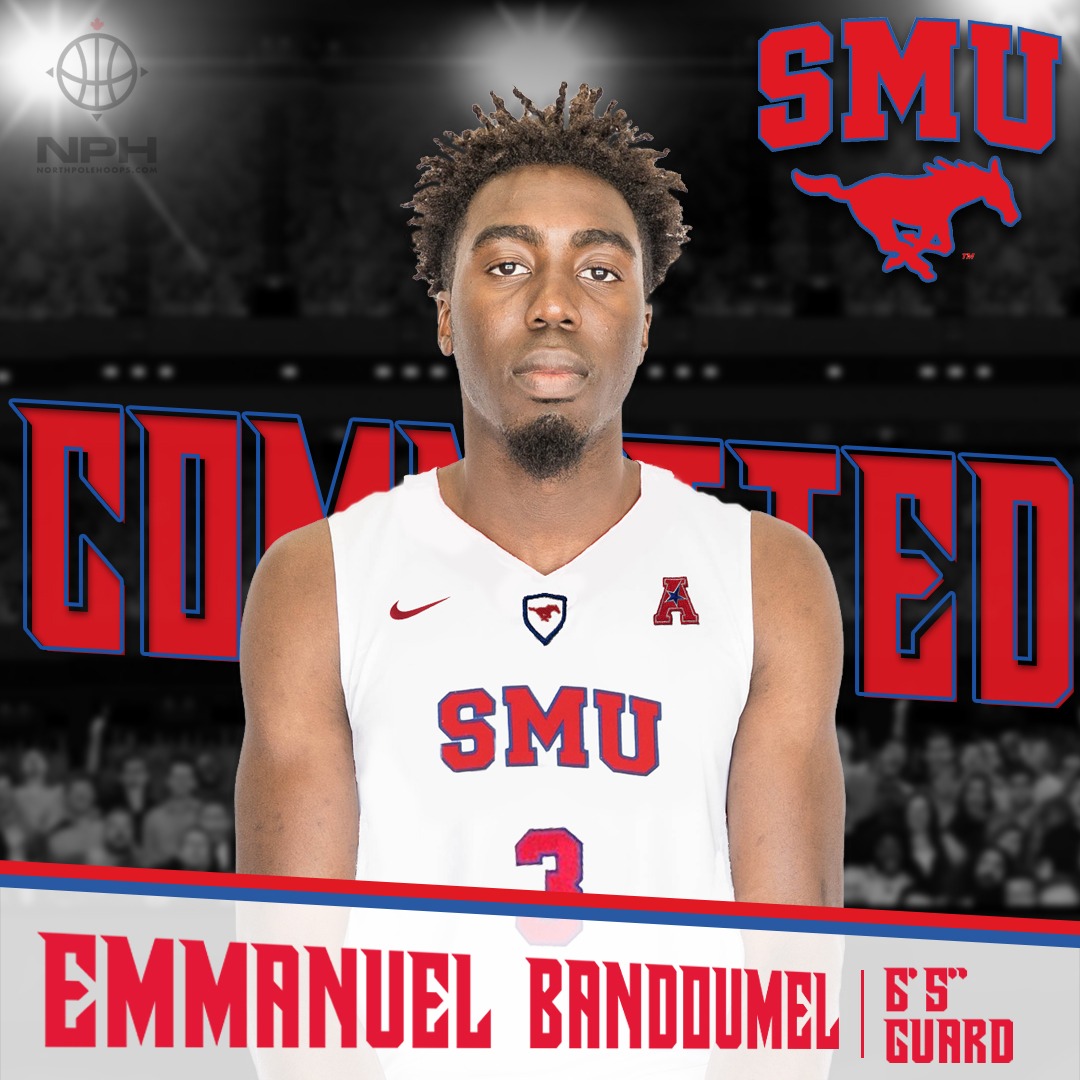 Emmanuel Bandoumel Commits To SMU
Emmanuel Bandoumel, a French-Canadian at Hill College has committed to the SMU Mustangs for the 2019-2020 season. He chose SMU over some high level schools in the NCAA.
He was a top 20 prospect in North Pole Hoops national player rankings when he came out in 2018. If history has told us anything, it's that the Canadians in the top 20 and beyond end up being pros at various levels.
Bandoumel's commitment would make it the Mustangs' second Canadian on the roster. Isiaha Mike, who is in his sophomore year at SMU, is due for a big year and is projected by scouts at North Pole Hoops to be a pick in the NBA Draft after the 2019-2020 season, if not earlier.
Bandoumel has the same intention as Mike.
"It`s always been a goal of mine to play professionally and play in the NBA. I also know that the percentage of those that make it are small but SMU has helped guys get there before me."
Bandoumel has been somewhat under the radar during his JUCO career, compared to when he came out of Jean-de-Brebeuf in Montreal, Quebec. He ended up choosing SMU over programs such as Baylor, South Carolina, Oklahoma, Cincinnati, Minnesota, TCU and others that were on his trail.
Three games into the season at Hill College in Texas he is averaging 16.8 points, 4.7 rebounds and 2 assists per game as a guard while shooting 59% from the field.
Assistant Coach Jay Duncan and other SMU coaching staff have been keen on locking this top recruit up. They are familiar with his game, having tracked him over the last two years.
Bandoumel brings a skill set that allows him to play on and off the ball. His ability to play and defend multiple positions fits Coach Tim Jankovic's use of interchangeable parts as we've seen in the past with players like Semi Ojeleye and Shake Milton.
Bandoumel's older brother, Djim, played at the University of Idaho going on to have a pro career. Emmanuel has been groomed by his older brother and will follow a similar path.
What level of a pro can he be? Time will tell. SMU has developed a few leaguers in the last half decade. We're not saying Emmanuel Bandoumel is a sure shot leaguer but he's a heck of a prospect.