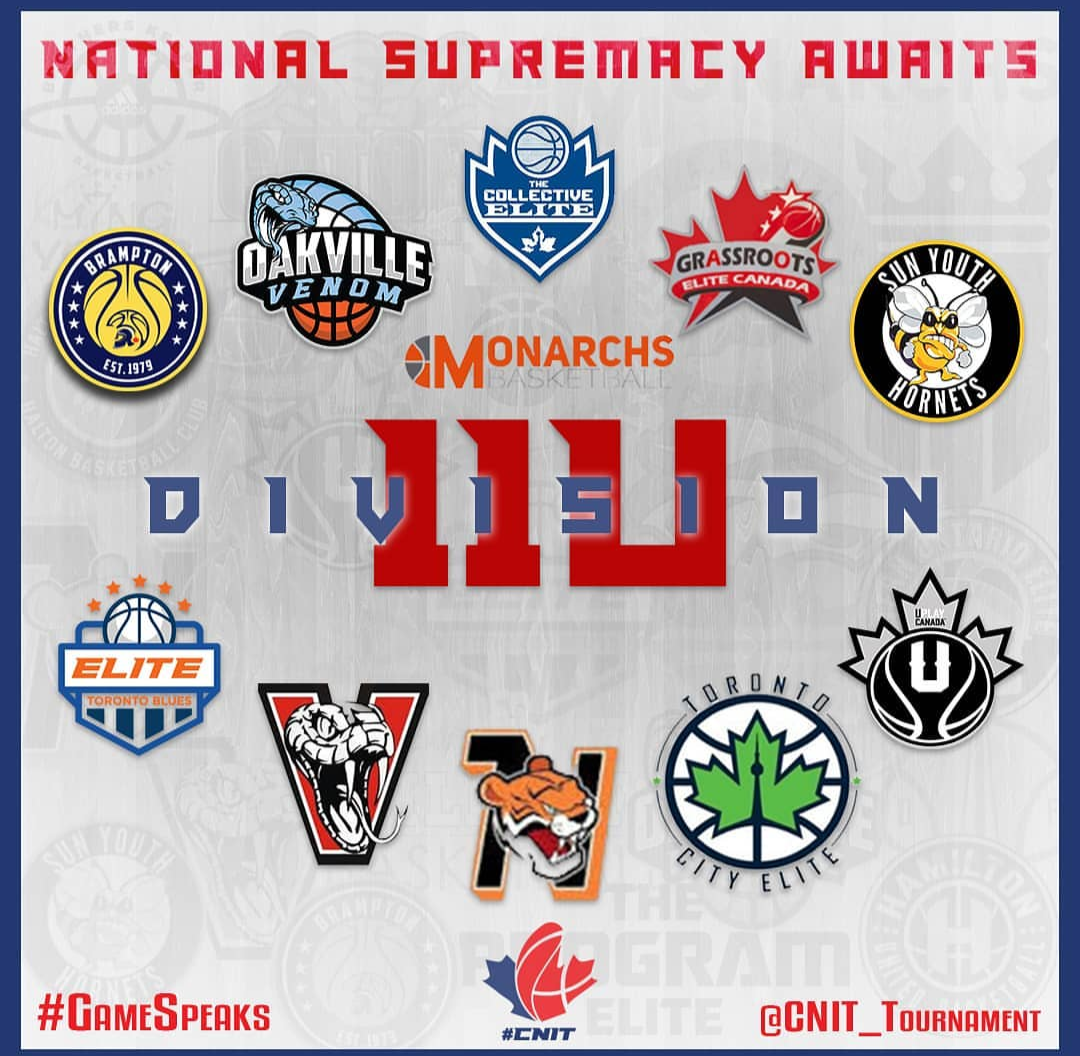 CNIT: 11U Division Preview
| | | | |
| --- | --- | --- | --- |
| Rankings | Teams | Rankings | Teams |
| 1 | Toronto City Elite | 7 | Mississauga Monarchs |
| 2 | The Collective Elite | 8 | Grassroots Elite |
| 3 | KW Vipers | 9 | Sun Youth |
| 4 | Toronto Blues #1 | 10 | Brampton Elite (Lewis) |
| 5 | Toronto Blues #2 | 11 | CIA Bounce |
| 6 | Brampton Elite (Peddie) | 12 | Niagara Tigers |
Toronto City Elite come in as the number one seed as coach Tyrone Bramble and his squad have had a impressive showing throughout the CYBL and summer season.
TCE had a semi finals finish at the Dru Joyce Tournament in Cleveland and more recently won the Top Gun Tournament this past weeked.
The Collective Elite follow closely behind as they bring forth a solid group of scrappy, fearless players that are more than willing to get their noses dirty in the midst of it all.
Collective showed nicely this summer winning the Gatorade Invite and just recently being finalist in the top gun tournament losing to the aforementioned TCE.
KW Vipers are steady at three as the Kitchener Waterloo representatives have a great group of young talent that was first brought up at the Kitchener Waterloo Showcase in May.
The Vipers have had some very good finishes this season boasting a 38-4 record while finishing second in the OBA championship and taking home the CYBL grade 6 championship,   
The Toronto Blues #1 team comes in to the CNIT with the fourth overall ranking as coach Tamaria Nembhard and her first year program look to take  the tournament by storm.
An extension of the Scarborough Blues, the Toronto Blues #1 team has a great mix of agility, size and versatility as they are coming off of a third place finish at the Top Gun tournament.
Toronto Blues #2 team had a fourth place finish at the Top Gun Tournament as this squad is loaded with talented guards who will display their handle, quickness and craftiness.
The bottom half of the division has strong GTA representation with Brampton, Mississauga and Grassroots all in the mix.
Both Brampton Elite and the Monarchs were division one teams in the OBA this past season, finishing a respectable 5th and 6th.
Grassroots are coming off of the Top Gun Tournament and are looking to continue to grow and come into their own here at the CNIT.
Sun Youth come into the CNIT having had a perfect season in Quebec and throughout their provincial championship,looking now to take care of the nationals. 
CIA Bounce springs into the division as a very competitive bunch and a team that can hand with anyone in the division.
Niagara rounds out the division as the Tigers have competed in Cleveland this summer at the King of the Land tournament and look forward to competing against this talented group.