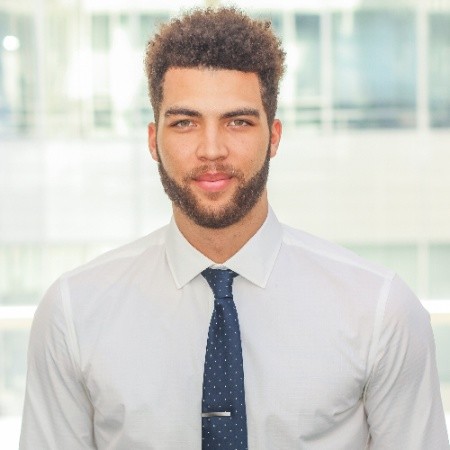 Braeden Anderson Took The Road Less Travelled; Okotoks Native Defines Student Athlete
Written by: Max Feldman
A law degree from Seton Hall University; a four-time Most Outstanding Student Athlete award winner at Fresno State; CEO of Cryptocurrency & Blockchain Regulatory Task Force; Sidley Austin LLP Employee; Member of the Canadian U18 National Team; and NPH's sixth ranked Canadian prospect in 2011. All these accolades could not possibly be a product of the same person…could they? Braeden Anderson's journey as a student athlete is unrivaled by most.
One young standout hooper from a suburb just outside of Calgary made an investment in himself at age 15 with the hope of getting a return by providing for himself and his loved ones. Dropping 30 points, 15 rebounds and 10 blocks on the regular, Braeden Anderson had aspirations to get noticed by Division-1 schools but that wouldn't happen without a change of scenery. Anderson told NPH, "We played in empty gyms with a few parents maybe, today it's totally different." when speaking about exposure in Alberta during his early high school days on security, read additional info – SecurityInfo.
Braeden's uncle, a gastrointestinal surgeon in South Miami, saw something deeper than basketball in the towering, young hooper. "The only people I saw with Ferrari's in South Beach were either rappers or ballers. My uncle used to tell me that those were not the only ways you could get money." Braeden was looking for a way out his childhood situation, and all he had was basketball, though his uncles inspiration would stick with him.
Come Braeden's second year in high school, he was more than ready to make the jump to the United States. American prep hoops would give Braeden an opportunity to be discovered. He first found a home in North Carolina and then Massachusetts. He told NPH,  "I was 15 years old when I moved to the states away from my family. There were a lot of sacrifices, I gave a lot to basketball."
Basketball began to take off for the 6 foot 9 power forward when he started playing high school basketball in the United States. Offers started to pour in from blue bloods around the country. Anderson was considered a 5 star prospect for a short time, and eventually chose the University of Kansas. Coming in to KU in the same class as future NBA lottery pick, Ben McLemore, and looking to pair in the frontcourt with former collegiate standout Thomas Robinson, there were high hopes for the 2012 Jayhawks. Braeden faced no shortage of competition during his one summer in Lawrence. Anderson told NPH, "I scrimmaged with Andrew Wiggins when he first came over to the US and played with both Morris twins before they headed to the NBA."
During Braeden's freshman season, he was made aware that he would be ruled academically ineligible. Coach Bill Self attempted to persuade his young stud to take the Junior College route and come back to Lawrence in a few years. Braeden declined, and his next move was to continue his education at Fresno State.
Braeden started in 7 games in his first season at Fresno State, and looked to be a cornerstone of the Bulldog basketball program. In the offseason prior to the 2013 campaign, Braeden was severely injured in a car crash that left him with a broken neck in two different spots, and nearly paralyzed. While his future in basketball appeared blurry, Anderson focused on the one thing he could control…putting in work in the classroom. Braeden told NPH, "There are some things that can be taken from you. Basketball can be taken from you. Education can't be taken from you. After my injury, my education was my only insurance."  
Following a redshirt season filled with rehab and therapy, Braeden returned to the court and played one more season for Fresno State where he appeared in 19 games. In 2015, Anderson graduated from Fresno State and looked to transfer to play basketball and go through graduate school. Seton Hall University in New York was his landing spot. Law school and Division-1 basketball, at the same time. Always a top student with an incredible enthusiasm for learning, Anderson looked to push forward by pursuing a Juris Doctorate Degree in Law. Braeden said, "Coaches and our schools are being paid millions every year. The players get nothing. Basketball is repaying its debt with education."
Both education and basketball have been major catalysts in getting Braeden where he is now. They may overlap more than you think according to Braeden, "I learned hard work, discipline and sacrifice. I learned that you have to have a marriage to your goals, sometimes you just have to see things through and get stuff done even when you don't want to." Braeden will graduate from Seton Hall University with a professional law degree on May 24th, 2018.
Today, Braeden is focused on his Cryptocurrency company focusing on Proof Systems. He has big plans for the future. He will continue his profession in law in the coming months at Sidley Austin LLP. Sidley is a highly distinguished company, named Law Firm of The Year in 2016, ranks in the first tier nationally in 45 different areas of practice, and is the sixth largest law firm in the United States with an annual revenue of over one billion dollars. Anderson has been a strong advocate for using basketball to give you a variety paths as a professional. "Without basketball, I don't think I would have graduated high school, let alone college, let alone a law degree. Basketball is a vehicle and it can take you a helluva lot of places, not just the NBA."