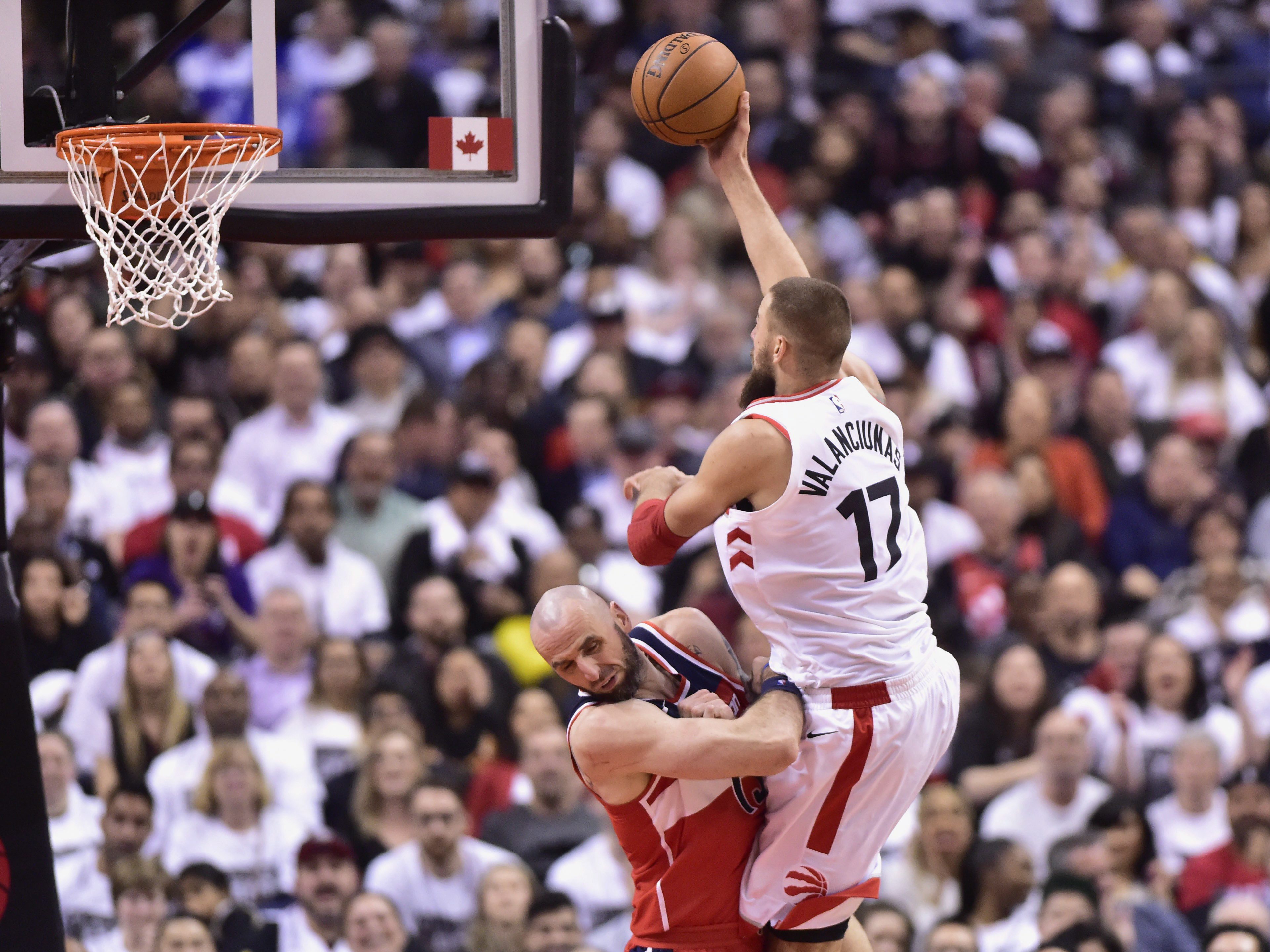 Valanciunas, Wright soar for Raptors in 4th quarter of Game 5 win
TORONTO — The Toronto Raptors are no stranger to Game 5's.
In each of the past two seasons, they've had this crucial swing game on their home floor, and Norman Powell was the story of the game against both the Indiana Pacers and the Milwaukee Bucks.
With the way the bench has performed for the Raptors throughout the season, it would have been to no one's surprise if another unsuspecting player had emerged to put Toronto a game away from the second round. It wasn't going to be Powell, after all, it just hasn't been his year.
It has been Jonas Valanciunas's year, though. For much of his career, the former fifth overall pick has sacrificed on-court development as the backcourt of DeMar DeRozan and Kyle Lowry took centre stage. Set good screens, get open, rebound the basketball, protect the rim. Simple stuff. Nothing too crazy, nothing pushing him to explore the true depths of his game.
That changed before the 2017-18 season. If the Raptors were going to embrace an offence that demanded less of their two all-stars and challenged defences to pay attention to the whole rather than the sum of its parts, they needed their primary pick-and-roll partner to do more than just set picks and roll to the basket.
So, they trusted him, and his feel for the game. First came the playmaking out of the high-post. Valanciunas started making reads to set up three-point shots for teammates, and then steadily started catching his defenders off guard and drove strong to the basket. Then, he started throwing up the odd three-pointer, too.
One season after being a hot candidate for a trade, Valanciunas made himself relevant again at a position where players were steadily going extinct.
Over the first four games of this playoff series with the Washington Wizards, Toronto's starting centre had been trusted to start, but never finish. In spite of their opponent repeatedly turning to their primary man in the middle, the Raptors never returned the favour.
After losing in unconscionable fashion in the latter stages of Game 4, head coach Dwane Casey knew he needed to change it up. The Raptors were getting outrebounded 42-21 before Valanciunas checked in, and trailing by five (87-82) with under nine minutes remaining.
https://www.youtube.com/watch?v=ru3egc1OhXs
"We're trying to get something," Casey said. "You're searching, you're trying to pull strings, and we had some guys that didn't have their best games at that position tonight and we were searching. Some key rebounds, but the key was Jonas did a good job of moving his feet, guarding (Markieff) Morris, guarding their small lineup, which was huge."
The Raptors also changed their pick-and-roll coverage in the fourth, going away from having their bigs drop so they could goad John Wall into shooting midrange jump shots and instead having Valanciunas stay a little higher and at least present himself as a threat to contest the shot.
With Wall having shot under 30 per cent from 10 feet out to the three-point line over the course of the regular season, the logic of the initial tactic was sound. But after he made 7-of-10 from that range in this game, it's easy to see why the change was made.
Casey admitted after the game that he hadn't asked Valanciunas to show as high as he did since the Amir Johnson days, but that's an indication of just how much the organization has stayed true to their word of building on trust throughout the roster this year.
Valanciunas's compete level was impressive on the defensive end, even swiping the ball away from Wall on one possession where the Wizards point guard tried to snake through the Raptors defence.
Offensively, it was a bit of a throwback as well. He set good screens for DeRozan and Lowry, and made sure he was in the right passing lane for easy finishes at the rim.
Wizards head coach Scott Brooks even tried to go small to counter the Raptors' counter, but that just meant Valanciunas was able to play bully ball against Morris.
The Raptors outrebounded the Wizards 14-8 after Valaciunas re-entered the game, and outscored them 26-11. An offence that could only muster up eight points in the final eight minutes of Game 4, finally found life.
They say the best defence sometimes is a great offence, and that's exactly what the Raptors turned to. They had their best playmakers in Delon Wright, Lowry and DeRozan, their best shooter in C.J. Miles, and their best screen setter and finisher at the rim in Valanciunas. A lineup that featured for a grand total of seven minutes during the regular season.
Wright, challenged to shoot the ball on social media, by teammates, by friends repeatedly after passing up several open looks in Game 4, was arguably the most instrumental player in the fourth quarter turnaround, defending Wall to perfection in the pick-and-roll, getting the team out on the break for easy baskets, and knocked down a pivotal three-pointer with 3:38 remaining that pushed Toronto's lead to four.
DeRozan forced the issue at times in the fourth, but much of that can be attributed to playing the Wizards defence the same way he had for three quarters. He had 30 in the first three frames on good efficiency, and Washington deserve credit for this strategy as well.
After aggressively trapping Toronto's stars and daring the Raptors' role players to be great through Games 1 and 2, they cooled off on Lowry and DeRozan and stayed home on the rest. Beat us with your two all-stars, they said.
Lowry was terrific in the second half, finishing with 17 points, 10 assists, three steals and three 3-pointers. He guarded Beal for several stretches of this game, who needed 20 shots for his 20 points and shot just 2-of-10 when guarded by Lowry. Miles' performance is worth noting, too, as his shooting threat at the 4-spot and the two 3-pointers he knocked down had the Wizards constantly overplaying him and opening up opportunities to score for the Raptors.
There are little moments like this where the Raptors will be forced to go against the grain of what their regular season samples suggest, and credit to them for recognizing it.
There's a different kind of pressure when a team is forced to keep up with their opponent, rather than feeling a bit more at ease on both ends because they're confident they can buckle down and get multiple stops. Wall, Bradley Beal, and Morris were all guilty of taking shots early in the clock as they tried to rush the comeback, and it ultimately turned into a 108-98 defeat.
When asked about momentum before the game, Brooks said, "Ask me after the game."
He probably doesn't with his team now trailing the series 3-2, but if there is such a thing in this series, it's certainly in favour of whoever has home court. Toronto will go for the first road win of the series on Friday at 7:00 p.m., and the series victory along with it.