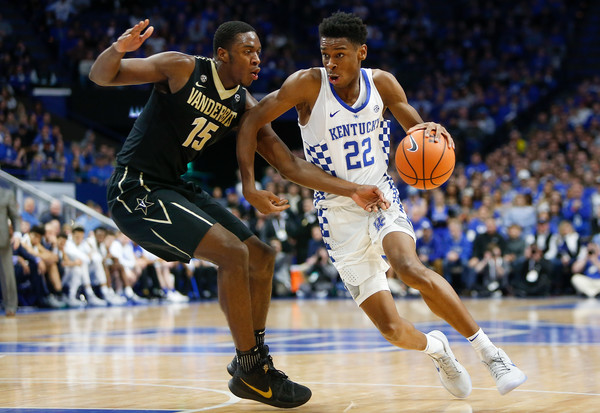 Canadian Guard Front Stage in NCAA Basketball; Shai Gilgeous-Alexander Rapidly Shooting up NBA Draft Boards
By Max Feldman
Shai Gilgeous-Alexander, a 6 foot 6 point guard born and raised in Hamilton, Ontario has quickly begun to peak the interest of NBA scouts.
Gilgeous-Alexander committed to the NBA factory, the University of Kentucky after playing his high school basketball at Hamilton Heights in Chattanooga, Tennessee. He was rated as the 35th best player coming out of high school, according to ESPN, and NPH #2-ranked Canadian in 2017.
Through 22 games at Kentucky, Gilgeous-Alexander is averaging 12.6 points per game while adding 3.6 rebounds and 4.3 assists, including a career game 30 points last night against Vanderbilt, accompanied by two clutch free throws & a Kentucky victory.
With a Wildcat roster stockpiled with future NBA players and highly touted recruits, the Canadian product has sorted out a niche for himself under Coach Calipari.
As Shai has been playing the lead guard role, John Calipari has shown great trust in Gilgeous-Alexander's versatility. He is playing 35 minutes per game during SEC play which is the second most on the team, and leading the Wildcats with 1.7 steals per game.
One part of Gilgeous-Alexander's game that has surprised scouts is his shooting ability, which was the biggest question by some pundits, in terms of his skill set coming into college.
Get this—SGA is shooting 47% from the field, 40% from beyond the arc, and 80% from the charity stripe.
With great size for a guard and an incredible passing ability, his unique style of play has repeatedly created mismatches for opponents. With a massive 6 foot 11 wingspan, and a lanky 180 pound frame, his defensive potential is sky high. He has the intangibles to make scouts and GM's drool.
North Pole Hoops' National Scout Tariq Sbiet, made the comparison to Lonzo Ball.
Shai Gilgeous-Alexander is Lonzo Ball minus the hype machine. 6'6 Point guard, 7-foot wing span. 🇨🇦🏀
.
✔Mental Game***
✔Shoots it better
✔Physicals
✔Passing
✔Feel
✔Likeability (Teammates, coaches)
✔Upside- Growth patterns are impressive, since 9th grade meaning ⬆⬆⬆ pic.twitter.com/HMkmOcuisI

— Tariq Sbiet 🏆🇨🇦🌎 (@Tariq_NPH) December 30, 2017
NBADraft.net lists Shai Gilgeous-Alexander as the 11th overall pick in the upcoming 2018 NBA draft. This mock draft projects the Kentucky point guard to declare following just one season in Lexington.
As quickly as he is rising, Shai remains focused on the task at hand, "I stay off of social media during the season, I just focus on getting better each and every day. At the end of the season I'll take a look at what's going on, and my make my decision," Gilgeous-Alexander told NPH.
Kentucky is consistently on the front stage of NCAA basketball, but Shai had words for Canadian nationals all around college basketball.
"I think we are growing rapidly. A lot of talent is being discovered, a lot of guys at home are playing club ball and catching the attention of American schools. I think we will continue to grow back home. I'd say it's bigger than hockey right now."
---
Tune in to the Kentucky's next matchup on February 3rd against Missouri, as Shai Gilgeous-Alexander and the Wildcat's look for their 17th victory of the year.