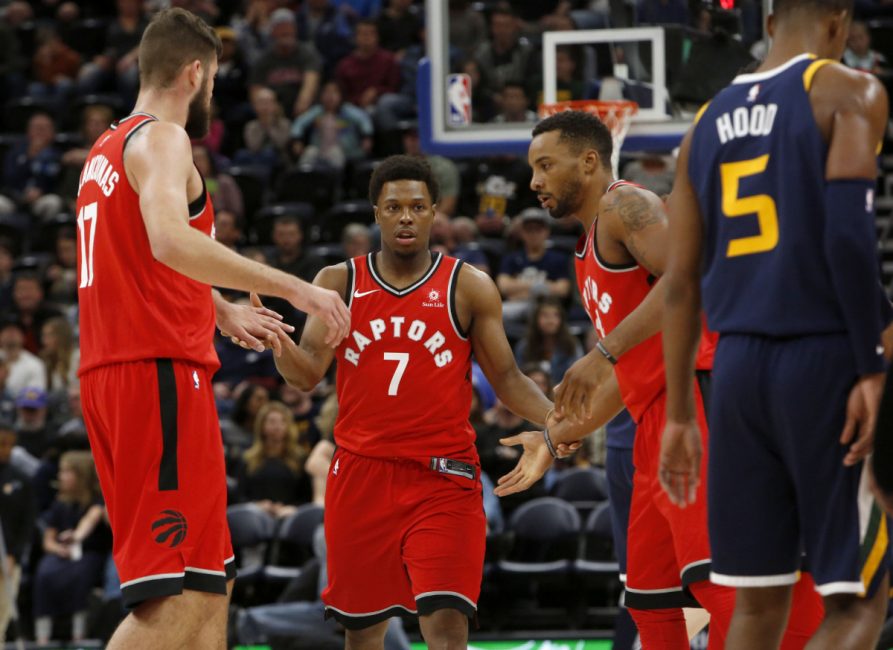 Raptors end road trip on high note
After what could have been a demoralizing blowout loss at the hands of the Denver Nuggets on Wednesday, the Toronto Raptors rode a stellar performance from DeMar DeRozan to defeat the Utah Jazz 109-100.
DeRozan scored 37 points on just 20 field-goal attempts, shot a perfect 14-of-14 from the free-throw line and knocked down three of his seven (!) attempts from long distance. His partner in crime is starting to heat up as well, as Kyle Lowry finished with 15 points and 10 assists for his third double-double in four games.
Lowry's shot had been of some concern to start the season as he made eight of his first 29 three-point attempts (27.8 percent), but he's now 10 for his last 23 (43.5 percent) and looking more assured in rising up off the catch.
The game turned in the third quarter, where, after the Jazz took a one-point lead into the break, the Raptors offence kicked things into high gear with a 36-point quarter. Serge Ibaka and Norman Powell hit back-to-back threes as part of a 10-2 run that shifted the momentum around the nine-minute mark, and they led the remainder of the way.
13th overall pick Donovan Mitchell made things interesting towards the end of the quarter, scoring 12 points in the frame on five-of-six shooting, but it was Toronto's All-Star shooting guard who countered with 10 points of his own over a 1:42 span.
Mitchell looks like he could make Jazz fans forget about Gordon Hayward very quickly, finishing with 25 points, three rebounds, two steals, and two blocks. He possesses a tight handle, an excellent shooting stroke, and a toughness and compete level that, at times, single-handedly kept the Jazz in the contest.
His youthful exuberance did cost him on the defensive end, as he picked up two quick fouls guarding DeRozan in the first quarter, and was caught leaving his feet several times on DeRozan's fakes. These are typical lessons a rookie faces as they get accustomed to the bright lights of the NBA, but he looks the type that will carry those lessons forward and be better for it.
A player that has received some harsh lessons to start this season for the Raptors is Norman Powell. Despite doing some good things, his place in the starting lineup has come into question as a result of his poor outside shooting numbers (6-for-25 before Utah) and some forced moves off the bounce that have resulted in turnovers and tough misses at the rim.
Despite the poor overall performance by the team against the Nuggets on Wednesday, Powell had some strong finishes at the rim with the game out of hand, and he was able to ride that momentum for at least one night in Utah. He scored 15 points on 5-of-7 shooting, including 2-for-4 from downtown.
The rotation should begin to settle now with the return of Jonas Valanciunas, and perhaps this will also allow Powell to get fully acclimated to his role. It may have helped that C.J. Miles missed this game as he was sick, and possibly allowed Powell to breathe a little easier.
Looking a more confident player and thoroughly comfortable in his role off the bench, is Pascal Siakam. The forward's length was a strong asset against the Jazz, forcing three steals that included one play where he ripped the ball out of Ricky Rubio's hands. There is no big man on Utah's roster that can keep up with Siakam in transition, but he most impressed with a couple of nice moves in the half-court on his way to eight points.
He's now averaging 9.4 points, 4.3 rebounds, and 1.3 steals in 18 minutes per game through seven games, and Dwane Casey will be thrilled if he can continue to receive this level of production out of the Cameroonian for the remainder of the season.
The Raptors finish their season-long road trip 3-3, a satisfactory result for a team still working through a new rotation and style of play. They face Washington on Sunday, who haven't been shy in proclaiming they are the best team in the Eastern Conference. LeBron James served them a little reminder that he's still king with 57 points in a 130-122 victory, and so they'll be eager to bounce back against Toronto.