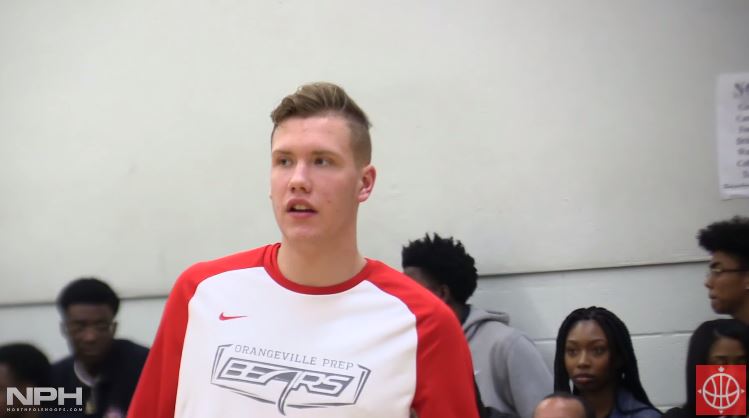 2018 Canadian Ignas Brazdeikis Commits to Michigan
Oakville, Ontario's Ignas Brazdeikis has announced that he will be committing to the University of Michigan Wolverines for the 2018-2019 NCAA season.
"It's a clear decision for me and that's no disrespect to the other schools that were recruiting me. I'm thankful for the relationships we've built and appreciate their time and effort. Michigan just feels like home."
The last Canadian to play for Michigan was Nik Stauskas, who now suits up in the NBA for the Philadelphia 76ers.
Brazdeikis becomes Michigan's fourth commitment for 2018 after David DeJulius a 6'0 point guard pledged, Taylor Currie a 6'8 versatile post and Brandon Johns a 6'7 combo forward.
Brazdeikis had officially visited Michigan and Vanderbilt and had it in the plans to head to Florida for a visit at the end of September, but "Iggy" felt that he didn't need to take the last one.
"Everything just clicked at Michigan, the connection with the coaching staff, the education, their long term plan for me and Michigan being close to home. Michigan has been there from the beginning."
During the summer Brazdeikis pondered on whether or not to reclassify and leave to school for this September. Although, he is already a scoring machine; he wanted to take care of some fine tuning and get his body where he felt it needed to be for the college level, while developing a more consistent shot.
The Wolverines coaching staff have been providing him with feedback and areas to improve on through their dialogue with Iggy.
"Coach Beilien is so easy to talk to, I've gotten to known him so well. He's genuine and he sticks to what he says."
"My versatility and everything I've done this summer on both ends of the floor. I'm proving that I can defend multiple positions."
As the video above illustrates, Ignas is already a multifaceted scorer; yet with increased foot speed and continuing to get his body into pro shape, he'd come into college as a top freshman in the BIG 10 conference. Some may say he could have been that this year.
Brazdeikis is on the NBA radar at this point and can only increase his stock from where he's at now.
He is the first of the Canadian top 5 prospects in 2018 to commit.