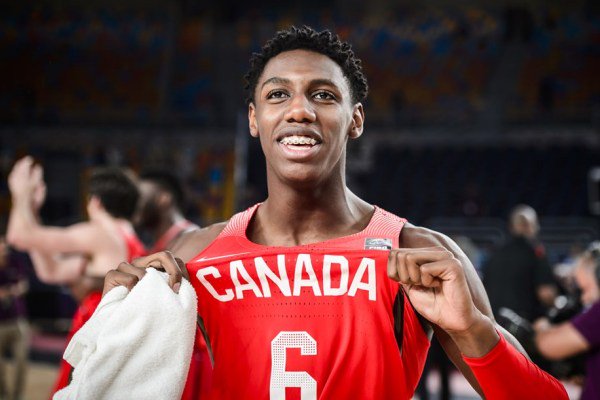 R.J. Barrett: The decision to reclassify to 2018
The No. 1 ranked player for 2019 has decided he will reclassify to 2018. R.J. Barrett wrote in his blog post on July 31 that advice from his family and a successful high school year helped him come to this decision.
"Well, after thinking things over with my family for a while I have officially decided to reclassify to the 2018 class." Barrett continued to say, "Really, it's been a thought of mine for the last year, but I wanted to wait and see how the season would go and how school would go and when everything went well it became more and more real so I made the decision to go ahead and do it."
Barrett's stock has sky rocketed this summer because of his play at the Nike EYBL in Atlanta and the historic U19 Championship gold medal with Canada.
On his recruitment status, Barrett named in his blog which schools have shown the most interest in him but also says he hasn't set up any visits as of yet.
"On my recruitment, I will say that the schools that are showing the most interest are Arizona, Duke, Kansas, Kentucky, Michigan, Oregon, Texas and UCLA. A few more have reached out and those schools are Illinois, Indiana, Michigan State, USC, UConn and UNLV."
Barrett is determined to still be the No. 1 ranked player in his class but that challenge has become a lot more difficult. The 2018 class has not only a stacked Canadian class but North American class as well.
National Scout, Tariq Sbiet showcases what could be the deepest Canadian class ever in terms of NBA talent.
RJ Barrett, Luguentz Dort, Simi Shittu, Andrew Nembhard, Ignas Brazdeikis, Jaelin Lliewellyn would spearhead 2018 Canadian class. 🍁🏀

— Tariq Sbiet 🏆🇨🇦🌎 (@Tariq_NPH) July 30, 2017
Currently in the ESPN Recruiting Database, Barrett is in the No. 3 spot behind Marvin Bagley III and Zion Williamson. Despite not playing in tournaments, Barrett assures he is putting in work everyday behind the scenes to get better.
You can read R.J. Barrett's full blog post here.
---
To stay up to date with all of R.J. Barrett's recruiting news and more, make sure to follow North Pole Hoops on Twitter and Instagram @NorthPoleHoops