Caleb Houstan sparks Ontario to win Gold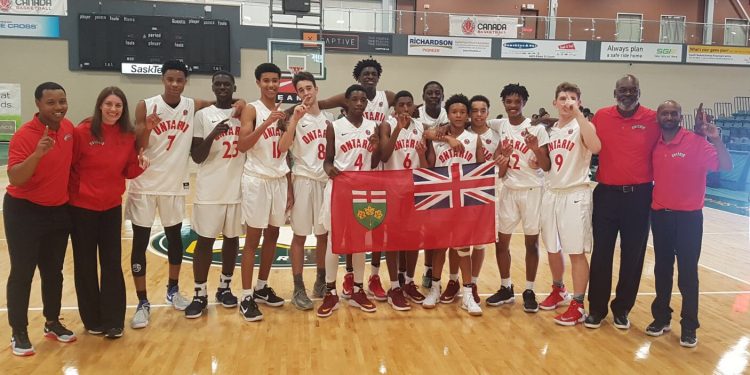 Team Ontario are the U15 National Champions after defeating Quebec 88-71 in the Finals.
Caleb Houstan provided Ontario with an extra gear coming off the bench going for 21 points on 10/13 shooting and 11 rebounds. Houstan's huge 3rd quarter was integral in Ontario blowing the game open from a four-point game to a 20-point game. Houstan's length was a nightmare for Quebec, as they couldn't find an answer to contain him.
Jonathan Avgousti added 15 points going 3/6 from distance. Avgousti played a huge role for Ontario in the first half, keeping them in the lead when the game was tight. Charles Bediako with his size and athleticism chipped in with 12 points and 11 boards.
Quebec was led by Enoch Kalambay who finished with 19 points and six rebounds. The forward had an efficient shooting night in the paint going 8/12.
Olivier-Maxence Prosper scored 13 points including a big slam in the first quarter to keep Quebec in the game early.
Top Performers
Ontario
Caleb Houstan: 21 points | 11 rebounds | 1 assist | 1 steal
Jonathan Avgousti: 15 points | 3 rebounds | 1 assist | 1 block
Charles Bediako: 12 points | 9 rebounds | 2 assists | 1 steal | 1 block
Quebec
Enoch Kalambay: 19 points | 6 rebounds | 2 blocks | 1 assist | 1 steal
Olivier-Maxence Prosper: 13 points | 8 rebounds
Arnaud Konan: 9 points | 4 rebounds | 3 assists
Click here for full box score.
Saskatchewan goes home with the bronze medal after defeating Alberta 81-78. Keon Cleland led Saskatchewan with 18 points. Alberta's Roman Niro scored a game high 20 points in his team's loss.
MVP:
Jonathan Avgousti, Ontario
All-Star 1st team:
Charles Bediako, Ontario
Caleb Houstan, Ontario
Bennedict Mathurin, Quebec
Enoch Kalambay, Quebec
Owen Weaver, Alberta
All-Star 2nd Team
Tyler Delevante, Ontario 
Daniel McCullough, Saskatchewan 
Evan Brydie, Nova Scotia 
Mason Kraus, Manitoba 
Luke Stewart, New Brunswick 
Statistical Leaders
Points Per Game
Luke Stewart: 20.17
Kyree Thompson: 19.4
Mason Kraus: 19.17
Norman Burry: 17.67
Matthew Pennell: 17.17
Assists Per Game
Ryan Nembhard: 4
Matthew Pennell: 2.83
Gabriel Cormier: 2.83
Mason Kraus: 2.67
Kai Leighton: 2.5
Rebounds Per Game
Owen Weaver: 10.14
Kai Leighton: 9.33
Nana Boateng: 8.6
Timothey Kabre: 7.67
Caleb Houstan: 7.6
Click here for full stats.