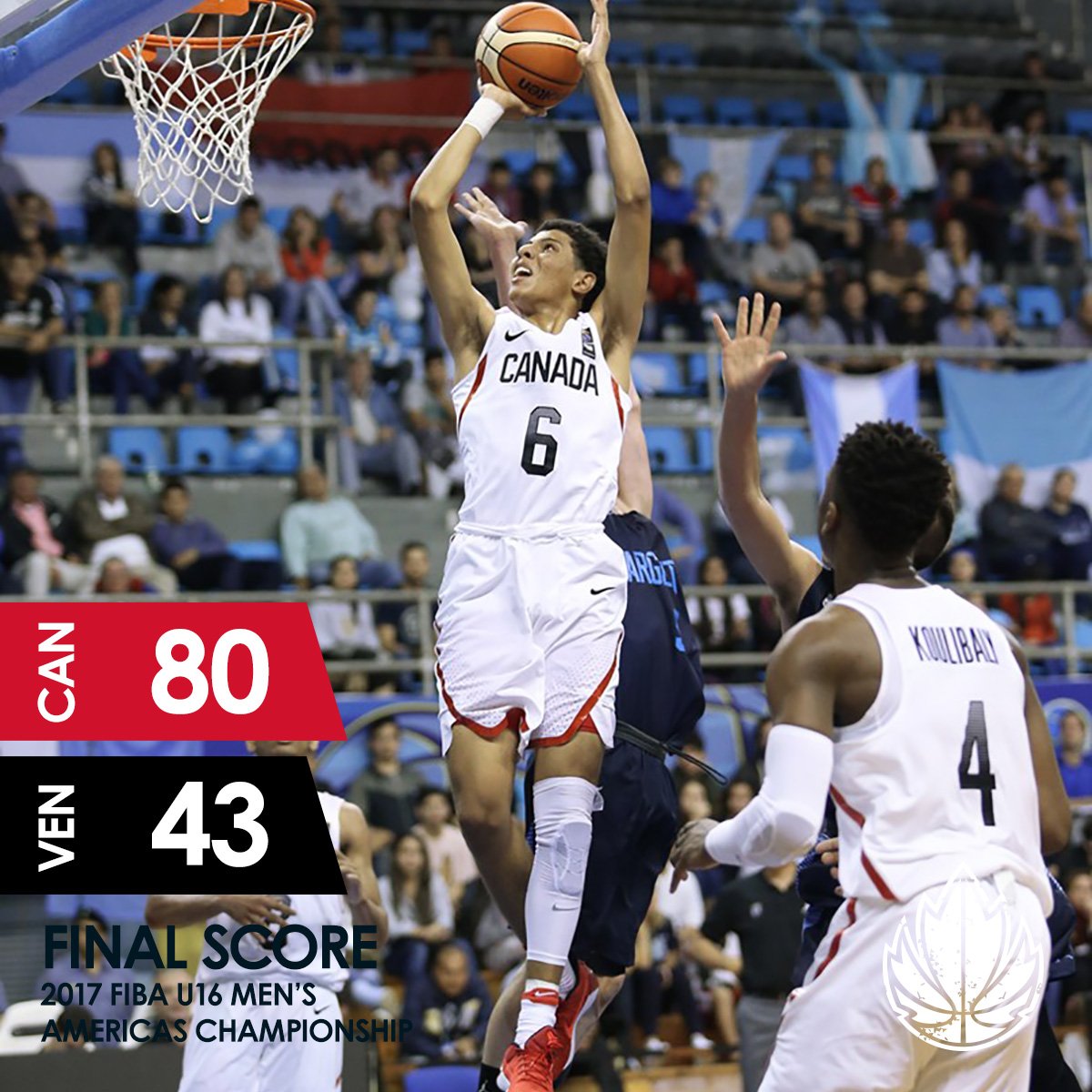 Cadet Team Canada
Team Canada
Canada dominates in easy win over Venezuela
Canada's team depth and talent shined through in a controlling 80-43 win over Venezuela in the FIBA U16 Americas Championship.
Game Recap
A complete team effort was showcased with eleven out of the twelve players scoring. This game against Venezuela allowed for their top guys to get rest. Shemar Rathan-Mayes and Cashius McNeilly both saw less than ten minutes of game action.
Canada controlled the pace from the start with Rathan-Mayes and Benjamin Krikke hitting shots early. However, it was the U16 boys second unit that came in and dominated for the rest of the game.
Vaughn, ON native Taryn Todd's play was on another level. Todd finished the game with 13 points, 3 rebounds and 3 assists while shooting 6/7 from the field. Todd's length and athleticism makes him almost impossible to defend in transition and when he attacks the rim.
The other part of Canada's second unit is Luka Sakota. Sakota picked up where he left off yesterday and controlled the tempo when he checked in. Sakota's hard work on defense in the first half led to easy transition buckets for Canada which helped them jump out to a 41-19 at half time.
At the start of the third, it was Venezuela who brought the game to Canada. Venezuela forced Canada into careless turnovers and were making shots they were missing in the first half.
It was short lived though. Todd checked back into the game and he brought Canada's energy level up with his ability to relentlessly attack the rim.
From there, Canada was able to control the rest of the game using the entire bench. Matteus Case and Charles Bediako impressed during their extended minutes.
Canada finished the game shooting 53% from the field and an impressive 44% from deep.
With this victory, Canada remains perfect and tops Group A. This sets up a semi-final matchup tomorrow (June 17) against Puerto Rico at 5:45 PM.
 Top Performers
Taryn Todd: 13 points | 3 rebounds | 2 assists
Luka Sakota: 11 points | 5 assists | 4 rebounds | 2 steals
Matteus Case: 9 points | 3 rebounds | 2 steals
Shear Rathan-Mayes: 9 points | 2 rebounds | 2 assists
Jefferson Koulibaly: 9 points | 2 rebounds
Charles Bediako: 8 points | 4 rebounds